Babymoon Uncommon Caribbean Style in St. Martin/St. Maarten
Uncommon Caribbean officially launched March 1st, but Stephen and I were actually posting stories and planning the experience since early February. Little did we know, something someone else was also being conceived around the same time! Yes, it turns out that the Uncommon Caribbean family should be getting a little larger very soon. We're expecting the new correspondent at the beginning of November, so naturally we had to use my wife's pregnancy as an excuse to travel!
When it came to planning our little babymoon, we took a few things into account that were a little different for us:
The point is to relax and be comfortable. Some strenuous times full of diaper changes and sleep deprivation may be on the horizon, so peace and quiet is a top priority.
You want to spend as little time traveling to your destination as possible. Airports, airplanes, cars, transfers, etc are stressful. This stuff should be minimized.
You don't want to find yourself too secluded. Relaxing is easier when you know there are quality medical facilities nearby just in case any complications should occur.
Other than those four, we just tried to have a normal, nice vacation. Some people might try to make it seem like your babymoon has to be carefully crafted, or give you a list as long as my arm of things to worry about when traveling, like travel insurance, medical insurance claims in foreign countries, what trimester you're in, or which airplanes have restrictive policies on pregnant passengers, but the point is: This is just an excuse to have a great vacation, so why stress yourself out and try to act differently about it?
Anyway, for us the choice of destination was easy: St. Martin/St. Maarten.
"The Friendly Island" is blessed with 37 beautiful beaches – one for each of the island's 37 square miles. It's under four hours away from my home base in New York. JetBlue flies there from the pleasant Terminal 5 hub at JFK. And as a bonus, there are several built up areas with plenty of facilities.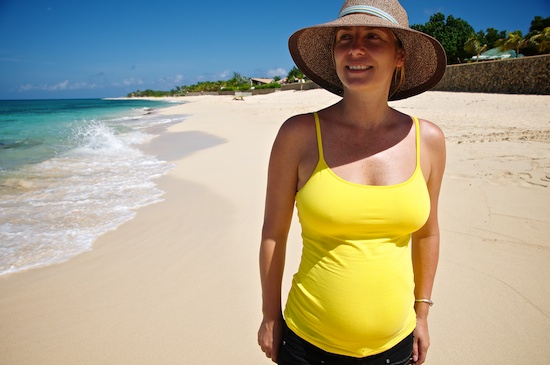 Like I said, we approached the pregnancy aspect of the babymoon as more of an excuse to travel than a hindrance. It wasn't going to stop us from staying at a hotel a little off the beaten path. (We loved L'Esplanade! Read more about it.) It wasn't going to stop us from walking all over Grand Case to find the best lolo bar. It wasn't going to stop us from baring it all on Orient beach. (You can imagine that Kathleen was the only pregnant, nude woman on the beach, though it might be hard to tell from the photo on that post.)  It wasn't going to stop us from exploring secluded caves perfect for an afternoon make-out session. In fact, I think we may have set foot on all 37 of those gorgeous beaches!
The one place we had to make a slight adjustment, as I mentioned in point #4 above, was in seeking a little adventure. Being a born and bred West Indian, I love tramping through the bush and was quite interested in climbing to the top of Pic Paradis, the highest point on St. Martin at 1,400 feet. There were plenty of long, interesting looking trails up there, but I was a bit concerned about my lady making it and didn't want to ditch her, so… we adapted.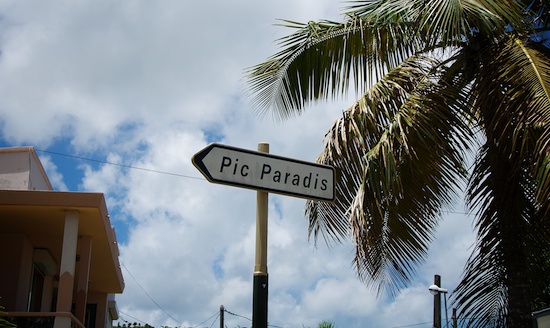 On the main road, near Friar's Bay, you can find the above sign on the left side of the road if you're driving south. Take a quick left, and follow that road all. the. way. It may seem like you're going the wrong direction as the road isn't in the best shape and, at points, overgrown with grass, but just keep going and be careful. As you climb, you'll pass Loterie Farm on your right. (There you can do a little ziplining if you do feel like leaving the preggers missus behind.)
Finally, you'll reach a dead end with some improvised signage pointing the way down a thin path to the "view point". From here the walk is literally one minute, as posted on the signs, and you'll be at the top! That's it. Consider it a mini-hike and just enjoy the view:
From there you can take in much of this idyllic island in the sun.
For me, it was the perfect place to start planning our return trip  to St. Martin/St. Maarten for the two three of us.
Related Posts