French-Side Saint Martin Carnival: Beginners Mas 101
So, you think you're ready for Carnival…
You've read our previous Carnival posts and you want in on the action. The fêting, the rum, the chipping, wining, grinding, nonstop revelry of mas in di streets!
You Are Ready For Di Road!
Well, mostly…
Somewhere in the deep dark recesses of your psyche lurks the specter of doubt; a nagging little fear that maybe, perhaps, Carnival could just be a little too much for you.
If this is how you feel, then you'll want to give Saint Martin Carnival a try.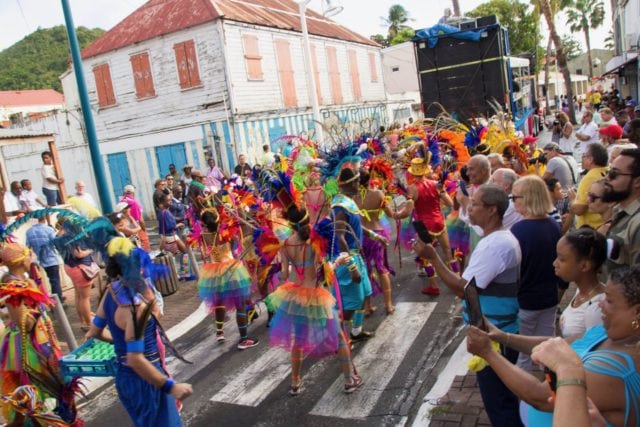 In particular, I'm referring to the annual pre-Lenten Carnival celebrations on the French-Side of Saint Martin, not to be confused with the larger, more raucous Dutch-Side festivities that culminate in late-April/early-May.
French-Side St. Martin Carnival, as I came to experience it last February, is small and intimate, with a decidedly communal vibe that's more about family and community than all-out debauchery.
That's not to say it's not sexy, of course.
Oh yes, wines were tief'd and much rhum was enjoyed, but this was far from the marathon, utter test of West Indian manhood I endured in my ancestral home island of Trinidad a few years ago.
Whereas the action got going at the crack of dawn on Carnival Tuesday in Port-of-Spain, we were still standing around on a side street above Marigot waiting for any signs of bacchanal during the heart of the lunch hour. No blaring soca, no crowds, or hurry – all the world content to get their Carnival on in due time.
This made for plenty of time to eat and relax (two things you can easily forget to do during Trinidad Carnival), while also making new friends. I'd only arrived one day prior, but before we hit the road I knew everyone in my band and had even learned some of the choreographed dance routine everyone else had been practicing for months to impress the judges.
My band, Hot 'n Spicy, is the biggest on the French Side, though it would barely make up one section of a typical band in Trinidad. One music truck and one bar truck were all we needed.
No ropes to keep non-band members out, no security needed; just unbridled fun, with locals and visitors of all ages jumping in and out of the band intermittently for photo-ops and the occasional wine with us revelers all along the parade route.
Carnival in its purest form.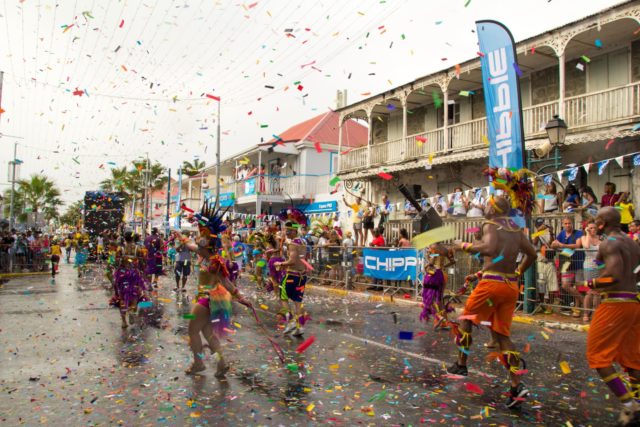 We started on the road around 2pm. By 5pm it was all but over.
Well, at least the road march part was over.
The party within the Carnival Village was just getting started for those who wanted to keep the fête going. Many who had been on the road, though, opted for home, the small taste of Carnival more than satisfying.
If you decide to take the plunge and enjoy your own taste of French-Side Saint Martin Carnival, definitely link up with our friends at Hot 'n Spicy for the very best French-Side Carnival experience.
For the latest details on French-Side St. Martin Carnival, check them out on Facebook.
Save
Save
Save
Save
Save
Save
Save
Related Posts