French St. Martin Smiling Again Post-Hurricane Irma
When can I go back to St. Martin?
The question has been posed to us many times in the weeks and months since Hurricane Irma (and to a lesser extent, Hurricane Maria) paid an unwelcome visit to the dual-nation island we so love back in September.
Mother Nature rebounded quickly along the sun-kissed shores that line the French side, as we showcased here and here. But, what about hotels and the famously fantastic restaurants in Grand Case, Marigot, and Orient Bay?
Recently, we sat down with several top officials from the French St. Martin Tourist Office to get some answers…
Getting to St. Martin
Airports on both the Dutch and French sides are open and operating normally. In fact, Grand Case International has been open since September 23, 2017, just over two weeks after Irma.
Where to Stay
While the largest hotels on the French side remain in recovery mode, many small hotels and guesthouses emerged from the storms with little or no damage. As of January 2018, 11 such boutique properties are open and accepting guests, including the sublime new Bleu Emeraude on Grand Case.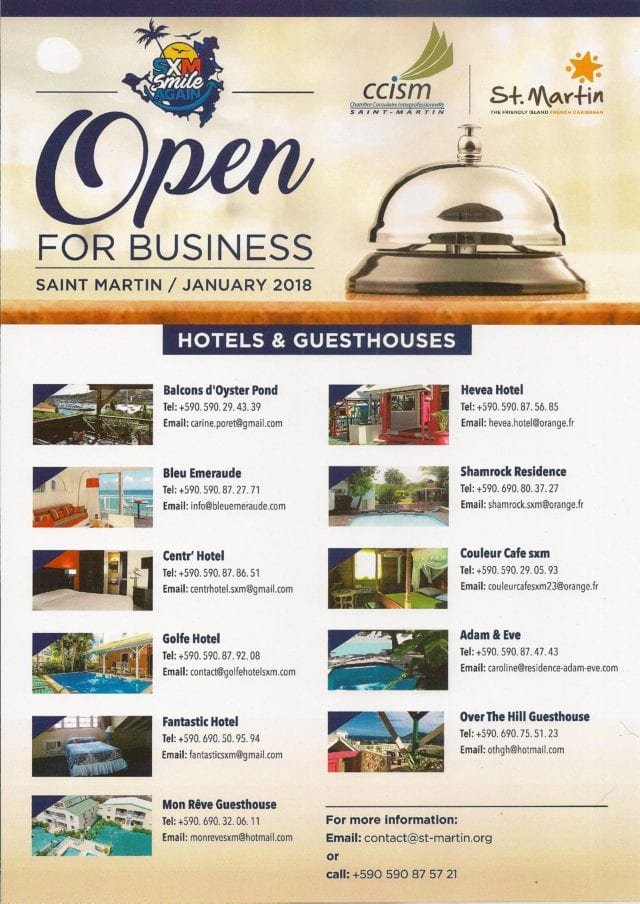 Also great, 100% Villas has 15 properties available right now. if you ever thought that a villa escape to St. Martin would always be out of reach, think again. The downturn in visitors brought on by Irma means lower prices on just about everything here, including luxury villas. Weekly rates start at just $1,500 for 100% Villas properties – a steal of a deal for a winter villa escape to any corner of the Caribbean!
What to Do
Irma has definitely cut down on available restaurant options in this culinary capital of the Caribbean. Of the 67 restaurants you'd normally have to choose from in Grand Case, only 10 are currently open. Sadly, the lost include my favorite eatery in Grand Case, Le Ti' Coin Creole.
The good news, though, is that more and more restaurants are re-opening every week across French St. Martin. Those that are open also reportedly remain as spectacular as ever.
Also as great as ever: hiking in St. Martin, snorkeling unique spots like Creole Rock, and living it up at Loterie Farm and Rainbow Cafe.
What Next?
French St. Martin was certainly dealt a major blow by last year's hurricanes, but by no means should travelers feel that this special island has been defeated.
We don't have victims, just many survivors.
These were the words of Stephen Wright, general manager of the Grand Case Beach Club, one of the largest and best-known hotels on the French Side. Mr. Wright's property won't reopen until October, at the earliest, but he's not grousing about it. Instead, he's using the opportunity to make widespread improvements all over his hotel.
We were always running at 95% occupancy before the storms. We didn't have time to fix and upgrade. Now we're taking the time to rebuild better than ever.
Wright is also doing his part to encourage travelers to return to St. Martin now and rent a villa or stay at one of the smaller boutique hotels, even as his hotel remains closed.
You'll have a different experience now. You won't get to watch TV in most places. You'll have to talk to each other.
Sounds about perfect for our uncommon travel tastes, especially when you factor in no crowds and those still amazing beaches.
*Photo Baie Rouge, St. Martin | Credit: Donovane Tremor
Related Posts