Hotel L'Esplanade, St. Martin: A Stay Too Pretty for Photos
As anyone who reads this blog knows, I love to take photos… But a funny thing happened while staying at Hotel L'Esplanade in Grande Case on my last trip to St. Martin: I took no photos of the property. It wasn't because this small hotel is not picturesque. It was actually because I was too busy marveling at the beauty of the property and its surroundings to remember to stop and shoot anything at all! Staying here was that pleasant.
When you visit the website for Hotel L'Esplanade and take a look at the photos of the rooms, you probably won't think they could possibly look that nice in real life, but they do! The dark wood playing off the light walls really captures that fabulous Caribbean feel. And the ceilings really are that amazingly clean and polished. The rooms really are that bright and welcoming. The panoramic ocean views over Grand Case Bay from your private terrace really is that gorgeous – as you may have noticed from this month's Moment of Zen video.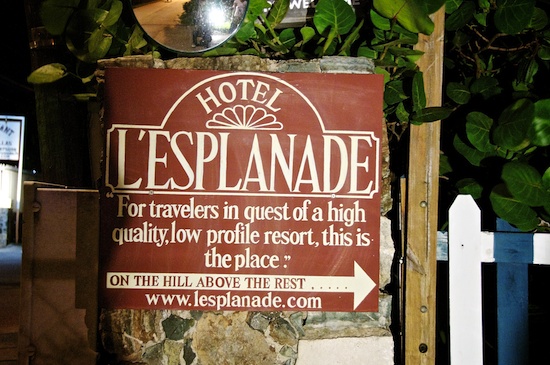 Of course, our stay was during the off-season, so for the first couple days we practically had the whole place to ourselves. The relative seclusion was great, except they didn't keep the pool bar open during the off-season, forcing us to walk the pleasant path through their lush tropical gardens down to Restaurant Row for our evening beverages and lobster dinners.
Brutal, I know, but just the thought of spending time at the bar, watching the sun set and imbibing into the evening has us already thinking that we'll need to pay L'Esplanade a return visit soon.
Take my word for it: this is a hidden gem of a boutique hotel, in a special location just outside of the place to be in Grand Case, on a very special island
Related Posts