How To Avoid Cruise Ship Crowds at Orient Bay, St. Martin
A seemingly endless army of empty lounge chairs greeted me upon my arrival at Orient Bay several weeks ago. A harbinger of things to come, I thought. Things I'd surely want to avoid.
As arguably the most popular beach on one of the Caribbean's most popular cruise destinations, Orient attracts the typical tourist hordes like few other places in our region. Seeing all the chairs here all aligned so tightly, so precisely, as if to mimic an elementary school classroom, it was easy to envision the ultra-crowded conditions on the horizon.
Six cruise ships were slated to make port in Phillipsburg later that day. (SIX!!) It wouldn't be long before all these chairs would be filled.
*Shudder.*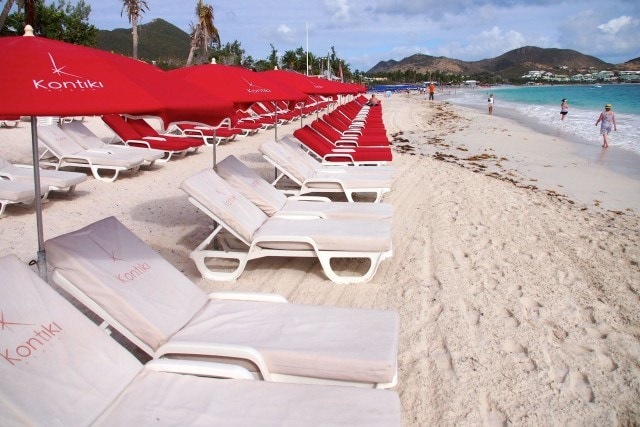 Thankfully, though, it was just before 9am. Orient Bay was the first stop of a full day of exploring that would see us hit just about every corner of St. Maarten/St. Martin. If we'd started out any later from our nice digs at the nearby Riu Palace Resort, I seriously doubt we would've been able to see the sand at Orient Bay, much less take a dip.
In the quiet calm of the morning, though, Orient Bay was quite peaceful; relaxed; almost ideal… if just for awhile.
To stay abreast of cruise visits to St. Maarten/St. Martin, and thus stay clear of the crowds, keep an eye on the regularly updated cruise schedule on the Port of St. Maarten website.
Related Posts