It's Enoch's Place for the Best Local Breakfast (and Gossip) in St. Martin
Lady #1: You went to de show last night?
Lady #2: No, I went in my bed.
Lady #1: Well, you didn't miss nuttin'. Too much talkin', not enough singing.
Lady #2: You de second person to tell me dat.
Lady #1: Ky-Mani was de wurst ah dem. He say 'im couldn't give no big performance because he was jus' passin' through.
Whole place: WWWWHHHHHHAAAAAAAATTTTTTT???!!!
This was the dialogue that met me upon idling up to Enoch's Place in Marigot, French St. Martin, early one Friday morning in late-April. Carnival was in full-swing on the Dutch side with a reggae concert the previous night drawing a huge crowd from both sides of the border.
My plans caused me to miss what I thought would be a great show. Within a few seconds of entering Enoch's, though, any lingering feelings of envy that I might've had were gone.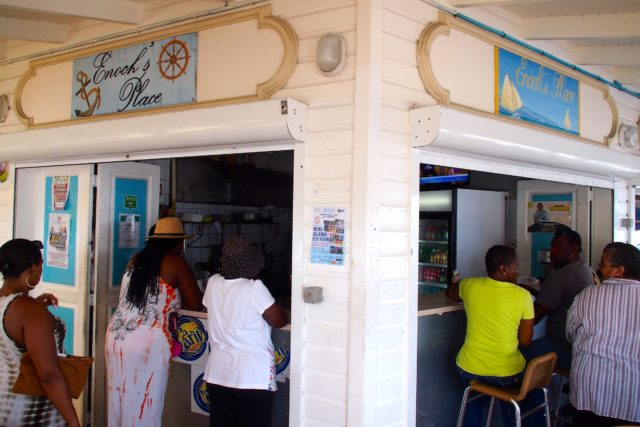 Set right on the waterfront in Marigot, Enoch's has been a local institution on the French Side since 1996. I've read and heard that lunch here is very nice, though you'll want to duck in here for breakfast to get the real local vibe.
Who was out last night? Who limin' where tonight? What's the latest with the local politics?
These topics and several others were discussed openly (and quite often often boisterously) during my visit, inviting any and all to participate (or not) as they sought fit.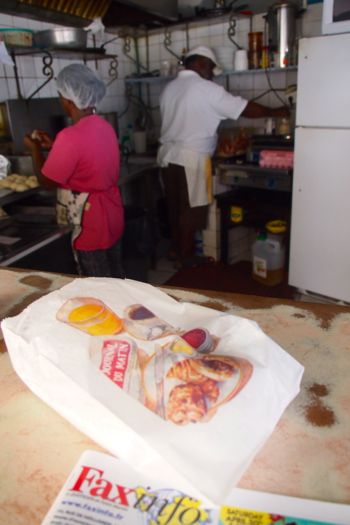 Later I learned that I, myself, had become a topic as no one knew who I was.
Enoch's at breakfast is that kind of place; where everyone really and truly does know everyone, though in a good way. You instantly feel like you belong, making it really hard to leave.
Compounding the desire to stick and stay: the food. I could (and would) happily eat Enoch's Saltfish Johnny Cake for breakfast each and every day for the rest of my life if I could. Paired with Enoch's signature bush tea – the only one I've ever tasted to rival my mom's – it's 100% pure West Indian breakfast perfection!
Enoch's is open every day except Sunday for breakfast and lunch, 7am to 3pm. Credit/debit cards are accepted, though the local gossip is free.
Related Posts