In Praise of Le Piment, The Best Resto on Orient Bay, St. Martin
Long lines must be avoided at all costs!
This has long ranked among my top travel rules, the better to avoid the touristy and all-too-common. (Plus, I hate to wait.) Exceptions, though, are most definitely made when amazing food is at the end of said lines.
Chicken Shack back home in St. Croix, Cavelle's Cook Shop in Antigua, Zeerover's in Aruba, Scotchie's in Jamaica, Ziouka Glaces in Martinique – all have proven well worth the wait through the years.
On a recent trip to St. Martin, I was happy to add Le Piment to this distinguished list.
It was a Saturday night, and contrary to my norm, I was intent on a quick and quiet meal. It had been a long day filled with adventuring and my latest mostly failed attempt at surfing. I was tired, sore, and not so much interested in socializing over a long meal.
I'd promised a friend within the local tourist board that I would check out the dining scene in Orient Village (Orient Bay), though, so off I went hoping to find something quick and easy, while also getting a sense of the scene. There were lots of options, to be sure, but the long line and big laughs at Le Piment drew me in. "What could be so great about that place," I remember thinking.
The answer, as it turned out, was everything.
This is not a gastronomy place.
So says Christelle, the wonderful woman behind Le Piment. Originally from Provence, Christelle is one of those amazingly effervescent people that seem to have something figured out about life that most people could never hope to understand. She's just so happy, so full of life. Immediately upon meeting her, I knew my night would take a drastic turn from my original dour designs.
We're not fancy. Dress casual; come for fun.
Christelle's description for her place flew squarely in the face of most every other restaurant of note on the French Side, the lot of them more keen on upholding the lofty laurels tied with the destination's deserved high status in culinary travel circles.
Le Piment is different. There's zero stuffiness or pretension here, though the food could beg for both.
We have lots of gastronomic places in St. Martin. I don't want that label. This is a place for everyone; where no matter what you get you're guaranteed great flavor and quality.
This was certainly true of my dining experience at Le Piment, beginning with this fantastic wahoo tartar and carpaccio with crab cake and salad appetizer…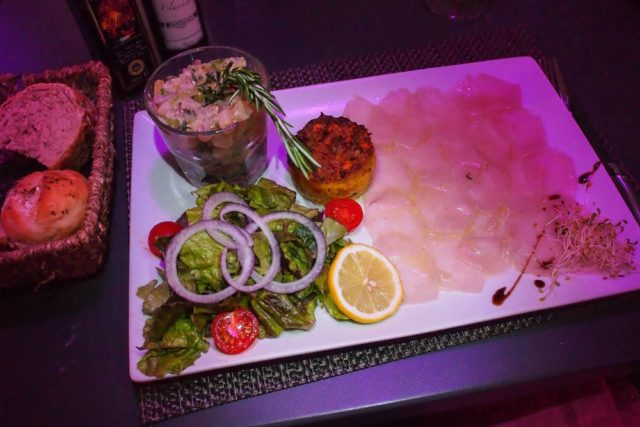 Paired with Le Piment's insanely tasty bread – fresh-baked on-site each and every day – this app qualified among the best things I ate anywhere in St. Martin in and of itself!
It would soon be overshadowed, though…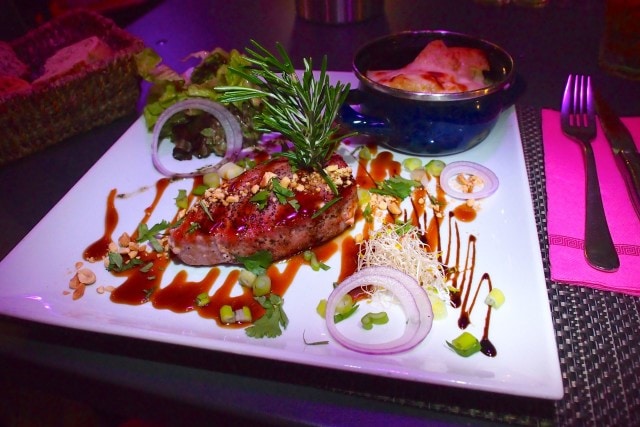 Can you say foodgasm?
Yeah, this Asian-style tuna steak was ALL. OF. THAT.
If you smoke, you'll want to light-up after eating this. Then maybe get a nap.
Dessert certainly wasn't necessary after all of this amazing eating, though the molten lava chocolate cake Christelle insisted I try did draw my knees together in delight…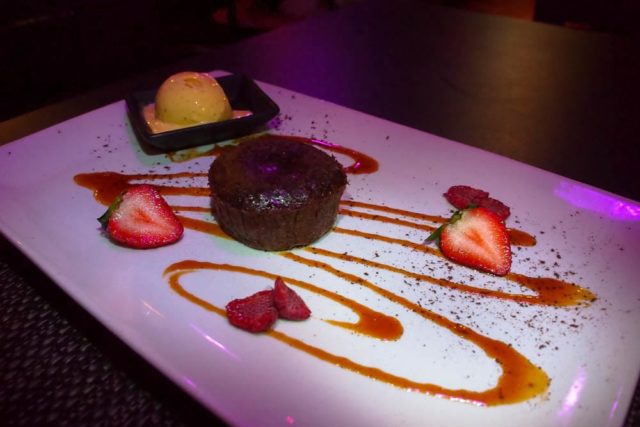 All the while I ate, the crowds kept coming in to Le Piment. No other restaurant within Le Village d'Orient appeared to even have a crowd!
Despite the packed house, no one was left waiting too long. No one was anxious, annoyed, or underserved, which seemed a miracle to me since there were only three servers and one bartender at Le Piment. And that included Christelle, who somehow found some time to chat with me in the midst of serving dishes, bussing tables, and making drinks!
(Get a taste for my favorite Le Piment cocktail creation.)
That kind of service only comes from true passion and caring, something further reflected in the shot of Ma Doudou Rhum Banane Vanille that gets served to all patrons of age on the house with the check; a final loving touch that I'm told is customary in St. Martin, though I never experienced it anywhere else.
The shot just added to the warm, communal vibe here. All around perfect strangers at different tables struck up conversations. Broken French and broken English intermingled throughout the night, everyone in Le Piment coming together over flawless food.
For pricing and full menu choices at Le Piment, be sure to visit Christelle and Co. online.
Related Posts