Natural Cafe – Where to Fuel Up On Organic Eats and Treats in St. Martin
It's easy to find good food in French Saint Martin. (The place IS French, after all.) More challenging: finding good food here that's actually good for you too. You know the kind I mean – 100% all-natural dishes made from fresh ingredients sourced along locavore lines. Dishes worthy of the terms vegan, vegetarian, and gluten-free; designations not commonly found in our islands. Dishes like the ones all over the menu at the all-new Natural Cafe Restaurant and Juice Bar.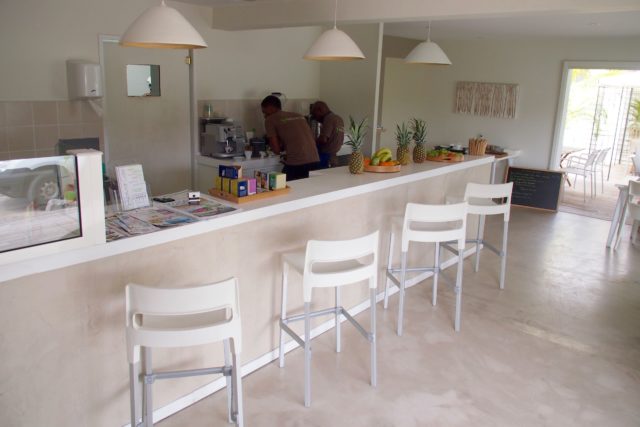 Uncommon Eats in a Location to Match
You'll find Natural Cafe right along the main road that runs from Marigot through Sandy Ground. This is the dusty down-home section of St. Martin. People from every country in the Caribbean reside here. An uncommon location well away from the more celebrated culinary corners of St. Martin (Marigot, Grand Case) mirrors Natural Cafe's predilection toward supremely healthy dining options rarely seen anywhere else on-island.
This is a place where tofu is tops. Where salad options number in the double-digits. Where humus, herbs, quinoa, cumin, and something called soja yoghurt sauce are as common as french fries and Johnny Cakes most everywhere else.
My lunch choice on the occasion of my initial visit here – the absolutely delicious curry chicken wrap pictured at the head of this post – was great. The true star of this meal, though, was the gooey green juice that accompanied the eats.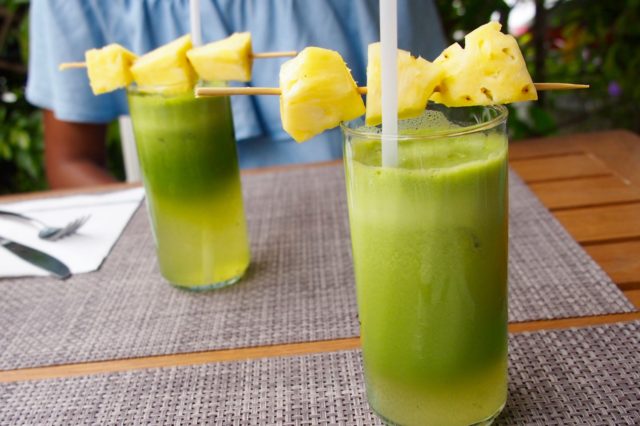 Now, I tend to eat fairly healthy…
Fairly.
Mostly, though, I draw the line at slimy green supercharged vitamin juice concoctions. Let's just say there was a bad experience long ago. Memories of the snot-colored chalky monstrosity positively devoid of flavor remain fresh in my mind.
Gooey Green Goodness
The green guy at Natural Cafe, though, was something altogether different. A wonderfully balanced mix of apple, ginger, kale, and cucumber, this green juice wasn't bitter or chalky at all. The ginger shone through the most, carrying the day without eclipsing the other flavors.
On appearance and ingredients alone, I would've never ventured a sip. Thankfully, though, there was Marcel, one of the friendly staffers at Natural Cafe, to encourage my culinary explorations.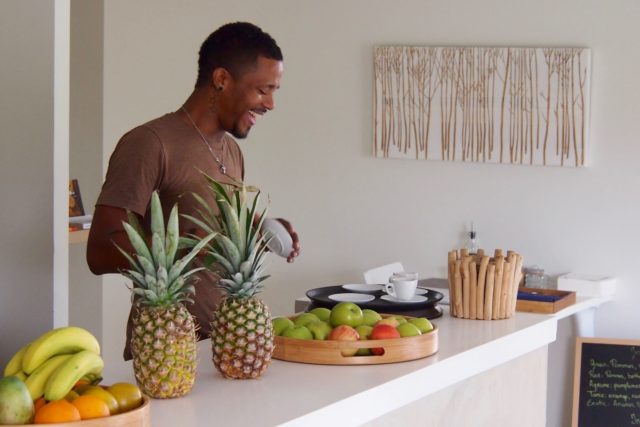 Seriously, if/when you go to Natural Cafe, definitely try the green juice. It is supremely wonderful in a manner that actually has me anxious to return and try a few of their other juices and herbal infusions.
If you know me real well then you know that's saying a lot!
Natural Cafe General Info
Natural Cafe is open everyday except Sundays for breakfast and lunch. Operating hours are 9am to 4pm. For more information, be sure to check them out on Facebook.
Save
Related Posts