On-Site St. Martin: Party and Play in Privacy at Loterie Farm
St. Martin/St. Maarten has always smacked of Las Vegas a bit to me, the preternatural devil-may-care adult fantasyland aesthetic of Sin City reflected in SXM's sexy beaches, pulsating nightlife, its sexy beaches, sensuous cuisine, those fabulously sexy beaches, a prevailing laid back anything goes attitude, and, umm… oh yeah, sexy beaches.
Loterie Farm furthers the Vegas vibe and overall SXM sexiness, though it's nowhere near the beach.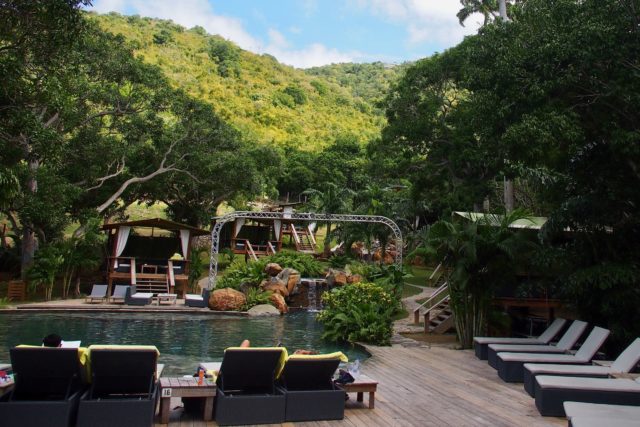 Located just about dead-center of the island on the road to Pic Paradis, the highest point on St. Martin/St. Maarten, Loterie Farm is a lush and heavily-forested 300-year-old plantation turned all-things-awesome oasis of eco-fun, fine dining, and partying.
I wandered in here the day after surviving reveling in French Side Carnival fun. I'd heard it was good place to relax and recuperate away from what would surely be crowded beaches in the aftermath of the bacchanal.
I heard right…
At least I'd heard right for that particular day. On other days, Loterie Farm is party central in SXM, hosting what I'm told are some fairly wild Vegas-style pool and garden parties. (See pics on the Loterie Farm Facebook page.)
Other days, though, it's one of St. Martin's choice spots for fine dining..
Any day and everyday (except Mondays when they're closed), Loterie Farm is a great place to cozy up to St. Martin's natural wonders. Hiking trails snake throughout the property, which you can trek alone or with the services of a guide. Three different levels of zip lines are also available, the Fly Zone Extreme posing some particularly thrilling challenges.
Adventure, though, would have to wait for another time. This visit to Loterie Farm was all about relaxing for me. Loterie Farm more than had me covered in this regard, offering a wide range of comfy spaces to stretch out and chill. Tops among them, these comfy elevated cabanas…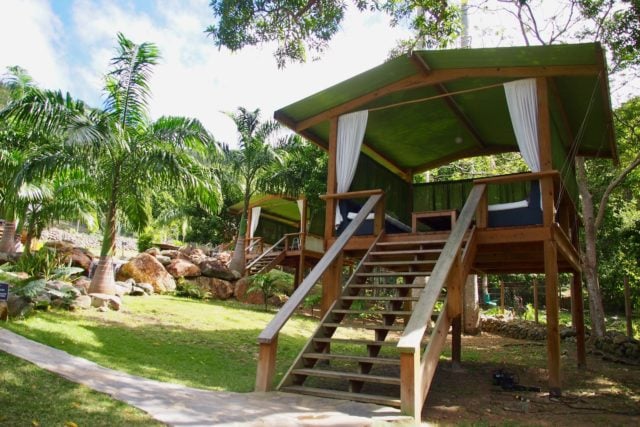 The L'eau Lounge was also especially accommodating to my condition. A sweetly shimmering pool, some nice shade, and a soothing soundtrack of lounge, downtempo, and trip hop – yeah, there was nothing not to like.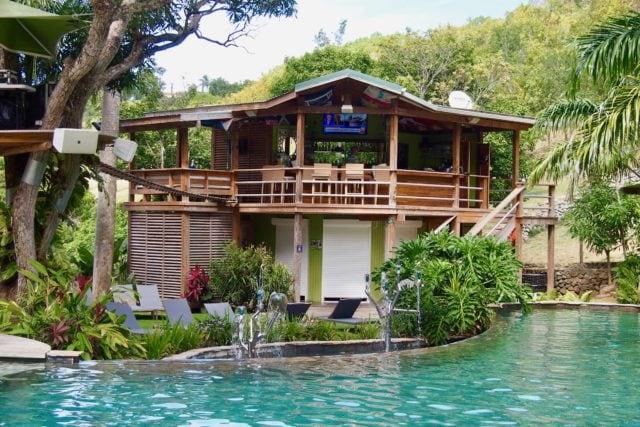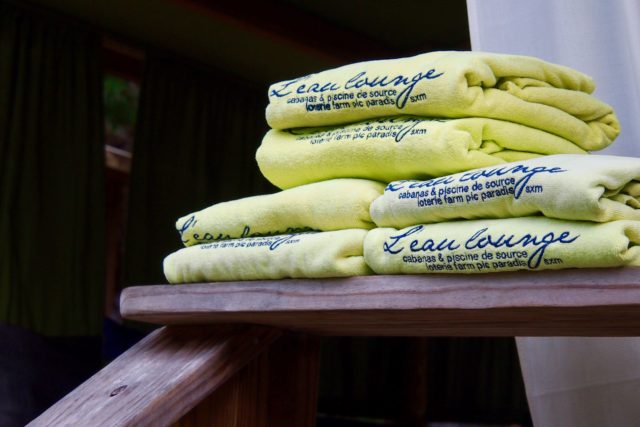 When it finally came time for a little hair of the dog, I sauntered up to the Tree Lounge.
An ice-cold Carib and some light snacks were just what I needed to get back on my feet for more fun and adventuring around the French Side…
No matter where I roamed at Loterie Farm, there was a distinct air of exclusivity. Not in a bad way, mind you, just suggestive of the notion that they value the privacy of their guests here.
Photography is not really encouraged, unless, of course, you're snapping shots of yourself and others in your group. Private parties are also a specialty of Loterie Farm, the advantages of its remote location marketed with a few subtle nudges and winks on the Loterie Farm website.
Indeed, getting wild in the wild can take on a variety of meanings at Loterie Farm!
For more on all the fun on offer at Loterie Farm, be sure to visit them online and follow them on Facebook.
Related Posts