Orient Beach And Club Orient St. Martin: Where Nude is Better
Anyone who's spent any time with me knows I like adventure. In fact, my birthday last year was spent high in the mountains of Morocco on a 22-day trek that consisted of walking eight hours a-day, camping in the wilderness, and braving craggy cliffs at 13,000 feet. So this year, I decided to really expose myself to the harsh elements by visiting one of the Caribbean's most famous clothing-optional destination: Orient Beach St. Martin.
My wife, Kathleen and I awoke early at L'Esplanade and started to get ready. We packed a couple bags with towels, sunglasses, hats, and lots of SPF 50 suntan lotion. Then, we were off.
Arriving at Orient Beach
We turned at the sign for The Club Orient to make sure we were on the end of the bay where nudity is the preferred attire and arrived fairly early, around 9:30 am. The vendors at the parking area were just setting up, but that didn't stop them from trying to sell us stuff before we had even finished parking.
Once out of the Jeep, the famed Club Orient Beach sign was just around the corner, and beyond it, the orange beds and umbrellas of Club Orient stretched down the curving sand for what seemed like a good 300 yards. To try and get away from the dividing line between clothing optional and clothing preferred, we walked down the beach until we found a decent spot. We plunked our bags in the sand, draped towels over our beach chairs, assumed the proper attire and lay down to soak it all in while we let it all hang out.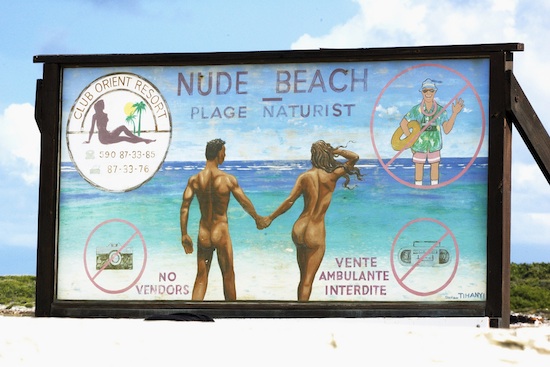 Sure, we had been to nude beaches before, but they were always more of the off-the-beaten-path, secluded variety, like Solomon Beach in St. John – a favorite I'll have to tell you about another time. And then there were all those rum-fueled teenage nights in St. Croix when one thing lead to another and all of a sudden you were at the beach in a state less than dressed. And there was that time in Puerto Rico at my friend's wedding… But I digress, the point is that Orient Bay is different. This is institutionalized nudity. Orderly beach chairs and umbrellas you rent for $7. What appeared to be a lifeguard. Two bars with beers for just $3.25 and happy hour from 2:30 to 3:30. Facilities. Food. Shopping. You name it.
As I said, we got there pretty early, so the beach was barely populated and my mind started to wonder what it would be like when it started to fill up. Would it be a much older crowd who hadn't learned the benefits of sunscreen and allowed themselves to resemble cast off leather coats laying in the sun? Or would it be nubile young French women with their strapping male companions strolling up and down the beach?
The truth is, it was both… And neither.
Orient Beach Nude
It was just a normal beach crowd of all shapes and sizes having a normal day at the beach. Families. Retirees. Kids. Couples. Everyone you'd expect at a regular beach, only without clothes, and as a result I think, on slightly better behavior. No one was loud and obnoxious. Not a camera was to be seen. Everyone obeyed the nude beach rules and had a good time with nothing between them and the warm sun, perfect sand, and crystal clear water that remained just the right temperature.
As the day wore on, and the beach started to fill in, a group of older folks took the chairs to our immediate left, while a young French couple took the chairs to our right. Eventually the older folks struck up a conversation with us. It turned out they were Americans and had been coming there for around 20 years despite having unfavorable flight connections. One of their number from Texas had even flown up to Newark to get a connecting direct flight down to St. Martin.
They were pleasant company and we chatted occasionally. One of them even cracked me up with his enthusiasm over his newly discovered love for BBC's. "It's the next best thing to being naked!"
When it was time for us to go, they predicted we'd be back. "We absolutely love it here. We always come back. In fact now we don't even rent a car, just spend nine days or so here, nude. Days on the beach, then maybe a little BBQ by our villas at sundown, a few drinks at the bar. It's paradise, man."
I ponder this for a second before observing: "You must pack light."
To which he replies: "You bet. A pair of shorts, two t-shirts and lots of sunscreen!"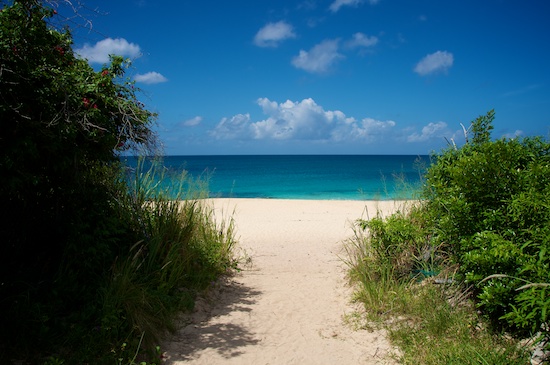 St. Martin Nude Beaches
Like I said, Orient Beach is the most famous beach for going au-naturel on St. Maarten/St. Martin, but there are many others definitely worth a visit for a quieter, more secluded experience. There's Cupecoy, which we really liked despite it having mostly eroded, Coralita Beach, Happy Bay, Petites Cayes, Plum Bay, and our absolute favorite for sheer scale and privacy – Long Bay.  And don't forget, toplessness is accepted on pretty much every beach on the island.
So, lose your inhibitions and get out there… Just don't forget the sunscreen!
Related Posts