Returning to Sky's The Limit Lolo Bar, St. Martin… For The First Time
With all the uncommon things to see, do, taste, experience, and explore across our islands, it's generally pretty easy for Patrick and I to avoid following exactly in each others' well-traveled footsteps. This is to your benefit, of course, as the greater variety of hotels, restaurants, attractions, and excursions we profile the better informed you'll be when making your travel decisions.
At the same time, though, we're fans just like you – reading this space on a regular basis and drawing inspiration from each other to check out (or avoid) places and things we haven't experienced together.
It's just this very fandom of my brother's posts that brought me to Sky's The Limit Lolo Bar and Restaurant back in April.
Patrick's colorful account of the first visit that he and his wife made to what eventually turned out to be their favorite lolo had long stood out in my memory. Of course I had to check it out – to taste the Johnny Cakes and ice-cold beer, to see if the helpings were still heaping, to feel the love of the pretty waitstaff, to meet the special lady named "Sweetness."
I arrived wet, sunburned, and just a tad beyond tipsy, courtesy of the rum punch-a-minute half-day sail from Philipsburg that I'd just enjoyed aboard the S/V Quality Time. It was lunchtime, so unlike Patrick's casual, late-afternoon lolo experience, mine would be a more hectic affair.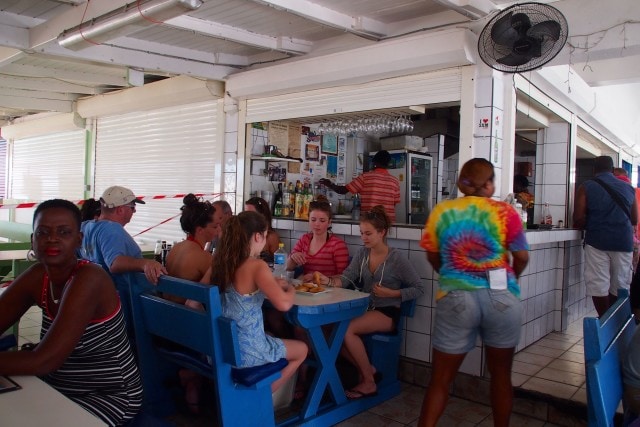 All of Restaurant Row was buzzing with activity, though Sky's The Limit appeared to draw the largest crowds, an endless stream of locals and visitors of all ages, everyone content to share tables with total strangers to get at all the great eats.
Sweetness, sadly, was nowhere to be found, but in her place Lolipop filled in nicely, delivering the promised Johnny Cakes, a succulent fried red snapper, and an ice-cold Guinness much as my brother had enjoyed years ago.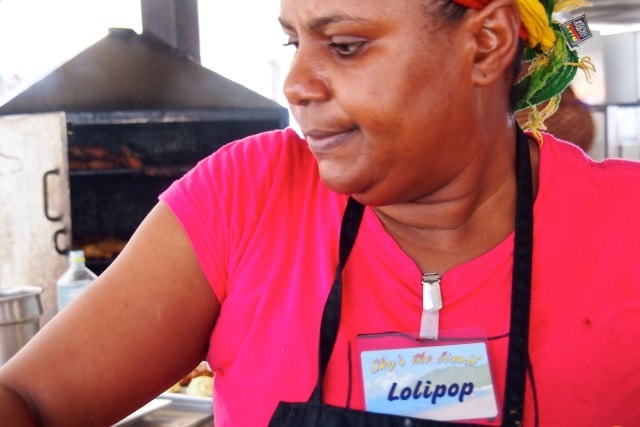 Vivacious, warm, and welcoming, Lolipop and all the other fine ladies at Sky's The Limit went about putting smiles on their customers' faces with relative ease, even as the noonday rush and some unrelenting heat from the sun high above conspired to keep their countenances a tad more serious than what my brother experienced.
A smile offered, though, was always a smile returned at Sky's The Limit, even as the throngs of hungry folks persisted into the afternoon.
Certainly, it seems, my brother's favorite lolo ranks pretty high for a lot of other folks too.
Sky's The Limit is located on Avenue de Grand Case right along the town's famed restaurant row. Get there early to snag a seat, stay late for the smiles…
Related Posts