Snacking at Scooby's Lolo, My New Favorite in Grand Case
Location isn't always everything when it comes to finding good food on your Caribbean travels. This goes double when eating local is a must. Some of the best spots I've discovered were so off the beaten path that even some locals didn't know they existed. Others, like Scooby's Lolo in Grand Case, hide in plain sight.
In all of my numerous prior visits to the legendary Lolos of Grand Case, I'd never noticed Scooby's. It's been there for nearly seven years, though, serving up some of the very best Creole cuisine in St. Martin to locals and visitors in the know.
How could I miss it? Well, it seems I was following some fairly common traveler traits on those previous trips…
Most people want to be on the water or the street, but I always tell them that the sweetest part (of the Lolos) is in the middle.
Suzanne, my waitress at Scooby's, set me straight with these words soon after I settled down here for dinner a few weeks ago. The middle she was referring to was about Scooby's location, nestled between Sky's The Limit on the street and Rib Shack, which sits right on the water.
The views are better at the neighbors, but neither can match Scooby's amazing food.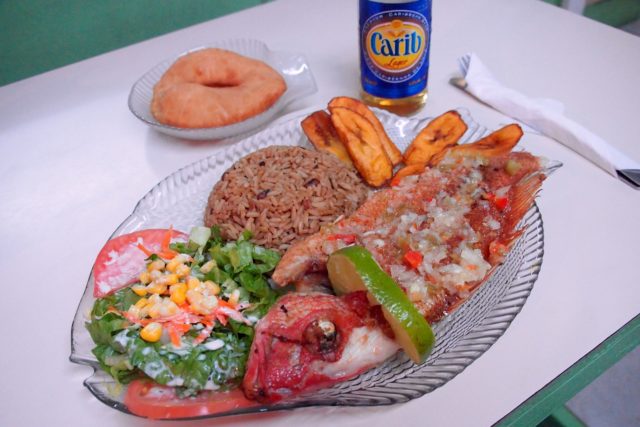 Longtime UC readers will know that's REALLY saying something coming from me, considering how much I loved Sky's The Limit. Honestly, though, they're #2 on my list now. Scooby's is really JUST THAT GOOD.
The difference here is the real, authentic Creole spices; the real island flavor… The real taste of St. Martin.
Suzanne was really laying it out for me now, uplifting gospel music emanating from Scooby's radio back in the kitchen providing a fittingly rousing accompaniment to her "sermon."
Getting religion from Suzanne was nothing, though, compared to the religious experience of actually digging into the succulent red snapper I ordered for dinner.
The lime wedge collar was a nice touch. Serving him 100% whole, eyes and all, was also very much appreciated. The flavor, though… Can I get an Amen?!
This fish was positively bursting with a wild and vibrant melange of Creole spices, many of which carried over into the rice and peas such to the extent that I could easily see myself being satisfied dining on the side dish alone!
All of it was perfect, the flavor much more closer to something you'd expect to be served at someone's house than a restaurant, even a very local one as all the Lolos are. Later, when I caught up with Scooby, I learned that this wasn't by accident.
Born to a dad from the Dutch side and a mother from the French, Scooby was raised by his grandmother. Her old French/Creole recipes, cooking secrets, and techniques live on in the dishes Scooby serves today, effectively allowing us all entry into his family's past; his grandmother's home, her kitchen.
Grandma's influence even extends to the pots at Scooby's, all of them formerly owned and used extensively by his grandmother.
Some of these pots are older than me!
There was a glint in his eye when he told me this, the corners of his mouth stretching into a proud, wide smile as he turned to pour us another drink.
His grandma was there with us, her spirit still making all the difference in the food, the place, and one very special man.
Scooby's is open daily from 9am to 10pm. The place is famous among the locals for its seafood and has the only lobster tank among the Lolos, but Scooby was quick to point out that he specializes in a lot of other things that other Lolos don't. Things like stewed goat and oxtail.
You won't find those special things on the regular everyday menu, but if you stop in and ask one day, you're almost certain to find it available the next. Scooby is just that kind of cool.
Scooby's is located with all the other Lolos in the heart of Restaurant Row right along Grand Case Beach. You'll always know it from the other Lolos by its telltale seats painted green, Scooby's favorite color.
Related Posts