St. James BBQ Hangout – Local Eats Away From The Lolos in St. Martin
Everyone knows about the Lolo's in St. Martin. They're ground zero for great local eats to virtually anyone and everyone who visits the French Side. On my last SXM adventure, though, I discovered an authentic, family-style dining experience set well away from the Lolo's that famously line the waterfront in Marigot and Grand Case. This place, St. James BBQ Hangout, is local with a capital "L."
Set along Rue de Holland at the back of Marigot, St. James BBQ Hangout would be easy to miss for anyone rushing to Grand Case. Actually, I guess it would be better to say anyone trying to rush to Grand Case. You see, Rue de Holland often gets a bit choked with traffic as it winds through town. I'd noticed this on previous trips to French St. Martin. What I never knew before, though, is that St. James BBQ Hangout is to blame.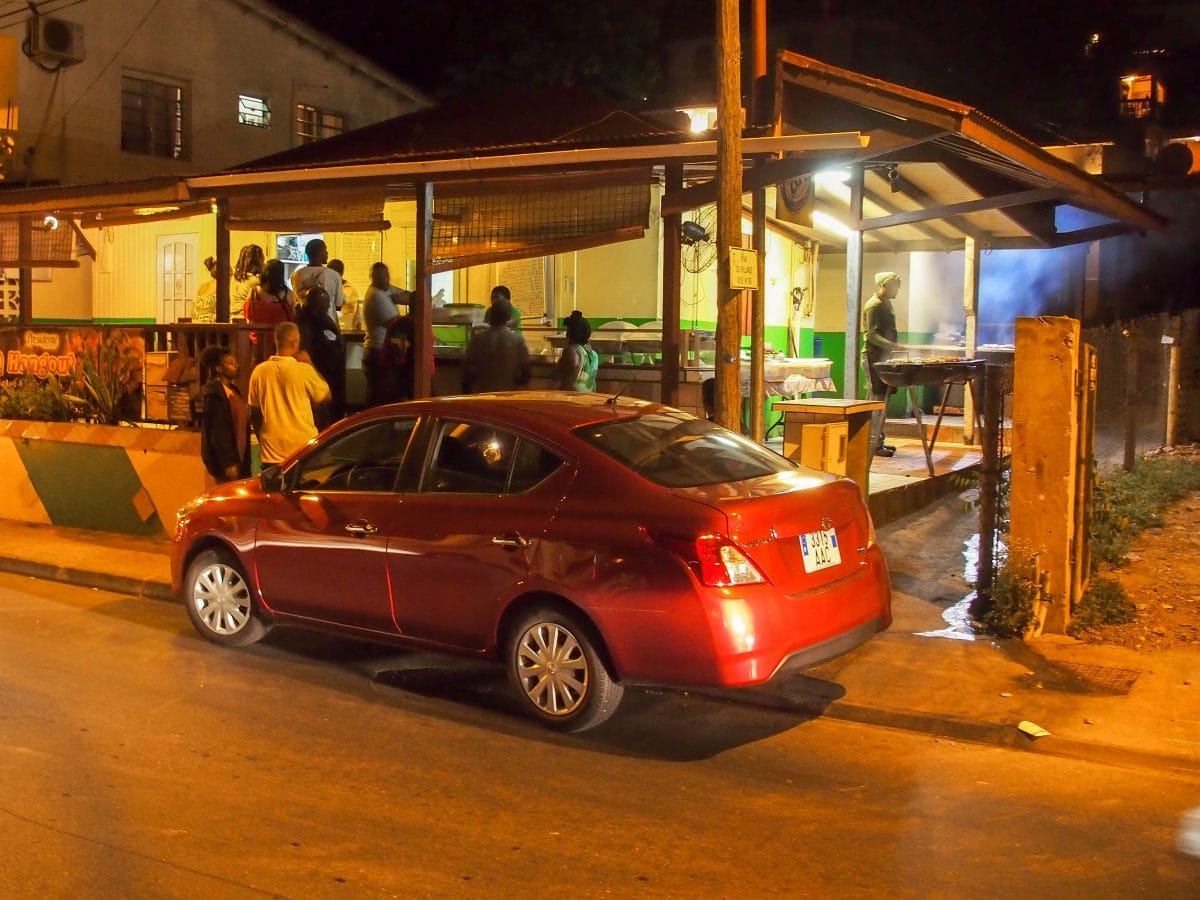 You know an eatery is great when people stop in their cars and shout their orders at the staff, holding up traffic in the process. Other tell-tale signs: very limited parking and a line of people snaking out the door and onto the sidewalk. I encountered all of these things at St. James BBQ Hangout.
To hear the owner, José Hunt, tell it, the phenomenon started almost by accident.
St. James BBQ Hangout: How It All Got Started
My cousin started doing barbecues on Sundays, so I decided to help him out. He left it, and I kept it going.
(Catch the vibes at St. James BBQ Hangout…)

The earliest incarnation of the St. James BBQ Hangout was nothing more than a small neighborhood BBQ. Basic dishes of BBQ chicken, ribs, salad, and Johnny Cakes were so good that the weekly fete soon garnered a major following. Word eventually spread across all of St. Martin, attracting locals and visitors alike.
Things really picked up over time.
What's On The Menu
Hunt's reference refers as much to his menu items as his growing legion of customers. Seasoned rice, saltfish pies, plantains, lobster, conch soup, and other seafood dishes were added, as was a new mantra:
We try to do something different every night.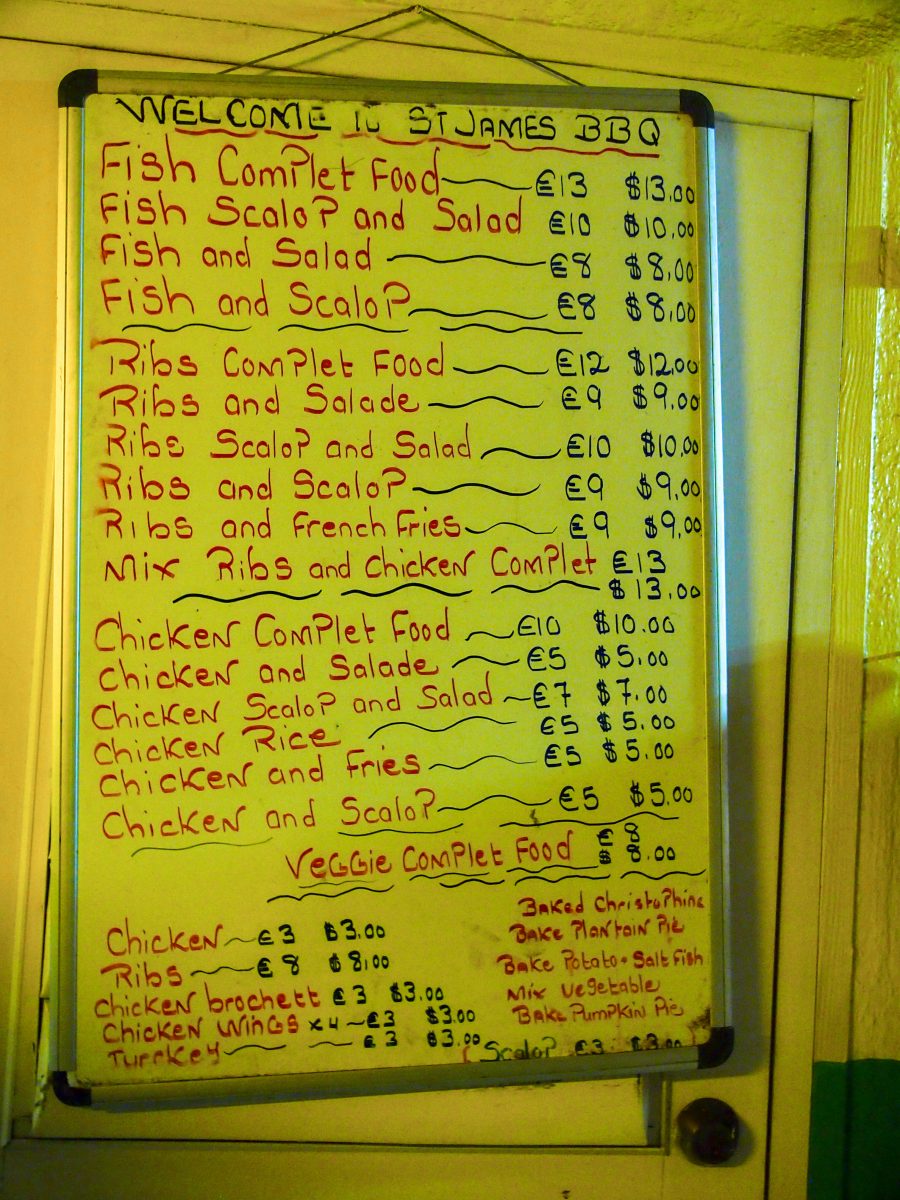 For a little more than 15 years, Mr. Hunt has built St. James BBQ Hangout into one of the most beloved truly local dining spots on the French Side. All the while he's held down a day job. Oh, and he's an entirely self-taught chef – amazing!
Go For The Scalloped Potatoes, Stay For the Vibes
If you go, be sure to try the scalloped potatoes. They're a staple item featured on the menu each and every night because EVERYBODY loves them! My particular favorite choices were the BBQ ribs and plantain pie, all of which paired beautifully with a beastly cold Carib.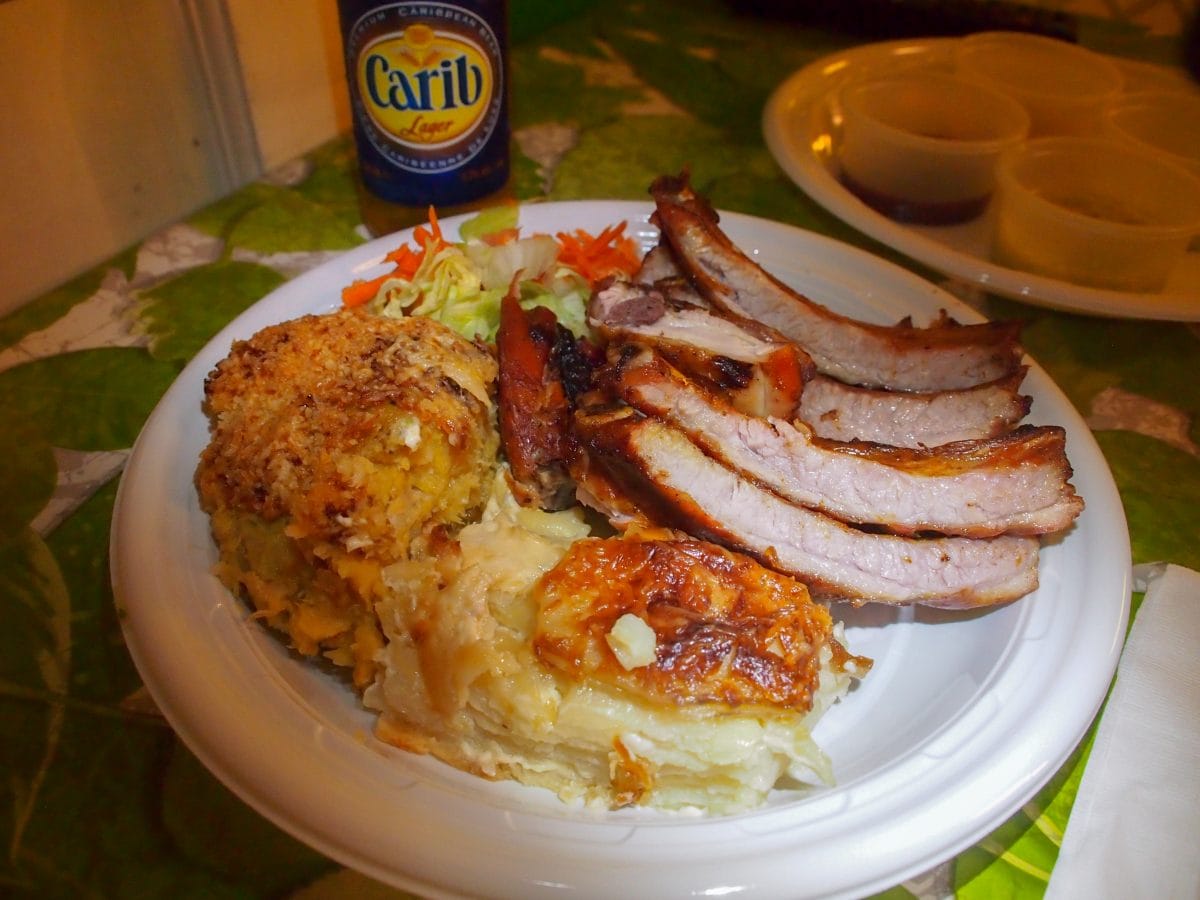 The Friday vibe at St. James BBQ Hangout is particularly sweet. That's when you'll generally find conch soup on the menu and the traffic most backed up.
St. James BBQ Hangout is open everyday except Wednesdays and Sundays. Operating hours are from 5:30pm to 10pm, though the party has been known to stretch a bit later depending on the crowd.
Related Posts