Enjoy Vegan Delights at De' Ital Shack, St. Maarten: Taste of the Caribbean
Meat is almost always on the menu just about anywhere in the Caribbean. Whether it's Jamaica's famous jerk chicken, roast pork in Puerto Rico, or curry goat, beef or even iguana (yes, IGUANA!) in Trinidad, Guyana and elsewhere, we Caribbean people can't seem to get enough meat.
At the same time, though, it's impossible to truly experience the islands without a taste of the region's wonderfully diverse and exotic collection of fruits and vegetables. Within our transplanted Trini household in St. Croix, Saturday's meant provisions – cassava, dasheen, potatoes, plantains and other veggie treats – good ital food to make you healthy and strong.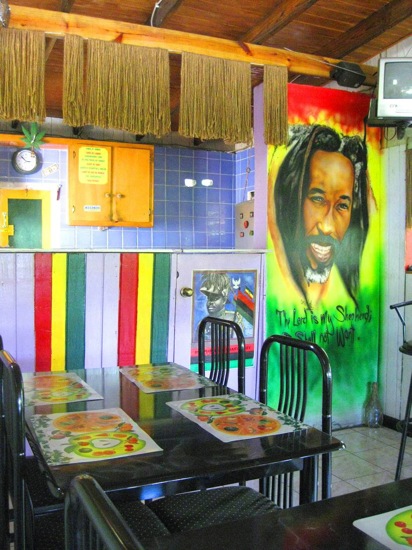 If you're ever in Dutch St. Maarten, the place to go for this type of 'down-home' natural West Indian cuisine is the Freedom Fighters Ital Shack. Our friend, journalist Mark Rogers, recently visited the place and described it in the pages of TravelAge West as:
…a small space with a big spirit. The restaurant is a symphony of rasta colors, presided over by local activist, musician and Rastafarian, Ras Bushman. Located on 7 Bush Road in Philipsburg, the Ital Shack is very easy to find on a major byway but, once you settle in, you're likely to feel like you are miles away from the main tourist haunts — a place where the irie vibe prevails.
The Ital Shack originally started as an agricultural project aimed at reducing St. Maarten's reliance on imported produce. Today, it's a major provider of fruits and vegetables for the destination's hotels and restaurants. To get the real taste, though, you gotta' eat here.
The menu, which changes every day, is always chock-full of organic vegan dishes served with fresh local juices all produced on-premises – no chemicals, no additives – just as nature intended. There are only 18 seats inside, with a few more benches outside, so you'll want to get there early for lunch (hours of operation are from 10am to 6pm).
The price is right too, with all menu items ranging between $5 and $8.
Good food that's good for you at a good value; the Ital Shack is certainly a must for our next visit to St. Maarten!
Related Posts