When You're Hungry in St. Thomas, Call Kelvin, The Mobile Pate Man
Few things bring bigger, brighter smiles to our faces when hunger strikes on our travels back home to St. Croix, St. Thomas, or St. John than the savory contents concealed in brown paper bags like the one my brother is holding here. Inside: pates! Beef, chicken, goat, conch, shrimp, veggie, lobster – no matter what's inside the sweet, doughy pockets, we're all about it, any and all of the time!
Only problem is, pates aren't always that easy to find. I mean, EVERYBODY loves them, so they tend to sell out quickly from the most popular pate hot spots. That's why, when you're in St. Thomas…
YOU MUST KNOW KELVIN, THE MOBILE PATE MAN!
If you're ever hungry for pates anywhere in St. Thomas, just call Kelvin. Not only does he make the best pates we managed to sample during our recent visit (Jackie didn't have any when we stopped by), but…
KELVIN ALSO DELIVERS!!!
His swagger wagon is entirely tricked out to gourmet V.I. Massive mobile kitchen standards, enabling him to set up shop most anywhere he pleases…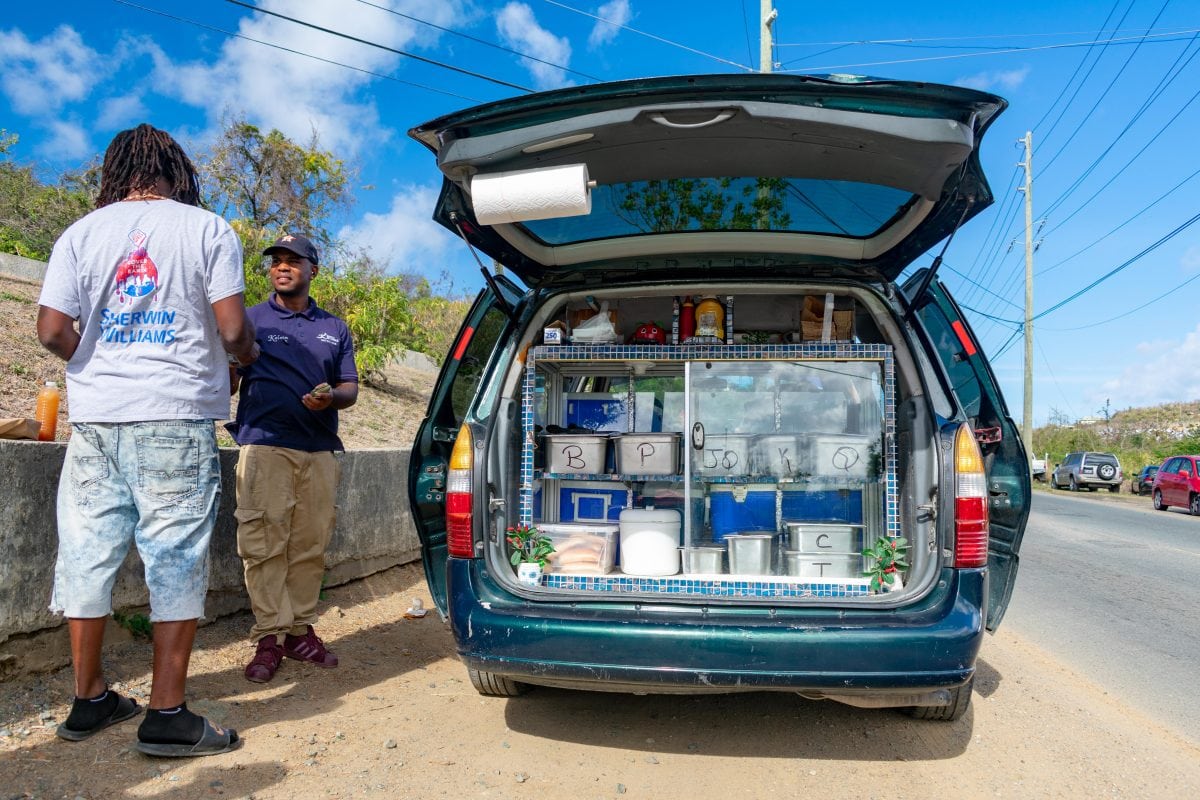 …or bring his savory treats directly to you. Whether you're liming on Lindquist, making nice on Magens Bay, or soaking in the history in downtown Charlotte Amalie, Kelvin can find you. This can come in very handy if you're staying at a private villa or bed and breakfast and just don't feel like pressing pause on relaxing right where you are. That's exactly what happened to us on our last afternoon in St. Thomas.
Patrick and I were lounging by the pool at The Bellavista Bed & Breakfast catching up on emails and beginning to review the thousands of images we'd spent the previous six days capturing in St. Thomas and St. John. We could've driven or walked down from our lofty perch above Charlotte Amalie to enjoy any number of great restaurants, but that would've meant missing out on a few moments of the amazing Bellavista view.
With one quick call to Kelvin the mobile pate man, our problems, and our hunger pangs, soon disappeared.
Seriously, I can't imagine ever experiencing St. Thomas again without getting a taste of Kelvin's perfect pates. They are now A MUST for me every time I'm in Rock City.
Call him up at Tel: 340-227-0946 to get a taste next time you're in STT and you'll no doubt feel the same way too.
Related Posts