Checking Into Two Sandals Bed & Breakfast, St. Thomas
The entrance looks like an elegant, modern private home of the type and variety prominently found throughout the finer neighborhoods in St. Thomas . Expansive shaded front patio, sturdy white columns, metal roof outfitted with solar panels, bougainvillea, desert roses, and hibiscus blooming all around – someone's obviously enjoying some good living here.
Only thing is, this isn't a private home. Not anymore, anyway. It's a bed and breakfast. The good living here can be enjoyed by me and you.
Welcome to Two Sandals By The Sea Bed & Breakfast
Set on a hillside in a residential neighborhood just above Red Hook on the east end of St. Thomas, Two Sandals is, for me, an ideal home away from home in the Caribbean.
It all starts with the location, just a bit off the beaten path, but also perfect for island exploration. The main road into Red Hook (or back west to Charlotte Amalie) runs right past the base of the hill below, yet you're so far removed from the main hustle and bustle of downtown that you rarely hear any traffic noise. Nice.
Also great, all the amazingly comfy furniture here, all of it handmade by one of your hosts, June.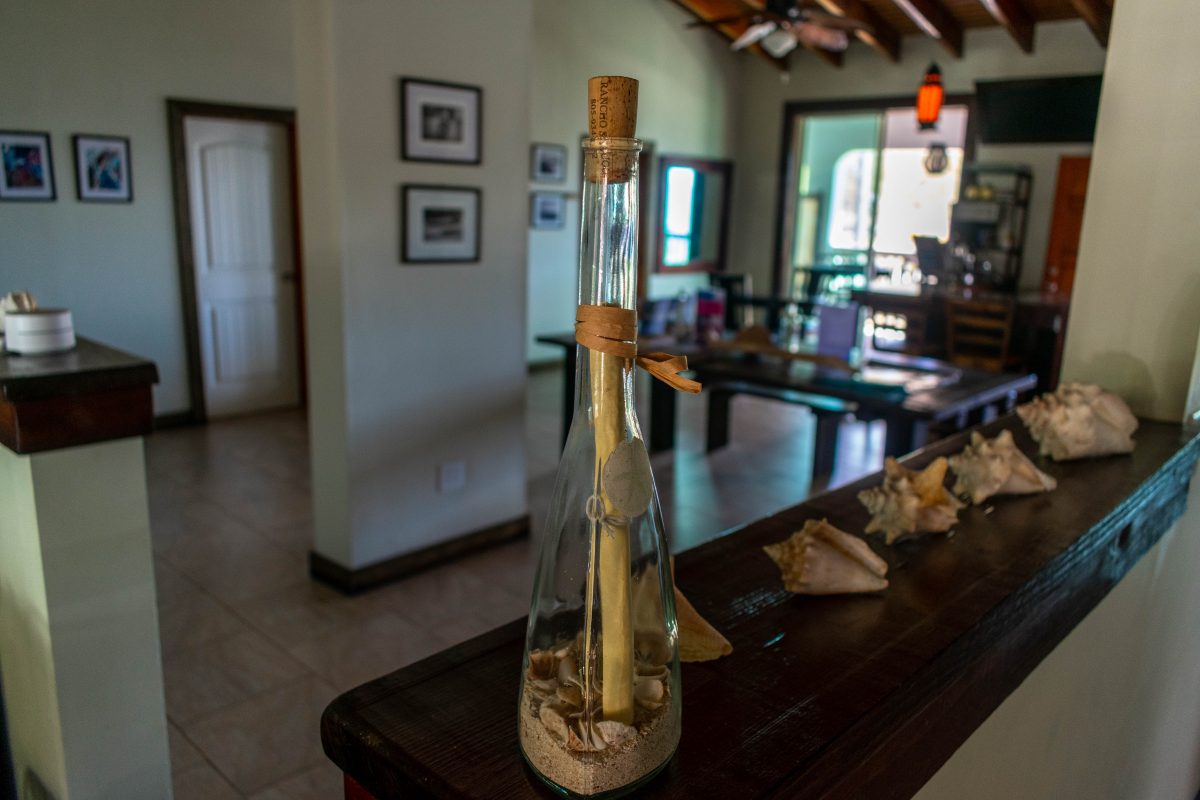 Dark-stained woods are a signature element of June's remarkable craftsmanship, which you'll appreciate all the more when you realize that June, a former financial analyst, never even tried to build any furniture before moving to St. Thomas from Los Angeles a few years ago with his wife, Helen, to realize their dream of operating a bed and breakfast in paradise.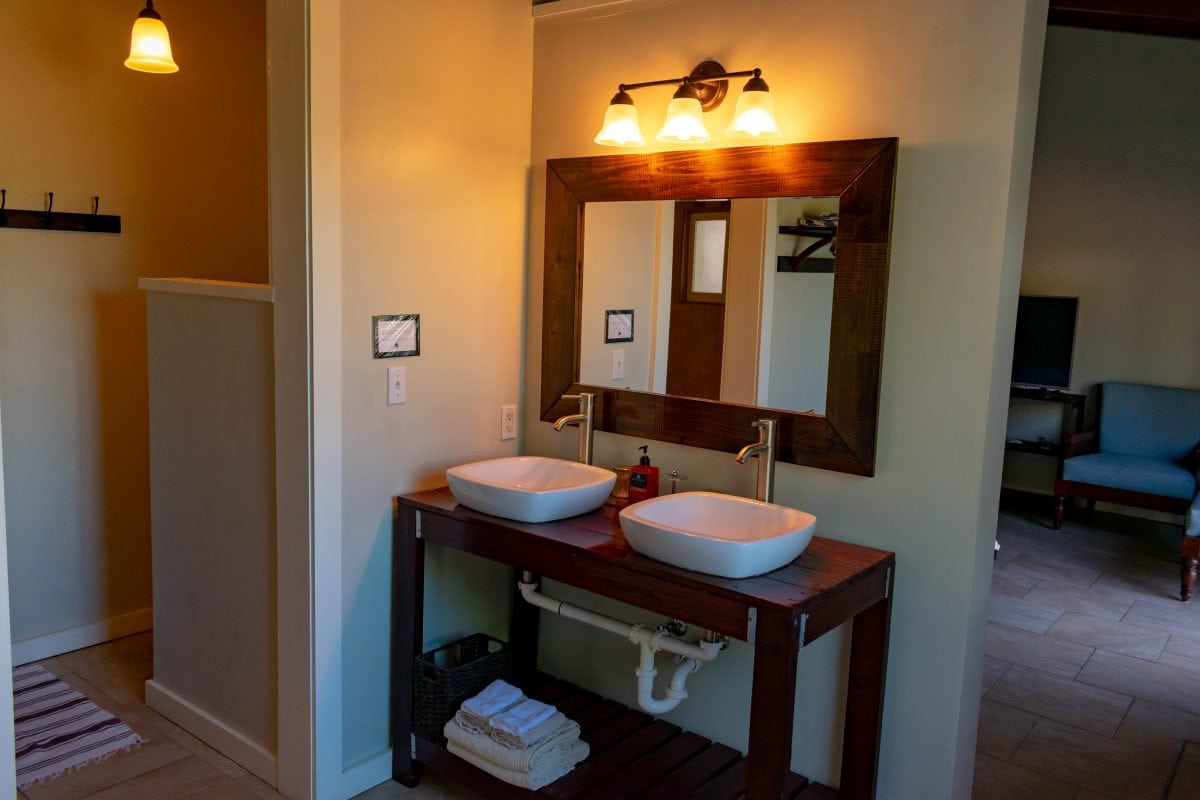 All of the tables, platform beds, the bar, stools, benches – even the bathroom vanities – all products of June's two hands and imagination.
The tall ceilings and open floor plan that runs throughout Two Sandals also really appealed to me. Patrick and I shared a room here, something we've been loathe to do ever since we were kids. Here at Two Sandals, though, it never felt like we were on top of each other. The rooms are just that roomy and well thought out, especially in terms of the positioning of the beds.
The best thing about Two Sandals, though, is your other host, Helen. A California lawyer in another life, Helen is the real heart and soul of Two Sandals. This is most evident at breakfast, which Helen prepares herself everyday. Home-baked muffins, quiche, local yogurt and granola, and some of the best coffee this non-java drinker has had in awhile are staples of the breakfast fare here.
Enjoying Helen's breakfasts on the verandah overlooking Red Hook is pretty special too.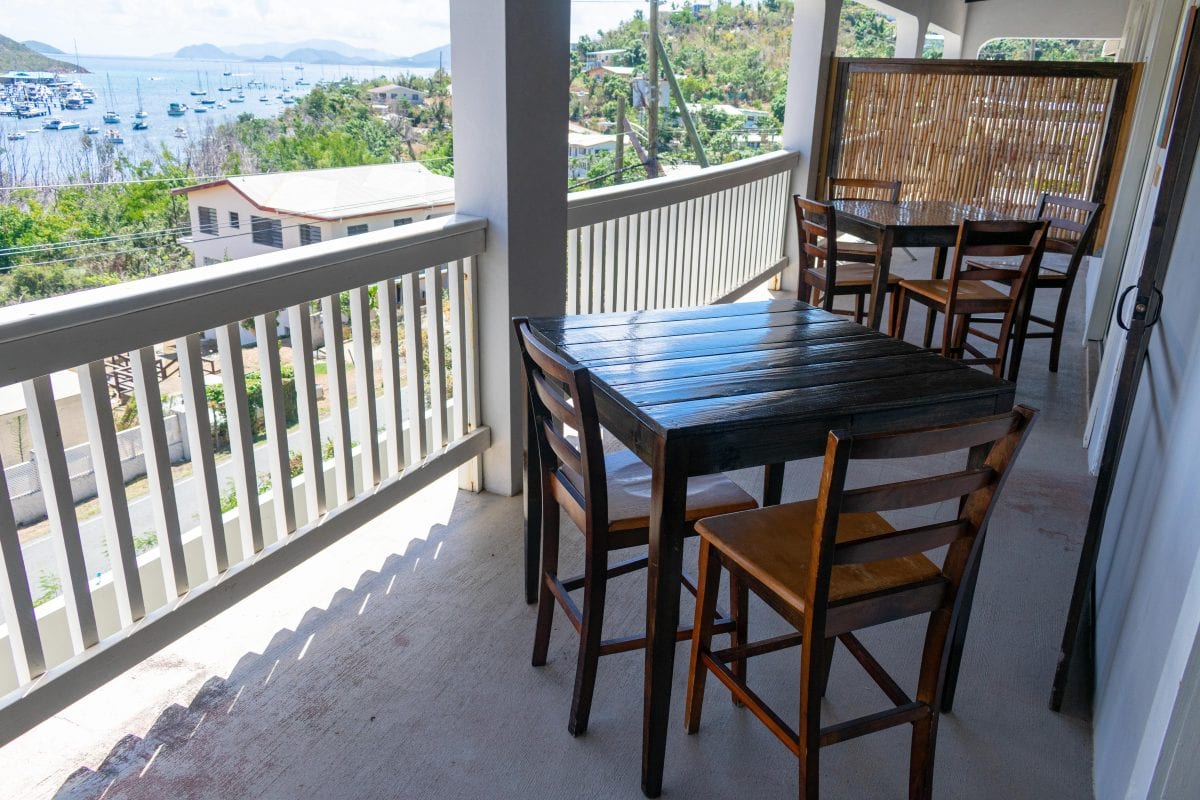 Helen and June are also really helpful with tips and recommendations on must-see's and do's around St. Thomas, the two of them happy to share the knowledge they've gained as more recent transplants with their guests.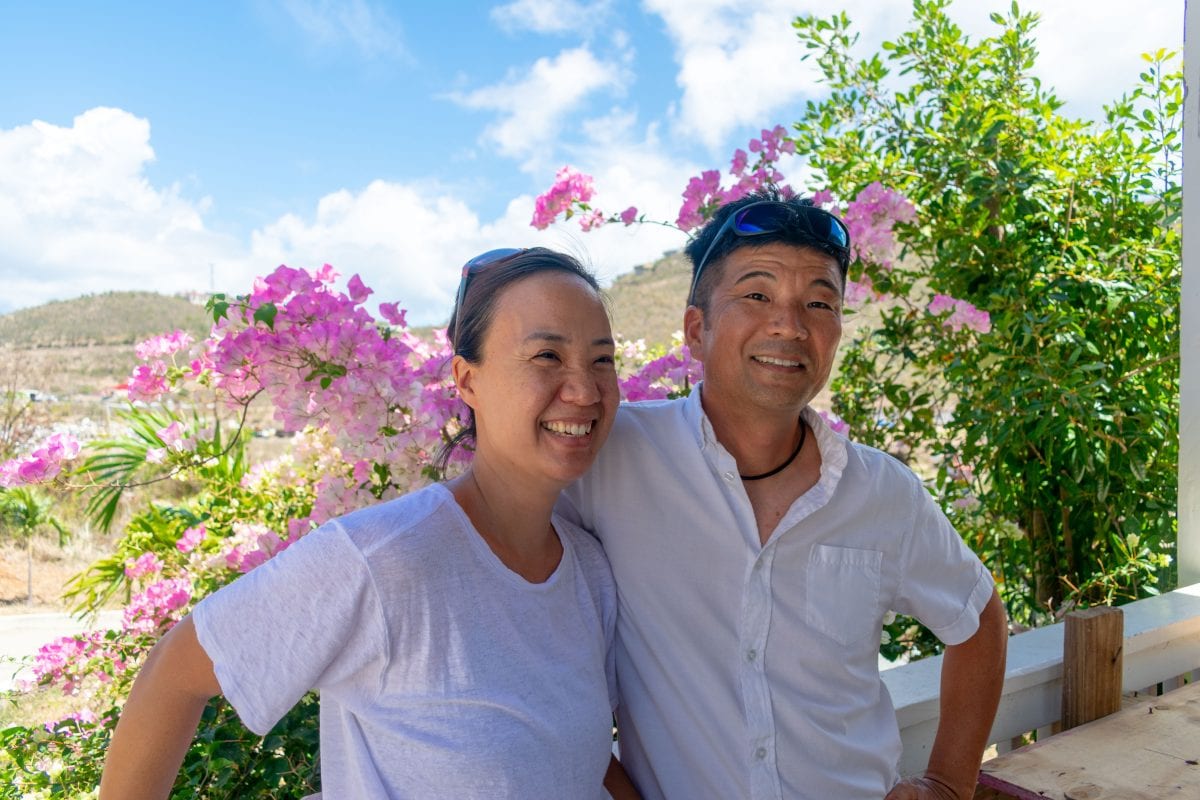 Like a lot of the other smaller boutique hotels in St. Thomas, Two Sandals opened its doors soon after hurricanes Irma and Maria struck last September. As June told us just before we checked out in late-May…
A lot of hotels are still down, but we opened our doors on October 12, and ever since we haven't closed.
June's advice for anyone on the fence over visiting St. Thomas right now:
I would say now is the best time… There's not many people here, so now when you come, you get all the attention. And when you go to the beaches, it's not crowded… You can have the beaches all to yourself.
Sounds like a great plan to me, especially with Two Sandals as a home base for all your St. Thomas exploration.
For more info, be sure to visit Two Sandals online and give Helen and June big hugs for us when you stop in for a visit.
Related Posts