Beachy Keen Jack's Bar, Bequia
There can't possibly be anyplace to eat down here.
The thought crossed my mind more than a few times as the car in which I was riding/bouncing about made the turn off the main road down a precariously steep and very bumpy path toward Princess Margaret Beach in Bequia.
At the wheel: my new friend Emmett, co-owner of the sublime Sugar Reef hotel and as great a guide as you can find for adventuring around Bequia (or buying property on the island).
Our destination: someplace called Jack's Bar for lunch, a mission I thought impossible judging by the near-impassable condition of the road.
Princess Margaret Beach is judged by many to be the finest stretch of sand and sea in Bequia in part due to its remoteness. It's hard to get here by land, a fact that combined with a lack of parking makes crowds, noise, and nonsense virtually non-existent here.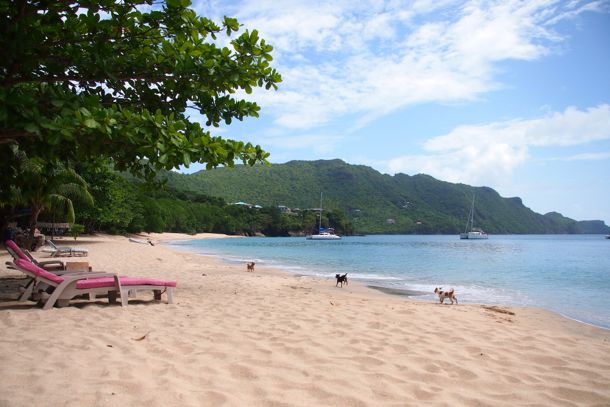 My style of beach for sure. The kind worthy of a little extra effort. Where the muscle strains suffered from lugging your own cooler and treats only solicit smiles as you pop a pair of Advil later on.
No Advil would be necessary for me on this day though. At least not from lugging anything down to Princess Margaret. As Emmett promised, Jack's Bar had everything I could want, and more.
Contemporary-casual in style and decor in a manner echoing Nikki Beach chic, Jack's melds so seamlessly with the natural surroundings along Princess Margaret that it would be easy to miss if we had set upon the sand further down from its location at the northernmost end of the beach.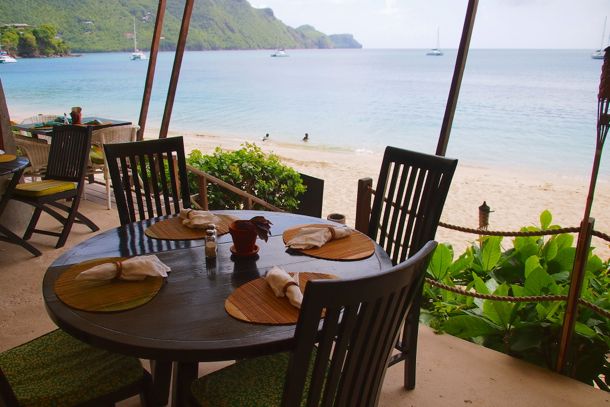 Overhead, the canvas tent-like roofing rippled in the breeze as a selection of light and easy Rock Steady classics spread over the eclectic dining area and out onto sand.
The drinks: a bit watered down, but nice.
The food: your typical beach bar faves (burgers, salads, seafood) with a wee Mediterranean twist.
The vibe: pure sophisticated beach relaxation.
What's great about Jack's is that it doesn't try too hard to outshine its biggest asset: Princess Margaret Beach itself. There's no graffiti on the walls or old hats, bras, or college banners hanging all over the place to distract from the scene. Instead, everything here is geared toward the beach – your eyes, nose, and ears constantly drawn her way no matter what other noises, smells, or sights might be present within the bar.
Classy without being stuffy, fun without being wild – Jack's is a beach bar with singular style in Bequia, a status that certainly fits as you won't find any other bars or restaurants anywhere on Princess Margaret Beach.
For more on Jack's Bar, check them out on Facebook.
Related Posts