Deal of the Week: 50% Off Buccament Bay Resort, St. Vincent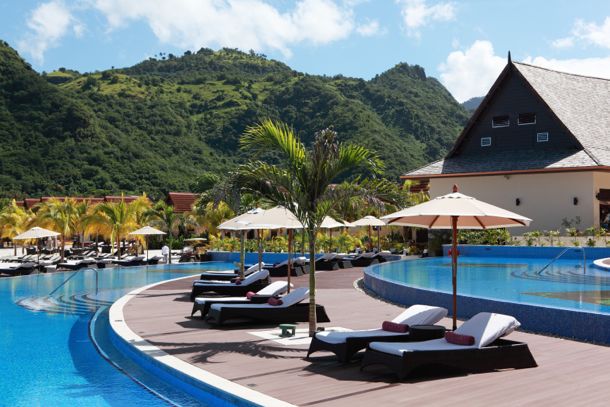 A few weeks ago, a UC reader wrote to us asking for a hotel recommendation in St. Vincent. I gotta' say, I was stumped. The sum total of my first-hand experience with the island consists of one visit, which lasted only a few hours several years ago. A Vincy travel expert I am not, though my research did turn up a nice deal that might work for you, especially if you're desirous of experiencing this decidedly uncommon destination without eschewing life's finer luxuries…
This is Buccament Bay Resort, St. Vincent's first and only luxury all-inclusive resort, open now for exactly one year. As hotels go in St. Vincent, Buccament is uncommon for offering all the activities and amenities you might sooner expect in more typical resort destinations like Montego Bay or Aruba… and more.
There's the on-site Pat Cash Tennis Academy, as modern and impressive a tennis facility as found at any resort throughout the region where guests can even receive instruction from the former Wimbledon Champion himself at certain times of the year.
Or what about the on-property Liverpool Football Club Soccer School, which invites guests to hone their skills under the tutelage of some of the sport's biggest names, including Steve Staunton, David Fairclough, Andy Townsend, and others.
Indeed, this place goes well beyond the typical poolside dance competitions and water aerobics offered at your run-of-the-mill resort properties. All of this speaks to progress within St. Vincent's fledgling tourism industry, which of course, is not always such a good thing. Take this scene, for instance…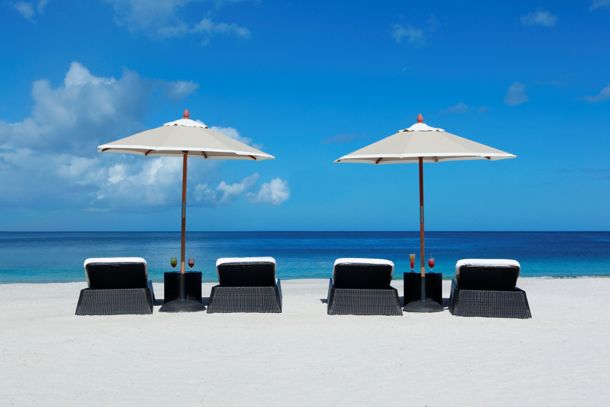 Is that not the brightest, whitest sand you've ever seen? It stretches the length of the property along Buccament Bay, enticing visitors to while their carefree days away in utter tropical bliss.
Only problem is, it's not real.
St. Vincent is a mountainous volcanic island. Like Martinique, it's one of the few places on earth where you can enjoy both white and black sand beaches. Unlike Martinique, though, the coast in St. Vincent leans decidedly toward the dark side, with a good 95% of all Vincy beaches blessed with black sand. This includes Buccament Beach… in its natural form, anyway. The brilliant sand you see here was imported to make the beach more appealing to tourist tastes.
Crucian friends will remember that the developers of Carambola did the same thing in the late-1980's, coating Davis Bay's not quite white enough sand with a heaping helping of Barbuda's finest and brightest. I didn't like it then, so…
Sand and other sprawling resort issues aside, Buccament does have something we always like in our choice of hotel: an ideal location.
The property sits on St. Vincent's southwest coast, just 25 minutes from the airport. The calm Caribbean Sea here has been a favorite swimming spot for locals for generations. From the resort, you also have good access to a wide range of hiking and other eco fun, highlighted by the Vermont Nature Trail, which winds through an 11,000-acre nature preserve in the Buccament Valley. This is one of the best places to spot the rare St. Vincent Parrot, as well as up to 35 other species of birds.
Once you're done traipsing through the hot and sticky tropical underbrush looking for birds, a bit of relaxation in posh, plunge-pool-equipped environs probably won't sound half bad…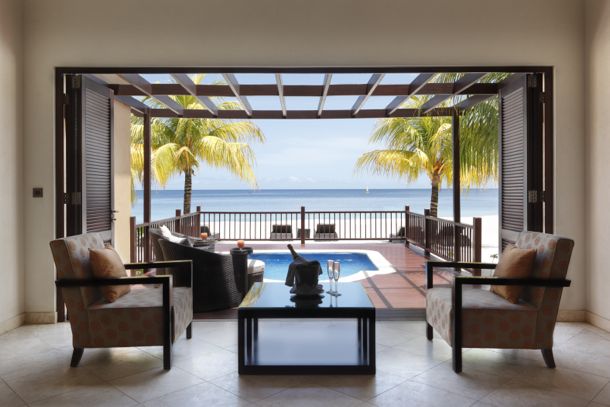 Even better, if you book your next stay at Buccament Bay by October 31, 2012, you'll save half-off!
The 50% discount applies to resort stays completed by December 20, 2012, yielding nightly all-inclusive rates starting as low as $683 per room based on double occupancy.
For reservations and more information, visit Buccament Bay Resort online.
* The information in this story was accurate at the time of publishing. All rates and specials are subject to change at the travel provider's discretion.
Related Posts