Friday Happy Hour: Hairoun Lager, St. Vincent's Blessedly Good Beer
In any survey on any subject held anywhere, any certain thing preferred by four out of five people cannot be bad. Four out of five is indisputably overwhelming, beyond reproach, and certainly worthy of attention, all of which goes double when it comes to a beer like Hairoun.
The local brew in St. Vincent & the Grenadines, Hairoun first appeared in 1985, thanks in large part to the same German brewmeister geniuses at Brauhaase International Management G.M.B.H. that helped to birth Wadadli in Antigua and Kubuli in Dominica.
Like its neighboring West Indian beer brethren, Hairoun takes its name from the ancient Carib Indian name for its home country, Hairouna. Also just like Kubuli and Wadadli, Hairoun checks in at an easy-drinking 4.8% ABV – another quintessential blonde Caribbean lager, the perfect companion to a warm beach lime or a hot fete.
Hairoun, Kubuli, and Wadadli share so many similarities (the packaging is almost exactly the same too!) that it's difficult for even the most trained beer experts to differentiate among them. Just look at our buddy Mark McKenna's take on Wadadli here. Now check out his views on Hairoun…
The beer has a brilliantly sparkling golden hue and a sweet aroma of Perle hops. It has a rich, rewarding full flavor with a strikingly subtle malt taste with an intriguing tinge of bitterness from its Hallertauer and Northern Brewer hops.
You could literally swap one description out for the other without missing a beat!
Still, for me, there's something different about Hairoun.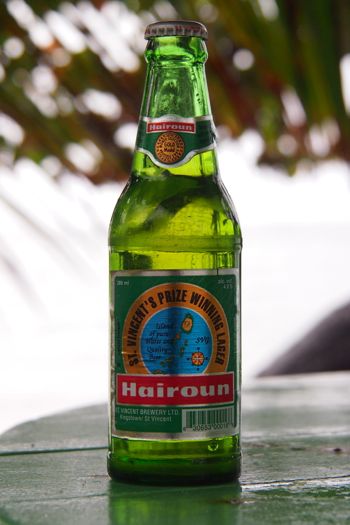 Maybe it's the fact that I got to enjoy my first taste of Hairoun at Sugar Reef, the incredible new boutique hotel on Bequia that's not right for everyone, but fit perfectly for me. Just seeing these pics of Hairoun bottles I enjoyed there puts me right back at The Beach House watching the waves roll into Industry Bay – chirping birds, a gentle surf, and the distant laughter of local kids playing in the sand the only sounds to grace my ears.
Or maybe it's the main thing that makes Hairoun a uniquely Vincentian product: water.
A fabulously lush island comprised of a series of partially submerged volcanoes, St. Vincent is home to some 14 or so rivers and streams, each brimming with the type of crystal-clear spring water that makes for truly exceptional beer.
Then there's this third option… divinity.
Hairouna, literally translated, means "Land of the Blessed," a name I can certainly agree with after taking in this uncommon view of St. Vincent several weeks ago.
With its crisp, clean flavor, Hairoun Lager definitely lives up to its name to me, and most everyone else in St. Vincent & the Grenadines, at least according to statistics.
Remember that whole four out of five stuff? Well, four out of every five beers sold in St. Vincent & the Grenadines is a Hairoun.
Four out of five beer drinkers can't be wrong, right? Believe me, the real fun is in traveling to St. Vincent & the Grenadines, putting the local predisposition toward Hairoun to the test, and making your own special memories…
Cheers!
Related Posts