Friday Happy Hour: There's No Copying The Sublime Sugar Reef Rum Punch
One of bitter, two of sweet…
We all know the drill when it comes to rum punch. Keep it simple, adhering to the tried and true traditional method, and you really can never go wrong. Not that there's anything wrong with adding a unique touch or two to spice things up. You just don't want to go overboard to the point your added accoutrements overwhelm the drink.
To help guide you in crafting the very best of these potent pleasures, we've made a habit of sharing a few of our favorite rum punch recipes (here's one) over the years from our travels. I'd like to say we could do the same for the amazing rum punch I've been enjoying here at Sugar Reef, Bequia since I arrived yesterday… but I can't.
Why? Well, let's start with where I'm enjoying 'em…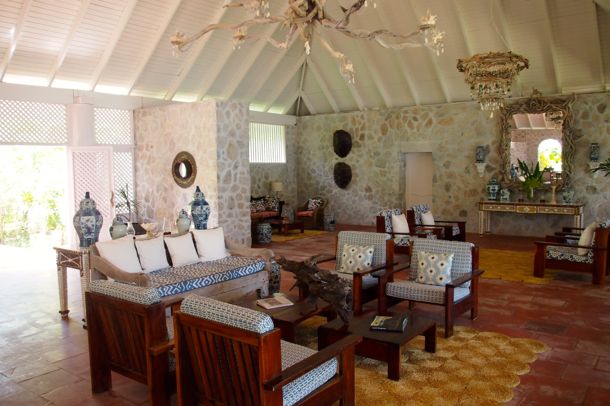 This is The Beach House, one of two smartly-outfitted edifices housing guest accommodations at Sugar Reef (The French House is a short walk up the hill). The Beach House is also where you'll find the property's main restaurant and a very nice, curved wood and concrete bar where I've spent most of my first 24 hours in Bequia.
The persistent waves gently caressing the shore a few yards away, combined with the steady cooling breeze that passes through the place are certainly part of the reason the experience of enjoying this punch cannot be duplicated elsewhere. The polite company of fellow guests and staff are another.
Then there's the rum. Sugar Reef employs a local blend called Sparrow's, which I'd never tried before. It's dark, handsome, and a little on the sweet side like I tend to prefer. Not sure how long it's aged yet, though I'd be surprised if it was more than a couple years.
In short, it's a good mixing rum with enough flavor and kick to truly shine through in Sugar Reef's rum punch. Still, there's more…
Like the water – pure, virgin rainwater collected here at the Sugar Reef Estate. In fact, aside from the rum and the bitters (Angostura, of course), most everything included in the rum punch is grown or sourced naturally on the estate, including the limes that constitute the one part sour, and the nutmeg, which I really like as a nice added touch.
Indeed, it is all of these things coming together so perfectly in my glass – complementing the sublime peace and calm of this magical place – that make it impossible to copy this particular rum punch anywhere else.
Like Sugar Reef itself, this rum punch is sublimely unique in a way that simply must be experienced here to truly appreciate.
Here's hoping you can get down here for a taste real soon…
Cheers from Bequia!
Related Posts