Living the Dream and Learning to Sail: Part 2 – Casting Off
"So how'd you guys meet?" I ask of my new instructors, Chris and Chrystal of LTD Sailing School. We're about to embark on a week of close quarters living while sometimes miles away from shore. With a Cheshire smile, Chris answers:
Oh, we met in prison.
For the past month I've had my nose buried in the American Sailing Association 101 textbook Sailing Made Easy.
On my way to work, at lunches, on my way home—anytime I had a free moment.
It's not that the book is a massive tome crammed with Byzantine seafaring knowledge. In fact, the book is breezily written (no pun intended), chock-full of easy to understand illustrations, peppered with inspiring photos, and only 120 pages. It truly lives up to its name.
The real reason I couldn't put it down is because this is the first time I've tried to learn something really new in a long time. Something that required studying, recall, and focus.
OK, the really real reason I couldn't put it down is because I was afraid to fail. I hate the prospect of losing… At anything. So, I studied.
I committed all the new sailing terms to memory.
This is a "pulpit," that's a "transom." Freeboard, draft, beam? Got it. What about head, luff, leach, clew, foot, and tack? Parts of a sail, no problem. I could point out spreaders, jibs, forestays, shrouds, goosenecks, boom topping lifts, boom vangs, and everything in between!
I went through the quizzes at the end of every chapter again and again until I finally found myself in sunny St. Vincent with Chris handing me a one hundred question test!
It's 100 questions 'cuz they know sailors can't do math!
Chris joked, but I'd soon learn that's far from the truth.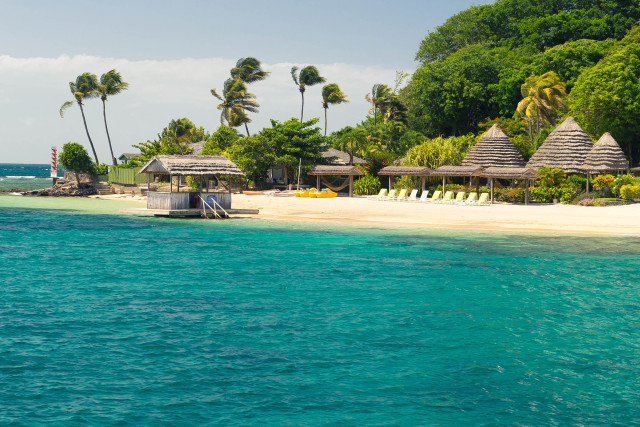 Sitting in the "cockpit" of the boat that would serve double duty as my classroom and dormroom for the next week, the minutes ticked away. We were moored between the dark, volcanic shores of St. Vincent and the exclusive sands of Young Island. The water surrounding us a turquoise temptation. Sea birds flew overhead. Some boats puttered about. The stark, white cross planted on tiny Dove Island paid silent witness to my scribbling. (More on that uncommon attraction another time.)
Perhaps a bit too quickly and feeling fairly triumphant, I turned in my test.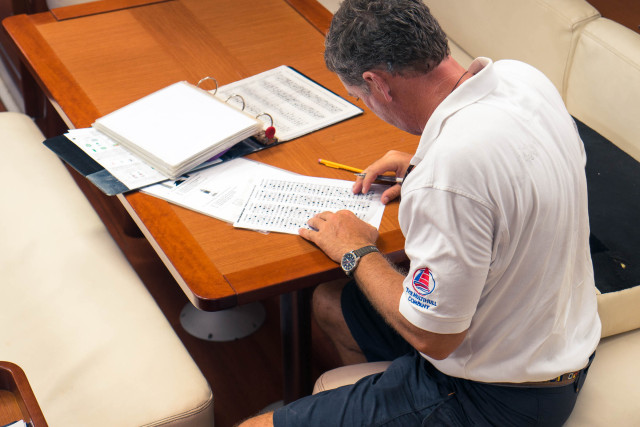 Chris retired below through the "companionway" to grade my effort… Moments later he popped back up. Final score: 95%!
So, today you're just going to have to trust me.
I could tell Chris was going to be full of one liners all week. But wait… Trust me? My old boat Trust Me and the adventure I'd had three years earlier flashed before my eyes. Bequia, Moonhole, Canouan, the Tobago Cays, Happy Island, Carriacou! My heart started to race. Not only would I be sailing through those incredible destinations again, this time I'd be doing it as a sailor! As crew on the oddly named tack till Nordic.
Of course, before I could trust him, Chris needed to clarify that whole "met in prison" thing.
Turns out that Chris and Chrystal spent a number of years working for the Washington State Department of Corrections—Chrystal in the office and Chris sometimes tasked with settling down the population! Between all that fun at work, the dream of a life spent sailing in the Caribbean danced in their heads until one day Chris left the freezing waters of the Pacific, rainy weather, and all the inmates behind to literally live the dream in Grenada. LTD Sailing (short for Living the Dream Sailing) was born. Although for a while "LDR Sailing" or Long Distance Relationship Sailing may have been more apt. That is until Chrystal finally joined Chris in the dream after a couple years.
Time to cast off!
With instruction from Chris, I helped cast us off the mooring. I "jumped the halyard" for the first time; hoisting the mainsail (pronounced mains'l). Pulling properly (pinky down!) on the starboard jib sheet, I unfurled the jib while maintaining one reef.
All of those actions I'd read about at length over the past month. But none of those actions happened smoothly on this day. Still, it didn't matter. In a way I was only just beginning to comprehend, I was sailing!
We left the picturesque, elevated canon battery of Fort Duvernette to port (the left side of the boat)—its 255-step ascent up 195 feet of volcanic basalt cliffside being relegated to some future adventure. The bay opened into a wide expanse of blue. Bequia beckoned just nine nautical miles away, promising a week to remember amongst the magical islands of the Grenadines.
Abruptly, Chris interrupted my daydream.
Prepare to tack!
Here we go…
Related Posts