Legends and Loose Ties to American History at Fort Hamilton, Bequia: Uncommon Attraction
Bequia makes a pretty good destination for history lovers, though you might not know it right off the bat. The island's historical attractions are less of the formal and refined variety found elsewhere (like here); instead reflecting a more laid back, "take it or leave it" sentiment that's right in line with just about everything across this special island's seven square miles.
Indeed, Bequia is not for everyone. (Tip: take this handy quiz to find out if it's right for you!) You tend to have to step out and be adventurous to make the most of your time here, which if you're a history buff, will likely lead you to the cannons above.
This is what remains of Fort Hamilton, a seemingly modest stronghold constructed in the 1700s atop a 300 foot-high hill that rests at the extreme northwestern arc of Admiralty Bay.
When I arrived here a few weeks ago, I must admit to being somewhat unimpressed… at first.
There are literally just a handful of old cannons here, propped up against a short stone wall – probably three feet in height – with a stone patio not more than a few feet wide itself. Oh yeah, and a cozy gazebo to shelter the sun. No towering walls or parapets; no ancient dungeons or other old artifacts, besides the aforementioned artillery.
Really, it's just a few cannons on a hilltop… but what a hilltop!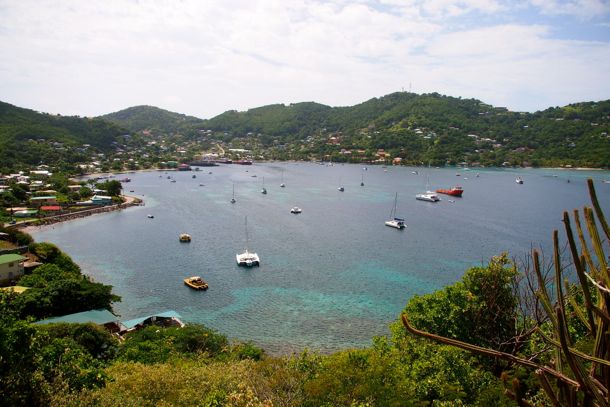 Then, as now, the fort offers as choice a location as you'll find for taking in the full breadth of historic Admiralty Bay, Port Elizabeth, and Bequia's rolling western coastline all the way down to West Cay and Big Cay off the island's southwestern point.
Seeing the two cays from the fort is not just inspiring in the sense of beauty, it also breathes life into one of Bequia's most fanciful legends…
According to local tradition, during the late 1700s, a misfired canon aimed at an enemy ship split the island's south western tip, separating it into two small cays.
There's a lonely sign at the fort where you can find this info. The sign also hints at a surprising bit of history that ties the spot to one of the Founding Fathers of the United States.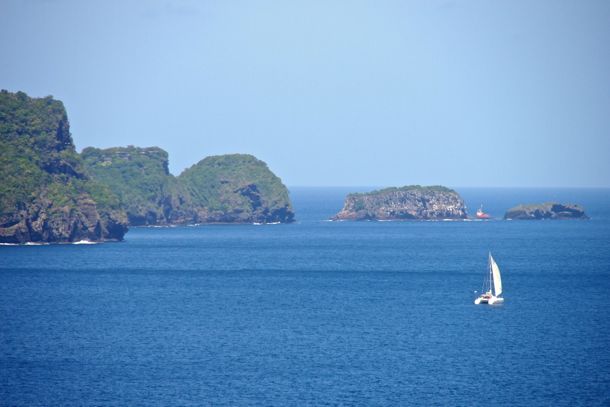 Fort Hamilton is named after Alexander Hamilton, though he never actually set foot in Bequia. His father James, however, lived on the island between 1774 and 1790. In those days, Great Britain was giving away land on Bequia to indigent settlers in an effort to jumpstart the local population. James Hamilton was lucky enough to snag a nice parcel along the island's southeast coast, which I imagine to be in the area of Friendship Bay.
You won't find any signs of the Hamilton family heritage in Friendship Bay now, (at least I didn't), but here at the fort, and its neighboring hills to the northeast, the name Hamilton lives on.
To get to Fort Hamilton, simply follow the main coastal road from Port Elizabeth north. Stay along the coast and turn right, ascending into a residential area. The road will quickly wind back to the left, taking you right to the fort. Bring a drink and some snacks and enjoy some of the best views in all of the Caribbean…
Related Posts