Thunderball Grotto – This Awe-Inspiring Adventure Comes in a Small Package
Diving into blue waters overflowing with sea life within a shimmering subterranean dome. This is The Golden Grotto… better known today as Thunderball Grotto.
Swimming pigs, a beautiful island inhabited by cantankerous iguana, an impossibly picturesque old-school regatta complete with traditionally handmade sloops, a delightfully diminutive 'resort' in the middle of it all…
Somehow, I've featured all these unique experiences, found in and around Staniel Cay in The Exumas, without ever touching on perhaps the most famous experience of all.
Just west of Staniel Cay is an unassuming rock surrounded by crystal clear water.
The rock is topped with mangy patches of green. Here and there frigate bird nests cling to its sides—their bleach-white droppings streaking the greying limestone. The western side of the rock slumps haphazardly into the water.
Bottom line: to the casual boater passing through, nothing about this little rock would scream "STOP HERE! I'M AMAZING!" Especially not when you factor in all the aforementioned amazing experiences on offer in the area.
But they'd be missing so much!
Closer inspection of the rock reveals one end of it looks like swiss cheese below the waterline—holes at varying depths pockmark the submerged walls. The first brave soul to swim through those holes found something special: a magnificent inner cathedral with a skylight at its apex.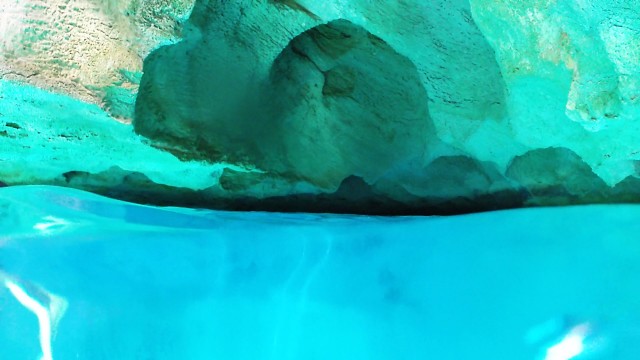 The "floor" of the cave is a calm pool lit from beneath by light streaming through the entry holes. And this floor is also alive with brilliantly colored coral reefs and fish, like yellow-tail snappers, angel fish, sergeant majors and the like.
It's no wonder then that this incredible location has been a sought-after stage for films like 1983's Never Say Never Again, 1984's Splash, 2005's Into the Blue, and the movie that changed the Golden Grotto forever: 1965's Thunderball.
Awe-inspiring. Surreal. Magical. Fantastic.
I first experienced Thunderball Grotto back in 2013 on a visit to the then work-in-progress Embrace Resort (it has now since opened, so read our review) and since then I've been trying to adequately apply words to the wonders found within that outwardly unassuming rock.
"It's a huge, gorgeous cave! And it's filled with fish!"
In a 17-foot Boston Whaler skimming across the turquoise waters west of Staniel Cay two years after my initial trip, I was making the case for a return visit to my 4-year old son: Trinidad.
"Is it dark?" Confusion, skepticism, and maybe a little fear played across his face.
"No, it's not dark. There's a skylight."
"But it's a cave, right? Are there bats? Is it scary?"
"No, no, it's not scary at all. It's amazing! You'll see…"
Now it was my wife's turn to look at me skeptically.
"Are you sure Trinidad should be doing this? He's four."
I looked over at my son who was beside himself with joy (while simultaneously trying to be very serious) since I'd let him take the wheel of our boat. I have a strong belief that kids can do so much more than we give them credit for (or opportunity to accomplish).
"I know, I know. Trust me, it'll be great!"
How many times have these been famous last words?
It's what's inside that counts
Dropping anchor near the entrance, I grabbed my GoPro, encouraged Trinidad to jump overboard, and in we went… We probably spent half-an-hour in there marveling at fish, swimming near the other exits, and idly chatting with some of the other temporary cave dwellers. Sometimes we were alone. Sometimes adventurers dropped through the skylights. Here's just a glimpse.
Thunderball Grotto, The Bahamas
Magic.
It just goes to show that when traveling you shouldn't take small, unassuming destinations for granted… And that goes double for small travelers. These are the moments that mean the most.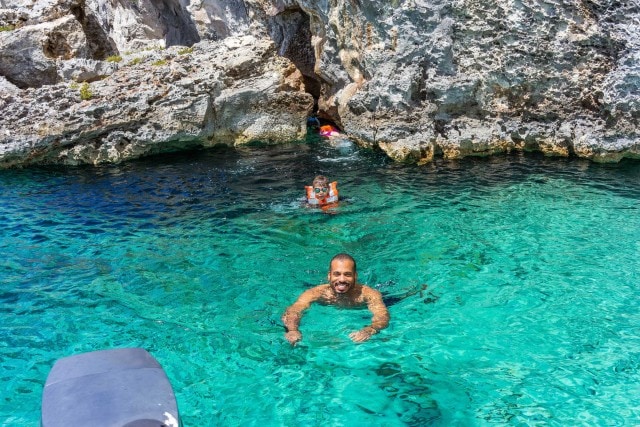 Book a stay at the Embrace Exuma Resort and get everything you need for this adventure: an authentic home base, a boat rental for sea explorations, and a golf cart for your time "on the hard."
Related Posts