Caribbean Wallpaper Wednesday: Heaven on Earth AKA Petite Tabac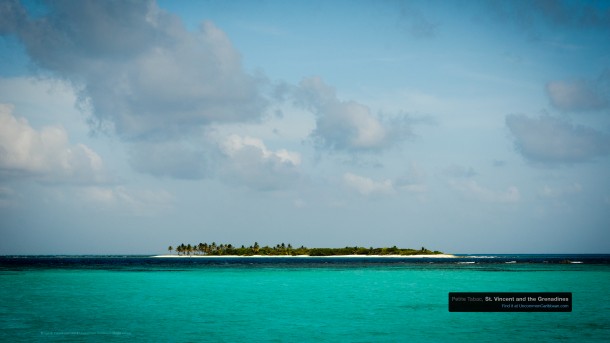 While on my recent sailing adventure through the Grenadines, I visited heaven on Earth.
Specifically, I'm speaking of the Tobago Cays. Few places on the entire planet can rival this Caribbean destination for shear awe-inspiring, natural beauty. It's almost as though a divine architect took a poll of our deepest tropical desires only to render them in a masterpiece of turquoise, ultra-marine, pink and emerald.
Everything you could ever want in a deserted island paradise is here.
You'll find shallow, crystalline waters teaming with colorful sea life including graceful sea turtles gliding to and fro. The borderline where sea reluctantly gives way to land couldn't be graced with more picture-perfect white sand. And coconut trees dot the area just beyond—their fronds splashing green brush strokes across the azure sky and blessed patches of shade across the ground.
Further inland on these tiny isles of perfection you'll find box tortoises lumbering along the ground and long, tan iguanas lounging in the trees. All the while, sea birds call from their nests in the rocks or as they lazily circle high in the sky.
You might think this destination is somehow only for the wealthy or just beyond your reach, but you'd be wrong.
Right off the bat, I can think of two ways you could experience this perfection for yourself.
At this very moment, you can find airfares from Miami International Airport aboard American Airlines to Grenada for just over $600 roundtrip. From Grenada, you could hop a quick flight aboard SVGair to Union Island for just 5 roundtrip. Now, so desperately close to the Tobago Cays you can easily see them on horizon, it's simply a matter of paying a water taxi less than $10 for a quick ride over to the immaculate waters pictured above.
You really read that correctly: If you want to experience heaven on earth for yourself and somehow still want to return to your regular life—it can be done for less then $900 roundtrip!
The other way is even easier, cheeper and can be done immediately.
Simply download this week's desktop wallpaper of Petit Tabac! You won't feel the salty breeze on your face, hear the birds drifting in the air, or swim with the turtles in turquoise waters… But you will be able to keep reminding yourself, every time you look at that gorgeous landscape, that you could be there for less then the price of a year watching the Jersey Shore on cable.
Related Posts