Caribbean Wallpaper Wednesday: Sunrise on Signal Hill, Tobago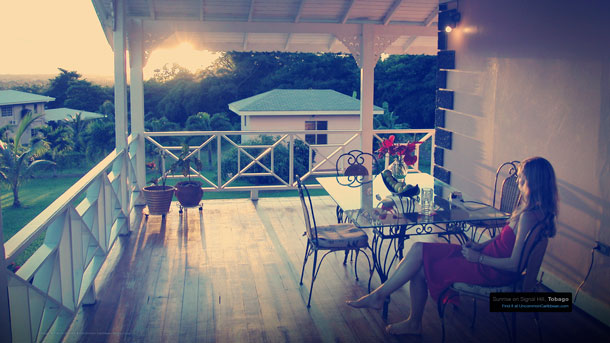 I'm dreaming of a white Christmas, just like the ones I used to know.
No, not white with snow! White with white sand beaches—just like the ones I used to know growing up all those years ago in St. Croix.
The holidays really are the most special time of year to spend in the Caribbean. 
While much of North America is shrouded in the cold, damp embrace of early Winter, it remains roughly 80º in the West Indies. And where the north is subjected to depressing, blink-and-you-could-miss-it periods of daytime, the Caribbean remains bathed in warm sunlight at least 12 hours a day.
But there's so much more to the holidays in the islands than just the forecast. To bring a little of this spirit to the cold north, we've been soaking fruit in rum since October for our black cake. Then there's my favorite holiday flavor, sorrel, my Dad's favorite, ponche de creme, Steve's favorite of coquito, and my other brother Peter's Bad-Ass Rum Balls™—a batch of which my wife whipped up just last weekend. And that's just some of the flavors of the season.
Unfortunately, it's been way too long since I've actually spent the holidays in the Caribbean.
Last year, we thought it was too early to begin my son's epic island hopping experience. And the years before? Well, there was always something. It hasn't been since 2008 that I've gotten to experience all paradise has to offer holiday season travelers. That year, the wife and I returned to Tobago to make festive with my Dad at his place on Signal Hill.
I still remember spending time picking passion fruits in the yard, taking his dog Flash II for walks down by the beach, feasting on the bonus holiday evening of Boxing Day, and ringing in the New Year at the home of one of Dad's many, interesting retiree friends who relish spending a long night telling a newcomer their old stories.
But my favorite moments of the trip were spent on Dad's veranda. At night, you could hear the booming echos of kids bustin' bamboo in the hills. During the day, it was a welcome retreat from the powerful, down-island sun. And mornings were best of all. In the first light, the yard shone with dew, West Indian birds roused themselves with song, little green lizards darted around snapping up ants for breakfast, and in the distance, waves coming ashore lightly shook the whole island awake.
This week's Caribbean wallpaper captures one of those special mornings on Dad's veranda back in '08. This year, we're lucky enough to again be spending the holidays in the sun, but until I set foot on West Indian soil, I'll live in my memories with this serene scene on my desktop.
Just click the link below to do the same.
Related Posts