Deal of the Week: Summer Escape to Blue Waters Inn, Tobago
This deal is no longer available.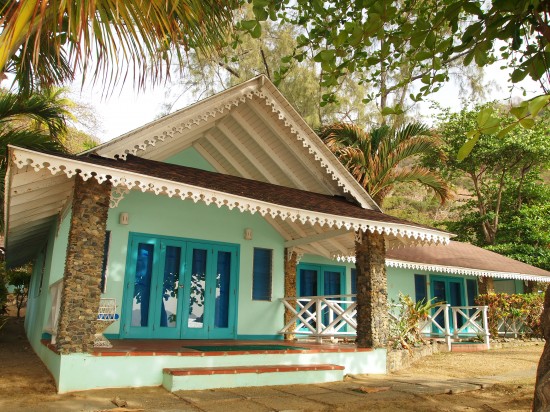 Fifteen paces. That's all it took to get from the bungalow I called home last week at the Blue Waters Inn to the sand, the gentle surf, and blissful peace and tranquility.
From my porch, I could easily make out a singular private home on Goat Island just a mile offshore. Ian Flemming reputedly gave life to several James Bond adventures here in-between hour-long snorkeling sessions in and among the teeming coral reefs that abound in the area.
Another satellite island, Little Tobago, lies just a bit further out. Also known as Bird of Paradise Island, Little Tobago is one of the world's premier bird sanctuaries. Following a short glass-bottom boat ride, nature lovers can see such exotic seabirds as the Red-billed Tropicbird, Audubon's Shearwater, Brown Booby, Brown Noddy, Sooty, Bridled Terns, and White-tailed Tropicbirds while traversing the island's many trails.
In concert with its sublime natural surroundings, Blue Waters keeps it simple — no TV's, no radios. I don't even remember seeing any clocks. Bungalows (like the one pictured above) do have phones, though I doubt they're ever used. Bedrooms are air-conditioned, but really, in a place like this, it's much nicer to open the windows and let the sounds of the sea send you off to sleep.
Did I mention that Blue Waters also has a nice little on-site restaurant? We dined on lobster last Thursday fresh-caught in the waters just offshore amid a casual atmosphere that encourages friendly interaction among guests and staff. Waves were breaking just 15 or so feet away from our table, the moon and stars danced above the sea as we laughed and dined behind a hedge of sea grapes; heaven.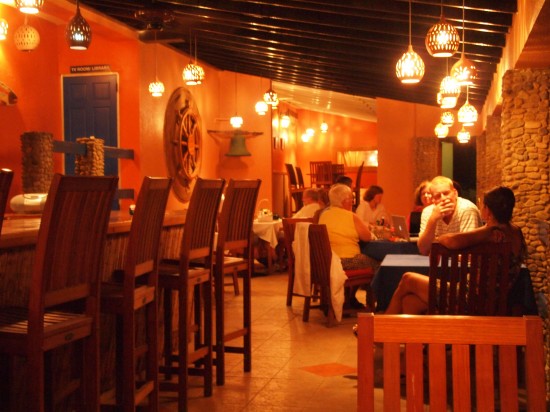 So, how can you get in on all the bliss that is Blue Waters Inn, Tobago? Well, for summer 2010 the property has launched a new "Treasures of Tobago" package that's an exceptional value. Available in three-, four- and seven-night increments, the package includes all of the following:
* Standard room beachfront accommodations
* Welcome drink
* Snorkeling excursion to Angel Reef
* Island tour of Little Tobago led by naturalist Newton George
* Guided tour of the rainforest and Argyle Falls
* Complimentary kayak usage
* Live entertainment on Friday evenings
* Airport transfers
* All taxes and service charges
The seven-night rate is the best deal at $544 per-person based on double occupancy. That's just a shade over $77 a night! Rates for the four-night ($379) and three-night ($279) options aren't too shabby either. All rates are per-person based on double occupancy.
To make a booking call the hotel directly at 1-868-660-2583.
Breakfast is also included in the room rate, and it's not some piddly Continental breakfast either. You have about a dozen choices with such hearty favorites as omelets, eggs any style, bacon, ham, and sausage ensuring that you start the day off with a full belly and the energy necessary to enjoy all that Blue Waters and its surrounding area has to offer.
* The information in this story was accurate at the time of publishing. All rates and specials are subject to change at the travel provider's discretion.
Related Posts