On-Site Tobago: An Afternoon at the Kimme Museum with the Late Luise Kimme
Are you not a journalist?
These terse words were among the first that Luise Kimme shared with me when I visited her wonderfully eclectic museum/home/workshop known as The Castle, in the hills above Mount Irvine, Tobago back in February. She shared them plainly, flatly with the dismissive tone of someone without time nor patience for small talk. I was interested in discussing what to her were the banalities of her life – how she had arrived in Tobago, what inspired her work and other such fluff. It was hot, we had arrived late and she had trod that ground too many times before.
Kimme was in a hurry. Her friend required a mate…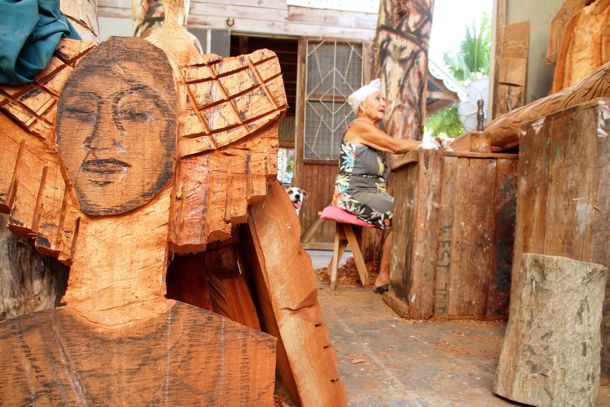 Luise Kimme was born in Germany in 1939. She died peacefully at the Castle this past Friday. In the intervening years she built one of the more formidable and celebrated artistic legacies the Caribbean has ever known.
She first arrived in Tobago in 1979 following years of study, teaching, creating and winning acclaim in Berlin, London, Rhode Island, New York and California. In Tobago, though, she truly blossomed, developing her one-of-a-kind life-sized (or larger) sculptures inspired by Tobago's culture, folklore and characters, as well as African Orisha art traditions reflecting manifestations of Yoruba deities.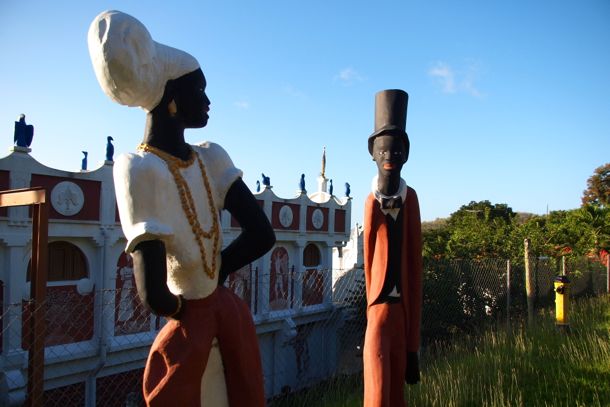 Some are bronze, though most are made of wood – oak, cedar cypress and lime. Kimme would carve them all by hand, using chainsaws, chisels, carving knifes and her own amazing hands to work full tree trunks into magical forms.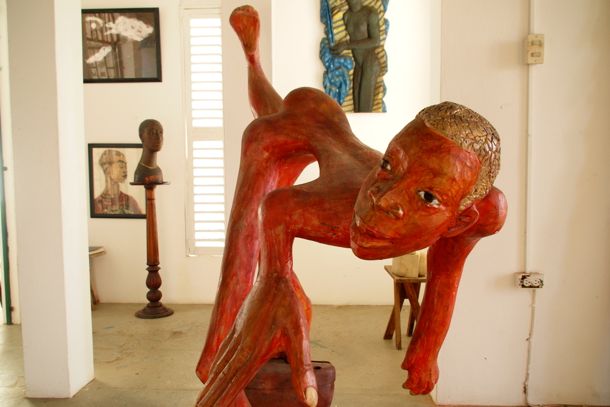 You can always know a Kimme piece by their animated, life-like expressions, poses and gestures. These are not statues in the colloquial sense of the word. Kimme's figures actually appear to move, infusing a tangibly whimsical and uniquely Afro-Caribbean sense of joy everywhere you see them.
I think you need to read something.
This is how Kimme dismissed me to the cozy museum section of the Castle, where she instructed me to read a stack of pamphlets with answers to my boring questions. She was smiling slightly by then, content to have me out of her hair so she could get back to work.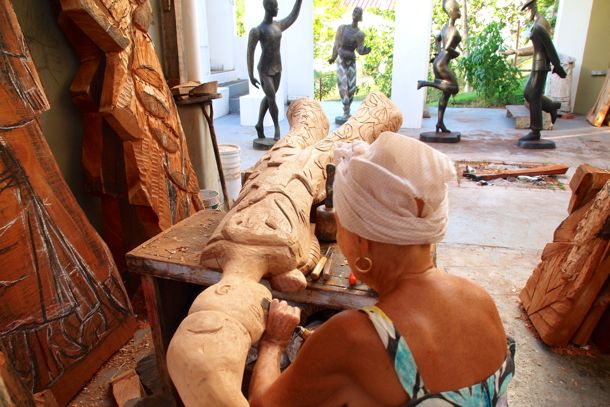 When I returned she was even more content, as you might expect such a prolific artist to be with her tools in her hands, working away at another masterpiece. I helped her turn over the piece above so she could chisel and sand more detail into the face. She smiled as she explained this latest work was being crafted to pair with another figure standing nearby that needed a mate, like the dancing couples in the background.
I could see on her face the deep yearning she had to bring these two together. Amid the many other works in progress scattered about her workshop, it was the joining of this couple that drove her work that day. They were real to her: born of her passion, given life by her hands.
The Kimme Museum is open on Sundays from 10am to 2pm, though private visits can be arranged. For more info on the museum and Luise Kimme, visit the Kimme Museum website.
Related Posts