On-Site Tobago: My Misadventures in Surfing de Trini Way
Surfing was not on my agenda when I traveled to Tobago earlier this year. I was there with my wife and kids to surprise my Dad over the Easter Holiday, which incidentally is an exceptional time to be in Tobago, what with the Goat Races and hilarious bobolee beatings.
Sure, I was looking for an uncommon adventure, but surfing? I had been to Tobago several times in the past few years and had never heard even the slightest whisper that the sport was alive on the island. I soon learned there was a good reason for that…
During dinner on the second night of our trip, I overheard a young local friend of my Dad's telling his wife about all the fun he had surfing earlier that day.
"Surfing?," I interrupted. "Did you just get back from Barbados?"
"Nah, man, we have some of the best surfing around right here in Tobago!"
Our new friend, Alan, was about to tell me all about it when my wife chimed in with: "Oh great, you can write about it for your site!"
Almost instantly, Alan clammed up. "You're a writer?," he asked, looking at me like I had just sprouted a third eye. I started to explain the whole Uncommon Caribbean thing, but somewhere around me saying that we spotlight lesser-known and off-the-beaten-path aspects of Caribbean travel, I lost him. Or better said, he tried to lose me.
"Surfing is one of our special little secrets here. We really don't want the word to get out."
Now I was even more intrigued, of course. After a few minutes of persistent badgering, and more than a few Caribs, I finally persuaded Alan to clue me in.
He told me about Mt. Irvine Beach, Tobago's prime surfing spot. He told me about anticipated conditions over the remaining days of my stay – "Tomorrow should be ideal, but the next day will be really rough." But most of all he told me about his friend, Jason Apparicio.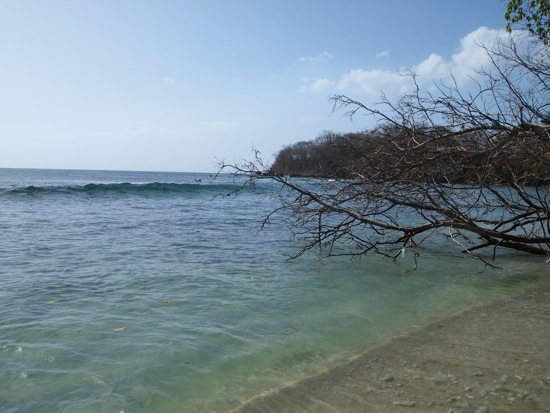 Trinidad & Tobago's most decorated pro surfer, Jason is the man to get with if you really want to experience the best that surfing in the twin-island nation has to offer. Whether you're an ultra-novice, like me, or a seasoned pro, Jason can tailor lessons or put together a full-on surfing adventure to match any skill level. Lucky for me, he just happened to be on the ferry from Trinidad to Tobago that night to spend the Easter Weekend enjoying the waves at Mt. Irvine. I made plans through Alan to hook up with Jason the next afternoon. By 2:00 I was shaking hands with the Trini surfing legend…and wondering what the Hell I had gotten myself into…
You see, once upon a time I was pretty athletic. From age four to 16, I swam competitively as a member of the St. Croix Dolphins. In high school, I was a starter on a championship-winning soccer team. I even continued to run and lift weights throughout my 20's and early 30's. Twin boys and a serious back injury later, and guess what? Adonis doesn't live here anymore.
Just so happens that my two biggest problem areas are ones that really count in surfing: abs and back. You need to have a strong core for surfing. I do not. My thoughts and aspirations soon shifted from "Wow, this is going to be awesome," to "Holy crap, I hope I don't die."
Before we get to the life and death part, let's take a few steps back so I can give you a few tips on what to expect if you ever decide to take a surfing safari to Mt. Irvine. When you get there, don't look for the surfing in the middle of the beach. The water is usually so calm there that older locals frequent the place for water aerobics and limin'. The surfing can be found to your right, or in the somewhat secluded northeastern section of the bay. The waves break on a coral reef quite a ways offshore, so you'll want to be weary of your landings at the end of each wave. You may also want to down a Lucozade beforehand, as you'll be doing a lot of paddling to get all the way out to the waves.
Before I could get in the water, it was time for a quick lesson. Jason was a great instructor – patient, laid-back and very flexible to my individual comfort level (or lack thereof). I was also lucky enough to get some pointers from his young daughter who happened to be along that day. Surfer kids are called Groms in Tobago and elsewhere. By virtue of her skill, Jason's daughter is known at the Grom Princess. I was in good hands.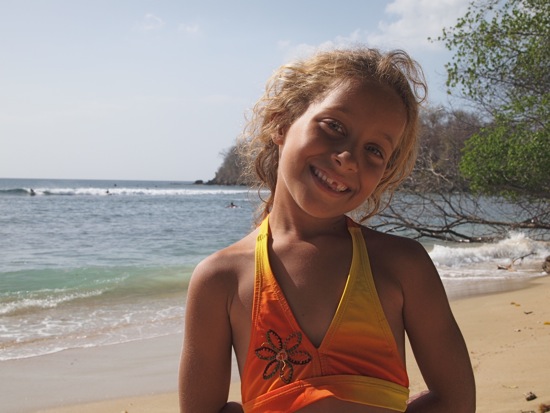 A few moments more and it was time to get wet. The King of Trini Surfing, his Grom Princess, and their hobbled court jester (me) set off toward a steady stream of four- to six-foot waves. Right away, I began to feel the familiar burn of lower back pain as we paddled side by side by side over the menacing, yet fragile coral reef below. Hmmm…this could end badly…
Once out in position and sitting on my board, the Grom Princess set off to show me how it's done. With a slight push from her Dad, she deftly leapt to her feet, gaining her balance with ease and eventually exhausting a wave twice her size till it could give no more. Couldn't have looked easier.
Now it was my turn. At Jason's direction, I paddled just ahead of him. He steered my board into position. This was it! A mighty push, some frantic paddling, a spring to my feet, and…SPLASH! It was over before I knew what hit me. Luckily the thing that hit me was the foam surf board Jason always insists his students use so as to avoid serious injury, and not the coral below. I was fine and ready to try again.
As the Grom Princess continued to surf circles around me, I struggled through four more attempts, each ending as ingloriously as the first. Thankfully, I continued to avoid the coral, but the strain on my back was too much. By try #5, I was toast.
Back on the beach, licking my wounds with an ice-cold Carib, I couldn't help but smile. The day hadn't gone the way I'd wanted, but the experience far out-weighed any disappointment or pain that I was feeling.
The sun began to sag in the afternoon sky. Jason, his wife, his friends and I laughed as male groms wrestled in the sand. Still others continued to quest for the perfect wave. As most days are when you try something new, it was perfectly imperfect and infinitely rewarding.
Related Posts