Artful Eats at The Pasta Gallery, Tobago: Taste of the Caribbean
While we always encourage you to immerse yourself fully in the wide array of uniquely West Indian flavors found up and down our islands, we also recognize that your tastes can, at times, exhibit a distinct longing for home during your Caribbean travels. Happens to me on the last night of each of my frequent trips to Martinique. After four or five days and nights of dining on the most amazingly scrumptious and inventive French-Creole fare, my body always craves a cheeseburger and fries, another in a long line of signs that I've lived outside the Caribbean for far too long…
Anyway, when you're in Tobago and your taste buds are ready to go home before you are, then this little spot down in Crown Point is a great place to go.
I was introduced to The Pasta Gallery by my Dad back in January. My taste buds were just fine with staying in Tobago a few extra days, but as Dad lives on the island and man cannot survive on Curry Crab and Dumpling alone, well, this is where we went.
Like my Dad, I happen to love Italian food, so I didn't protest too much, especially upon entering The Pasta Gallery and meeting Fabrizio, a Swiss-Italian gent who had the good sense to marry a nice Trinidadian woman named Claire and settle down in Tobago. The pair own and run The Pasta Gallery. As affable and accommodating a husband and wife team of restauranteurs as I've met on my travels, these two make dining at The Pasta Gallery feel more like you're relaxing in a friend's home.
The Pasta Gallery is small, warm and welcoming. Walls are colored brightly in varying shades of red/purple, green and yellow. True to its name, original paintings and drawings are hung throughout the space, creating a sense of dining in a cozy art studio. All the art is produced by local artists, including Claire, and just like everything on the take-out menu, you can buy the art and enjoy it at home.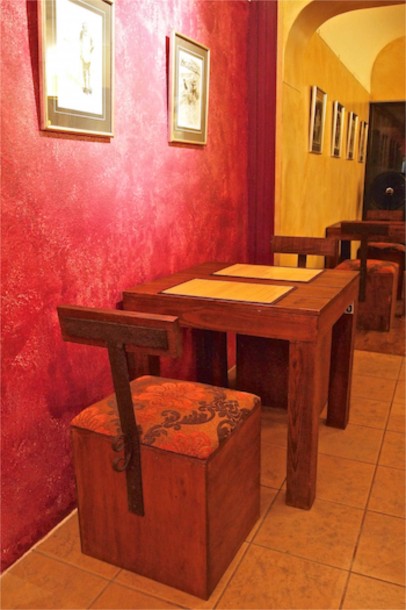 Even the chairs and tables are works of art. Fabrizio told me they designed all the seating themselves after being unable to find the right combination of style and comfort. These heavy wood/wrought iron pieces definitely succeed on both fronts, if you ask me.
The best art here, though, is served on a plate. The menu isn't extensive, but it covers all the right bases for me, with seafood and salads nicely complementing traditional Italian faves – lasagna, spaghetti, Fettuccine Alfredo, bruschetta, etc.
I went with the classic baked meat lasagna (also includes bacon!), though in hindsight I wish I had opted for the veggie version, which includes some Trini Pak Choi. Next time…
They weren't serving alcohol during my visit to The Pasta Gallery, but I don't think they'd frown on it if you brought a bottle of wine with you.
Also, gluten-free and wholewheat pasta options are available.
The Pasta Gallery is located in the heart of Crown Point, right near the airport on Pigeon Point Road. For the full menu and more info, visit them online, or check in with Fabrizio and Claire on Facebook.
Buon appetito!
Related Posts