Raiding the Secret Rum Stash at Tobago's Seahorse Inn: Taste of the Caribbean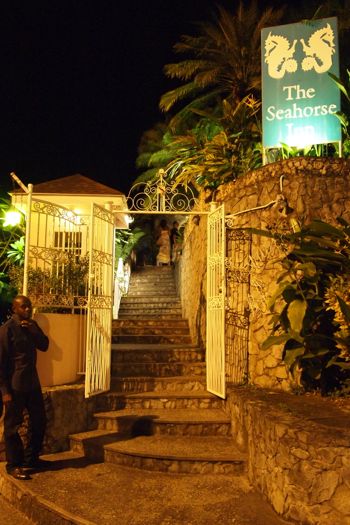 Steeped in history (some of it haunted) and brimming with warmth and charm, The Seahorse Inn ranks among the top options for fine dining in Tobago. As the name implies, you can also stay here in a choice of four guestrooms. Nearby villas and suites are also available, but it's the food and dining experience that really put this place on the map. I confirmed this to my heart's (and belly's) content when I visited Seahorse a few weeks ago. In the process, I also discovered the place hides a bit of a rum secret…
Up the stairs pictured here, you'll find an array of alfresco seating areas, some more private and intimate than others, and a small nicely equipped bar. Soothing sounds of waves caressing the shore at Grafton Beach just across the street provide a sublime soundtrack to an elegant night out here.
Prior to dinner, I sauntered over to the bar to check the selection. Rum options were limited, commensurate with the size of the bar itself, though the top local choices – Angostura 1919 and 1824 – were in good supply. I opted for the Top Shelf 1824 and settled in for a nice meal.
The Seahorse Inn is noted for its sumptuous seafood, with fresh lobster and fish choices delivered to the restaurant daily from local fisherman. A wide assortment of salads, as well as steak, chicken, lamb and pork entrees are also available, ensuring every belly goes home full. I started with the Creole Crab Cakes, made with the same local blue crabs found in this staple Tobagonian dish, before moving on to a fantastic surf and turf plate featuring lobster meat so tender and juicy that it still makes me salivate to this day.
Just before dessert, I was lucky enough to chat with Nick Hardwicke, owner and head chef at The Seahorse Inn. Even if you don't stay here, or enjoy a full-blown dinner like I did, definitely stop in for a drink and meet Nick. A native of Trinidad, Nick did his studies in Europe, returning home to elevate Tobago's culinary scene to new heights. He's a great guy, very friendly and knowledgeable about all there is to see and do in Tobago.
He's also the keeper of this:
This is a secret stash of Angostura, specially blended exclusively for The Seahorse Inn. Nick purchased the mini barrel as part of a sales program run by Angostura a few years back. It works like this: Angostura blends a cask of rum exclusively for you and provides you with a mini barrel full of it. Whenever the barrel runs low, Angostura refills it from the same original cask. Once it's done, it's done. Any bar or restaurant could've gotten in on the program, though Nick wasn't sure if any others had.
The mini barrel is kept tucked away in Nick's office, reserved for special occasions and those "in the know." You'll definitely have to ask him to get a taste… and if you love rum, you'll want a taste!
Dark, thick and woodsy, The Seahorse Inn blend boasts a nice bit of warmth and bite to it. For my taste, it's a bit strong and overly rich in molasses flavor, like a harsher, manlier version of 1919. This is one rum you'll want to sip slowly and savor neat, perhaps while enjoying the wonderful sunsets at Seahorse.
Emerging from Nick's office after our impromptu private tasting, a member of the waitstaff informed me that I had missed dessert.
She, of course, could not have been more wrong.
To learn more about The Seahorse Inn, click here to check them out online.
Related Posts