Tuesday 2 Cents: My Dad Talks Retirement in Tobago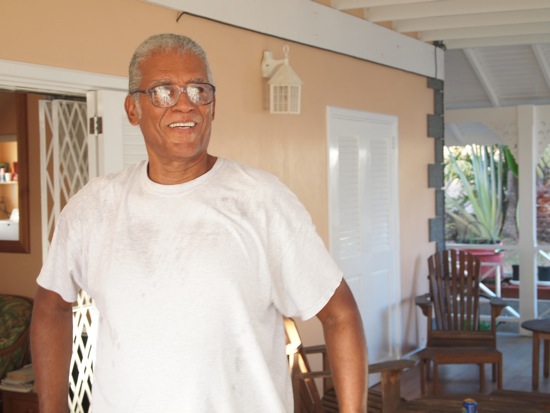 Does this guy look happy, or what?
Life is good these days when you're my Dad. Originally from San Fernando, a small town in southern Trinidad, he's the eldest of 9 brothers and sisters, all of whom lived together in a modest 4-bedroom/1-bath house. One of his brothers still lives in the house today, so I got a chance to see it a few years ago.
Recalling that visit now as I write this, I can't believe all those people co-existed in such a small space. I mean, 1 bathroom. Really? Seriously? How is that even possible?
Anyway, Dad eventually made his way to St. Croix with my Mom only to welcome my 2 brothers and I into his life. Going from a household of 11 people to a family of 5 may seem like an improvement, but in many ways I'm sure that my brothers and I wreaked a level of havoc equal to what my Dad endured back in Sando.
Today, all that havoc is but a distant memory. A young 69 years-old and in the best shape of his life, he's turned a lifetime of cramped homes and hard, blue-collar work in the oil business into an idyllic retirement in Tobago.
Why Tobago?
Having been abroad for so many years (35), I thought it was time to come back home and get to spend more time with my siblings, and also experience life in Trinidad & Tobago again.
What's your favorite thing about living in Tobago?
Great friends. Since we're retired, we love the community of retirees. There are people here from all over the place – Trinidad, Jamaica, England, the U.S., Canada – old and new friends. We get together regularly for a beach lime, dinner, parties, and just to have fun.
What "must-do" should every visitor to Tobago experience?
Every visitor to Tobago should experience a trip to Buccoo Reef and take a swim in the Nylon Pool, which is located approximately 1 mile offshore on the Reef.
What's your favorite restaurant in Tobago?
Definitely the restaurant at Kariwak Hotel. The food there is always prepared with fresh ingredients from their expansive garden, and the quality and service is consistently high.
What advice do you have for other people considering retirement in Tobago?
People who want to retire in Tobago should never expect to receive the same type of service or treatment they get in the States or Europe. This island is very charming, but only if you decide that you really want to retire and take things easy.  Things do not happen at a fast pace here – that's why we like it!
Related Posts