Tuesday 2 Cents: Warren Solomon Gives Up the Best Dive Spots in Tobago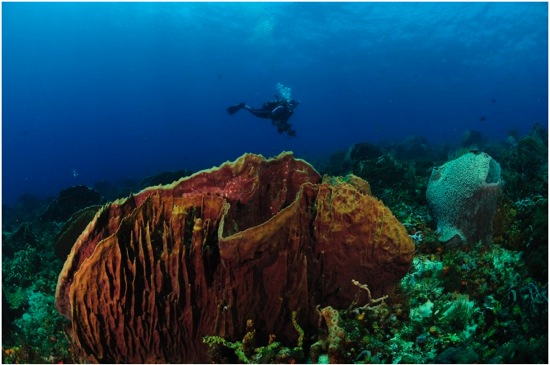 If you wanted to get the lo-down on the best dive spots in Tobago, you'd be hard-pressed to find a better person to talk to than Warren Solomon. Not only is he the island's Director of Tourism, but he's also an avid aqualung.
Actually, avid doesn't quite describe Warren's fascination with scuba diving. When I met his wife during my last visit to Tobago back in March and asked her about Warren's favorite hobby, she shot me the look of a woman scorned before shaking her head and wistfully sighing, "He has a problem."
Those of us who have known Warren for some time understand that this is but one of his many "problems", but for the sake of protecting the innocent we'll stick to the scuba diving today. Here's his top-three "must-dive" spots in Tobago…
Japanese Gardens
This site gets its name from the sea whip corals here that resemble Japanese bonsai trees. It's almost as if a Japanese artist sat down and painted his royal garden here. The Garden is a shallow sloping reef that begins at a depth of 30 feet and tumbles down gracefully to 100 feet. Just when you're sure that your leisurely visit is complete, you encounter the 'Kamikaze Cut.' The current picks up speed and you come barreling down towards two huge boulders, sure that the coming impact will spoil your day. But wait, you discover that a crevasse has been cut through the rocks and you pass between them, slow down, and find yourself returned to the calm and tranquil waters of Tobago. Nurse sharks and big barracudas like to hang out near the small caves at this site. There are also immense brain corals and large schools of jacks. Ian Fleming, author of the 007 novels, owned a house near here, on Goat Island, which sort of fits for such a thrilling dive.
The Maverick
This is a wreck dive formed in 1997 when a ferry called the "Scarlett Ibis" (the national bird of Trinidad & Tobago and a tasty rum, by the way) was sunk to create an artificial reef. The 230-foot ship, which was later renamed the "Maverick", sits upright on a sandy bottom at a maximum depth of 100 feet. In her years underwater she has put on a beautiful coat of corals and sponges. Schools of bait fish find shelter in the huge belly of the wreck. Jacks are attracted by this never ending stock of prey. It's also cool to re-enact the "I'm King of the World" scene from the movie Titanic on the Maverick's bow…..cheesey, but cool!
Kelleston Drain
What makes this site so famous is the fact that it's home to the world's largest brain coral, which you see towards the end of this challenging dive. Go on, find a larger one than this…I dare ya! The nutrient rich water allows a luxuriant growth of sponges and soft coral. Big schools of Creole wrasse and jack fish are always there. Even nurse sharks and giant green moray eels are frequently seen. Don't forget your camera!
If you share Warren's passion for diving and want more info on Tobago's dive wonders, click here.
Related Posts