Angostura Bitters: The Essential Secret Caribbean Flavor
If you've ever spent any time behind a bar, or you love to mix cocktails at home, then you should be familiar with Angostura Aromatic Bitters. There's arguably no other homegrown West Indian product better-known throughout the world of mixology. If not the entire world in general.
Yes, Angostura Bitters is the most popular bitters in the world. However, on a recent visit to The House of Angostura in Trinidad, I learned that ONLY FIVE PEOPLE know the real secret in this sauce. That and NOBODY knows all the ways in which it's used.
Angostura Bitters History
The story of Angostura Bitters starts in a small town once known as Angostura, Venezuela.
(OK, I know what you're thinking. Wait, what? I thought Angustora Bitters are from Trinidad! Indeed, you're right. Just read on to see how this Venezuelan transplant became a quintessentially Trinidadian taste.)
Anyway, this small town is now called Ciudad Bolivar. And back in the early-1820s, a German doctor named Johann Gottlieb Benjamin Siegert developed the original formula. Doing this while serving as a Surgeon General in Simón Bolívar's revolutionary army.
Dr. Siegert was inspired to develop a tonic to cure Venezuelan soldiers. They had been suffering from stomach illnesses and intense fevers common in the region's tropical climate.
After experimenting with various combinations of herbs and spices plus botanicals for a few years, he introduced his Aromatic Bitters and its unique flavor in 1824. It was an instant success.
Among the product's most ardent early fans were the many sailors from all over the world that made port in the town of Angostura at the time. They found Dr. Siegert's bitters to be a tremendous panacea for sea-sickness. Being sailors, they spread the word of its restorative powers everywhere they sailed.
Overseas exports to Trinidad and the UK began in 1830. By 1850, Dr. Siegert resigned from the army to concentrate on his miracle creation. Continued political instability in Venezuela caused his heirs to move the operation to Port-of-Spain, Trinidad in 1875. And there it continues to operate today.
Touring the House of Angostura
I gleaned most of that little history lesson from a video presentation they show you at the start of the standard tour at the House of Angostura. As distillery tours go, the two-hour guided visit (cost: US$10) is just okay. If you're not a big history/rum buff like me, the video will likely be your least favorite part of the experience.
What comes next, though, is a real treat for anyone who loves a little intrigue…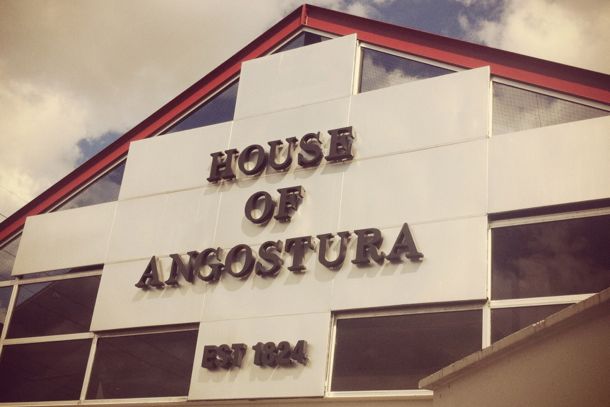 That's because the next stop on the tour is the Top Secret area where they manufacture the bitters. No photos are allowed in there, and you're strictly forbidden from straying from your tour group.
Whereas the vibe throughout the rest of the facility is rather laid back and congenial, it feels decidedly more intense and secretive in here. Like Big Brother is watching and you may get whisked out of there at any moment by security for making even the slightest misstep.
What is Angostura Bitters?
The 188-year-old formula for Angostura Aromatic Bitters is still today one of the world's most closely guarded trade secrets. Only five people in the entire world are allowed to know the full recipe at any time! The group is known collectively as "The Five Manufacturers." And according to our tour guide, Michele Ferah, they're about as enigmatic as the Angostura recipe itself…
You might work here for many years and never know who the Five Manufacturers are.
These five folks never even travel together. (Though the Angostura recipe is also kept locked away in a U.S. bank. So, production could conceivably go on without them.)
When it comes time to produce a new batch, one of them (The Five Manufacturers) has to be here measuring all the botanicals.
The raw herbs and other natural ingredients used in producing Angostura Bitters are gathered from various locations all over the world. Then shipped to the UK for sorting. From there, they're sent to The House of Angostura in packages bearing special codes that correspond to set ingredients. So even if you work in the mailroom and process all the parcels, you have no idea what all goes into making the bitters.
Only The Five Manufacturers really know. And they make sure no one finds out by working their magic in a small windowless room high above the Manufacturing Room floor. Only The Five Manufacturers are allowed up in their special perch. Again ensuring that all that's been unknown about Angostura Aromatic Bitters for generations remain that way.
Uses for Angostura Bitters
Now, if you've ever read the label of Angostura's distinctive packaging, then you definitely know this stuff is good for a lot more than just splashing on your rum punch, daiquiri, or other classic cocktails. (You'll also know that this stuff is 44.7% alcohol!)
Right there under a quick rundown of the product's history, it states in bold, all-caps: "FOR COOKING AND TABLE USE…ANGOSTURA MAKES FOOD MORE APPETIZING !"
Two or three dashes add flavor to cooked or canned fruits, while salads are improved when Angostura is blended into various dressings. It's also said to work wonders with pies, soups, ice cream, sherbert, puddings, cereals, vegetables, jellies, gravies, sodas…basically any Caribbean food and more!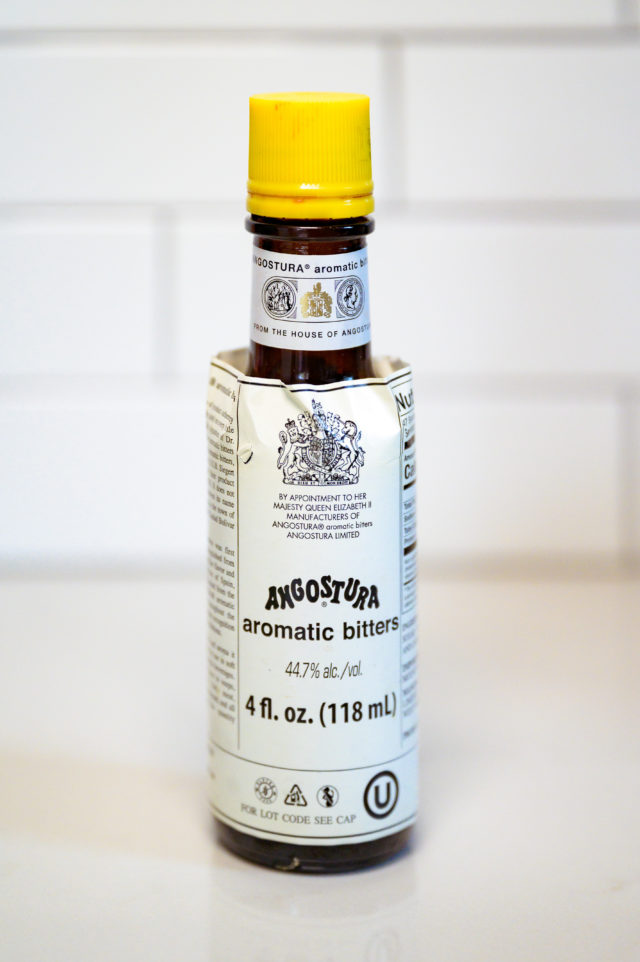 The original medicinal value of Angostura Bitters also remains strong. Just add a couple of dashes of this secret formula to a glass of water for one of the world's oldest and most effective treatments for all types of upset stomachs, indigestion, seasickness, hiccups, etc.
New uses are also still being developed all the time too. On our tour, we learned of a lady who swears the stuff works wonders in repelling mosquitoes. That was a new one to me, but not surprising.
Nearly 200 years on, this special West Indian potion continues to cure what ails the world. All while adding true Caribbean flavor to most everything we love to eat and drink along the way.
Angostura Bitters where to buy
Angostura Bitters are available for purchase in most grocery and liquor stores. If you can't find it near you, though, click here to order a bottle of Angostura Bitters online.
Related Posts