Angostura Lemon Lime and Bitters – The Taste that Tops Ting
Ting may be tops in Patrick's book when it comes to Caribbean sodas, but for me, nothing's better than an Angostura Lemon Lime and Bitters!
A product of Trinidad's legendary House of Angostura (est. 1824) beverage company, Lemon Lime & Bitters (or LLB for short) is a crisp, uniquely flavorful and refreshing soft drink. As sparkling non-alcoholic beverages go, it's the perfect accompaniment to any West Indian meal.


My 1st Taste of Angostura Lemon Lime and Bitters
I came to know Angostura Lemon Lime and Bitters on the first day of a recent visit to my Dad's place in Tobago. I remember it was an especially hot day and I, overdressed from my flight, was dying for some refreshment. My Dad offered me an LLB and I, of course, refused.
Why? Well, you have to know my Dad. He has what some might term eccentric tastes in Caribbean food and drink. Remember the iguana stew recipe I shared a few months ago? His Mom once packed that in his lunch to take to school, much to his delight.
I love my Dad, but as you can imagine, I'm not always too quick to take him up on his culinary suggestions.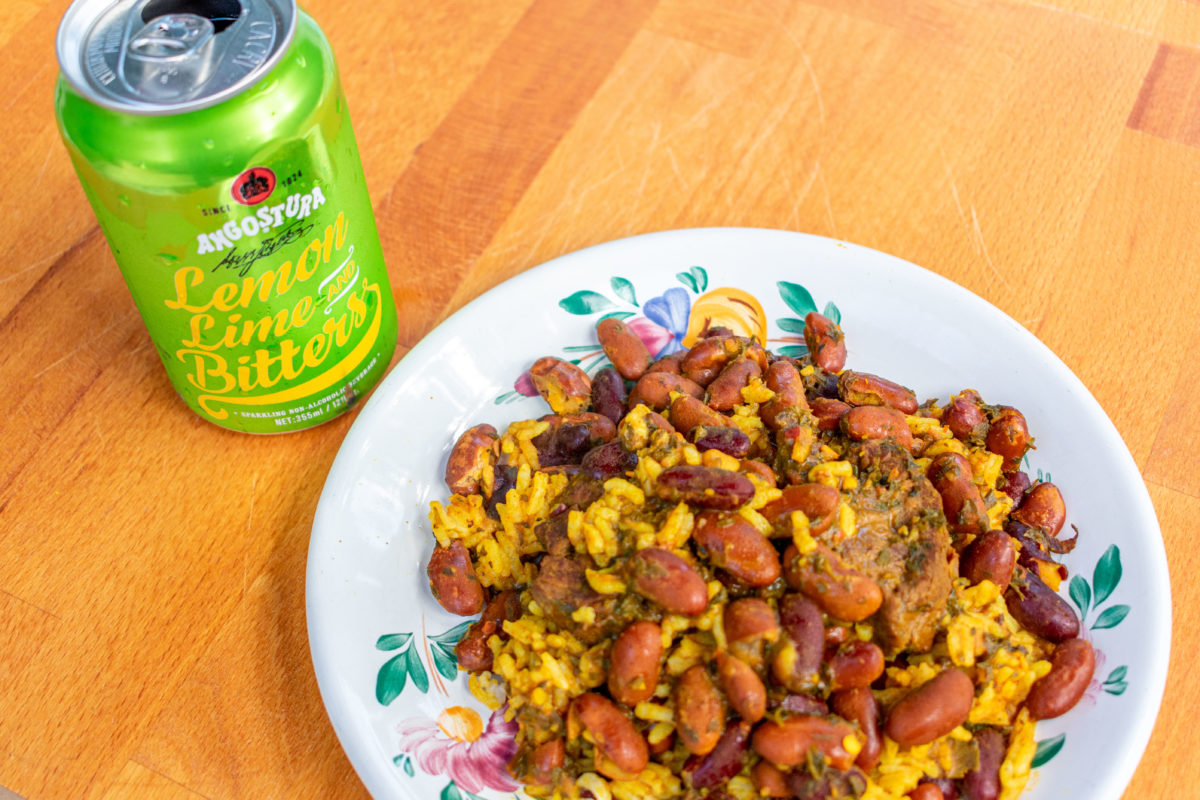 Anyway, a few Carib beers later, I decided to try this LLB thing. Surprisingly, I was hooked at first sip… Big time!
LLB has a very fresh taste, with the added zing from the Angostura bitters making it truly unique.
Australian Taste of the Caribbean
This uniqueness, though, is not a purely Caribbean phenomenon. The drink actually has roots in Australia, where the alcoholic version has been the preferred libation at the 19th hole among the golfers for years.
I verified this on my last trip Down Under in 2016. (Yes, I do sometimes visit areas outside of the Caribbean, albeit rarely.) At a Buck Show in Adelaide I learned that the tradition of enjoying Lemon Lime and Bitters after a round of golf has been passed down through the generations in Australia.
In 2007, The House of Angostura started bottling Lemon, Lime and Bitters, passing the tradition to soft drink lovers in Trinidad and the broader West Indies.
My Dad then passed it down to me while limin' on his verandah in Tobago. Now I'm passing it to you!
Bitters Makes it Better
As with the Aussie version, the Lemon, Lime and Bitters in the eye-catching cans from Trinidad is blessed with bitters. Not just any bitters either, of course. Angostura Lemon Lime and Bitters naturally contains Angostura Bitters, the undisputed gold standard of aromatic bitters enjoyed worldwide.
Angostura Lemon Lime and Bitters is, in fact, the only soft drink in the world with Angostura aromatic bitters built right in it!
Unlike the Aussie version consumed at the 19th hole, though, those pretty cans of Angostura LLB do not contain alcohol. This may seem a bit confusing since Angostura Bitters, by definition, contains alcohol. Each iconic yellow-capped bottle is 44.7% alcohol.
So, how is it that Angostura LLB is alcohol-free?
Keeping the Soft in this Caribbean Soft Drink
Essentially, Angostura skips a step in producing the bitters that go into its LLB sodas.
For typical bitters production, the company produces a liquid extraction of a proprietary blend of herbs, roots, flowers, seeds, and other secret ingredients from all over the world. This mix is then soaked in alcohol to produce Angostura Aromatic Bitters.
For its LLB soft drink, Angostura simply skips the alcohol soaking stage.
So, with each LLB you basically you get all the benefits of the complex flavors inherent in Angostura Bitters without the alcohol. Plus, there's that crisp and ultra-refreshing lemon-lime flavor with just the right amount (31 grams) of sweet… Delicious!
Oh, and speaking of that sugar, it's of the pure cane variety. Nothing artificial, which also counts as a big plus for me.
Angostura Lemon Lime and Bitters is also gluten-free, contains zero caffeine, and is Kosher-certified.
Angostura LLB Cocktails
With the world's finest aromatic bitters as its primary ingredient, it's no wonder that Angostura Lemon Lime and Bitters is the best Caribbean soft drink to mix in cocktails. LLB just works with everything. Pick your poison – rum, gin, vodka, whiskey. No matter what you like, adding a little LLB only makes it better!
My personal favorite, of course, is a rum and LLB. Two-three ounces of rum over ice with four ounces of LLB is pure and simple niceness. For the rum, I tend to prefer anything aged less than three years. A sprig of mint as a garnish adds to the aromatics, but isn't necessary.
Angostura Lemon Lime and Bitters effortlessly dresses up cocktails all on its own.
Where to Buy Angostura Lemon Lime & Bitters
Next time you're in Trinidad or Tobago, make sure you give this stuff a try. You can also order it online, or look for it on store shelves near you. Here in Florida, for instance, Angostura Lemon Lime and Bitters is available in Total Wine, Publix, select ABC Fine Wine and Spirits stores, and just about every single West Indian grocery store.
Cheers!
Related Posts