Friday Happy Hour: Angostura 1824, the Pride of Trinidad Rums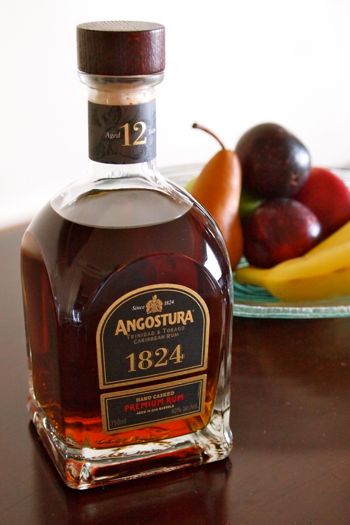 Sinbad, Yanni and Fabio aside, the world's biggest celebrities are often the ones that go by one name only. Oprah, Sade, Renaldo, Rihanna – you get the idea.
In the world of rum, similarly exalted status is often reserved for exceptional blends known in number only. For me, the very best of these special rums is 1824.
It was a year that saw Australia officially become Australia, adopting its current name in place of New Holland, as it had previously been known. Like 2012, it was also a Leap Year, and in the U.S., time for another hotly-contested Presidential election. Lord Byron passed away, Stonewall Jackson was born, and in a small corner of the Caribbean, The House of Angostura was founded.
The name Angostura is known the world over for its magical Aromatic Bitters, of course – a key component of any bar worth anything anywhere in the world. As ubiquitous as the company's signature bitters are, though, their fine rums are equally as anonymous, at least outside of Trinidad and enlightened connoisseurial circles.
Even with my Trini ties and love of rum, I hadn't come across 1824 before my last trip to my ancestral home in January. I had long been well aware of the other "known by number only" Angostura rum (more on that a different day), but 1824 was a very pleasant surprise to me. I actually bought the bottle pictured here at the airport on my way into the country, so taken was I by her dark and rich amber color and sexy bottle curves.
I soon learned that 1824's arresting exterior visual features were nothing compared to the sweet liquid inside.
Angostura 1824 originally debuted in 1999 to commemorate the founding of The House of Angostura. Like a lot of the finest things in life, 1824 is heavy on its handcraftsmanship. After careful blending, the rum is hand-casked in charred American oak barrels formerly used to age bourbon for a minimum of 12 years. Once mature, the rum is hand-drawn, filtered and bottled – you guessed it – by hand.
The result is an exceptionally smooth, satisfying and easy-drinking top shelf rum, most certainly the pride of Trinidad rums. This is a bold, flavorful and dark rum along the lines of Guyana's famed Demerara rums. On the nose, you'll note sweet and inviting molasses and vanilla. On the tongue, it's much of the same, with perhaps some light tropical fruit flavors mixed in, and very minimal burn.
Angostura 1824 is an all around extremely pleasant premium rum best enjoyed neat or with a couple ice cubes.
Personally, I'd happily hop a plane back to Trinidad just to pick up a few more bottles. I've never seen it on store shelves here in Fort Lauderdale, though word is we should be seeing more of these beauties across the U.S. very soon…
Cheers!
Related Posts