Friday Happy Hour: The Scarlet Ibis Trini Rum by way of New York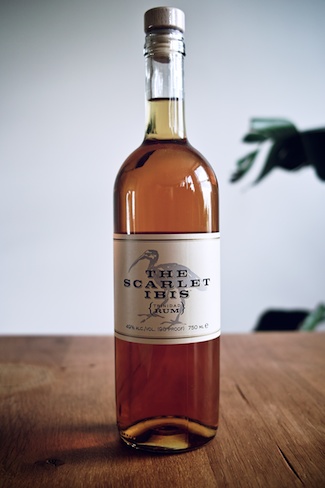 I have a very odd milestone rapidly approaching. In 2011, if I still don't call the Caribbean my home-base, I will have lived away from the Caribbean longer than I've lived in the Caribbean.
As sad as that sounds, it hasn't been too bad since I've called New York City my home for the past 11 years. Here you can get anything, from any culture at almost any time of day. (In fact, one of my favorite Trini roti shops is here in Brooklyn, but I'll reveal that taste of the Caribbean another day.)
Today's case in point is Scarlet Ibis rum. The truly uncommon genesis for this light, copper colored high-proof rum is tied directly to the speak-easy boom in New York of the past 10 years.
The first one of these "secret" bars I remember frequenting was Milk and Honey about 10 years ago in the, at the time, no man's land of the Lower East Side. A beautiful little candlelit space with touches to remind patrons lucky enough to know of its existence of a time when a night on the town was a bit more civilized. Posted rules included not approaching women without being properly introduced and "no name-dropping." But the biggest draw was owner and mixologist Sasha's immaculately crafted drinks.
The tremendous success of this model lead to many more bars with unpublished addresses as well as a new appreciation by night owls for finer libations—like the ones our own resident mixologist Jesse usually shares with us on Fridays.
Anyway, fast-forward several years to 2007 for the highly anticipated opening of a new East Village spot in the classic style, but with a published address named Death & Co. On nights I used to swing by in '07, they were often just turning people away due to waits of an hour or more for a chance to sink into one of their suede banquets and sample some of their masterfully crafted cocktails.
The main draw for me: Scarlet Ibis Rum.
For a time, this one location was the only place in the world where you could actually drink Scarlet Ibis Rum as it was a bespoke creation specifically for Death & Co by a Trinidadian bulk rum production company called Caroni. And what an excellent drink this 98 proof rum makes!
Personally, I love to simply savor most premium rums without any mixing, but to get the full Death & Co experience in your own home lounge (even if you don't have suede banquets), check out some of the drink descriptions on their menu. The Drunken Dodo, is one of my favorites with Scarlet Ibis Rum being joined by Carpano Antica Vermouth, Allspice Dram, Angostura Bitters, and an Orange Twist.
Scarlet Ibis Rum is only bottled as the limited blend becomes available, so it may be hard to find, but if you ask nice I might bring you a bottle on my next visit.
Cheers!
Related Posts