Friday Happy Hour: Trinidad Traffic Jam Cocktail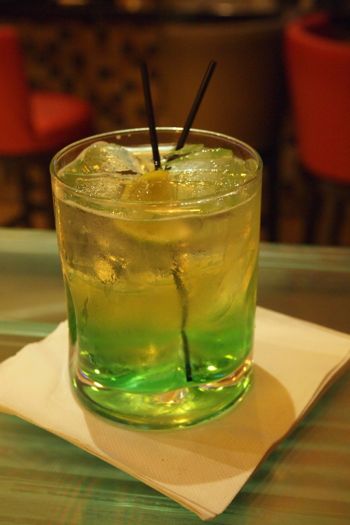 Ground Zero for the mixology revolution going down right now in Port-of-Spain may be the trendy bars and nightclubs along Ariapita Ave., as noted in this spot several weeks ago, but the movement is certainly not confined there. In fact, I got my initial taste of the city's ultra-mod creative cocktail scene at my host hotel, The Hyatt Regency Trinidad.
What's that you say? There's no way a Hyatt can be uncommon?
Generally, I'd agree…but this Hyatt is different. Style counts here, something you notice instantly upon crossing the threshold into the hotel's expansive lobby area during cocktail hour. The place oozes class, sophistication and a palatable "place to see and be seen" cache, evoking the grand Caribbean city hotels of yesteryear. Think the old Caribe Hilton, before they butchered the classic charm in favor of a plastic/neon South Beach-inspired motif that's the very definition of Caribbean kitsch – blech!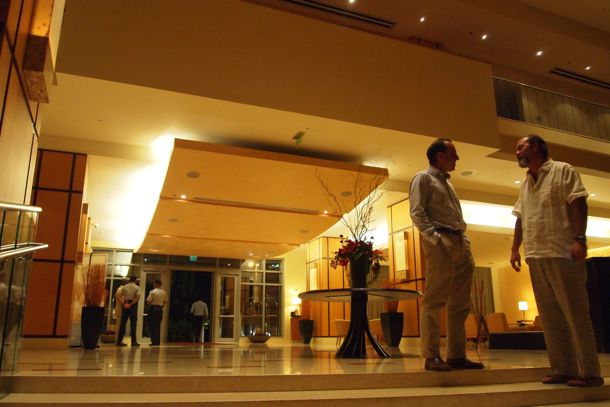 Hanging out in the lobby at the Hyatt Trinidad will leave you with no such ill feelings. On my visit, I was content to simply sit and soak it all in, watching as gentlemen in ties and women dressed to impress floated about the refined atmosphere. Business deals were being worked in quiet corners. A group of older women sauntered by, laughing as they sang along to the live rendition of Maxi Priest's Wild World emanating from out on the terrace. My eyes got lost in the folds of a skirt as the band moved soulfully into some Beres Hammond (They Gonna Talk). A lovely young waitress approached.
Good evening. May I interest you in one of our signature cocktails?
She sung her words so beautifully, I just could not resist. The list of drinks is pretty long, many with names inspired by local places, or the hotel itself. Little Savannah, Bucco Blue, and Trini Paradise all looked pretty good, but I was hooked by something called a Traffic Jam.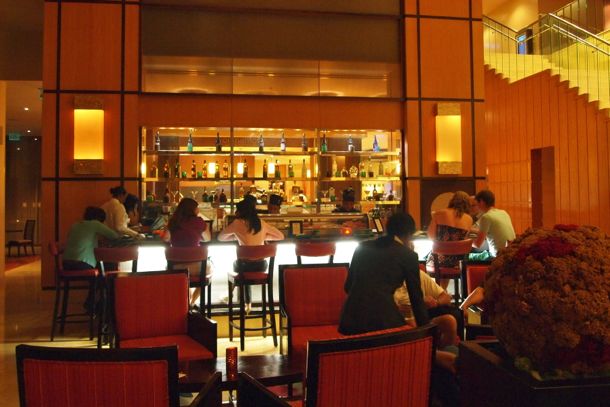 The loving creation of a Hyatt Trinidad bartender named Abiola, the Traffic Jam is basically a local version of a Long Island Ice Tea that gives a nod to the growing problem of overcrowded streets in Trinidad, and much of the rest of the Eastern Caribbean, brought on by the phenomenon of "Roll-on, Roll-off" cars. As my Dad explained to me once, Roll-on, Roll-off cars are gently used vehicles shipped over to the Caribbean from the Far East (primarily Japan), usually when they're only two-three years old. These practically new cars are sold relatively cheaply (used cars carry much lower customs duties than new ones), making it easy for most people to drive nice cars, ergo: traffic jams.
Like its namesake nuisance, this rite of rush hour cocktail is not one you'll want to down real fast either. That's because it's jammed with four different types of local Trini rum – Royal Oak, White Oak, 10 Cane and 1919. Abiola wouldn't divulge the full recipe, but as near as I can tell she mixed mine with 3/4oz of each rum. Add to that another 3/4 oz of Midori, and a splash or two of sweet and sour mix. Shake and serve on ice.
Unlike a real traffic jam, this cocktail is nice and refreshing, the disparate rums merging seamlessly onto the road to sophisticated fun.
Cheers!
Related Posts