Kraken Rum, The Spiced Rum with No Island Pride
Kraken Rum really bothers me. But maybe not for the reasons you're expecting.
West Indian Pride
We West Indians take pride in a great many things. The beauty of our islands, the unique flavors of our cuisine, the pulsating rhythm of our music, our history, our culture, and on and on and on. We certainly don't need an Olympics to come around to start waving our island flags. Most of us do it in some form or fashion every day, or at least every Carnival.
When it comes to rum, the pride factor is even greater. I wrote recently about the tremendous importance Cruzan Rum carries in my home island of St. Croix. Just as Cruzan Rum helps to define us Crucian people to the rest of the world, so too does Appleton Rum carry the flag for Jamaicans, Mount Gay for Barbadians, and on and on and on.
I guess that's why I'm bothered by The Kraken Black Spiced Rum.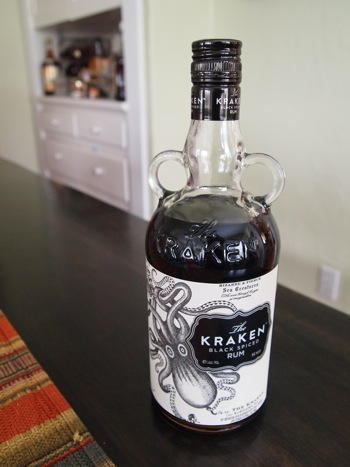 Kraken Rum Pros
It's not that I don't like it. The flavor from their "secret spices" is a little too much for my normal taste (it's no Cruzan 9), but it's not as overwhelming as some other peg-legged pour I might mention. For me, it's nice to sip on the rocks when I need a little extra flavor… and the kick of Kraken's 94 proof liquid courage!
You also really have to love the bottle. I've shared my fascination with funky rum bottles a time or two before (Rhum Clement 1952 and R.L. Seale's), but this one is probably my favorite. It's just fun to hold with your fingers through the loops in the neck.
Plus, I'm a big fan of the old-style logo and giant image of the legendary sea monster. Reminds me of 20,000 Leagues Under the Sea, a favorite childhood story of mine that used to really get my imagination going every time I went to the beach. It even says "As seen through the eyes of imagination" right on the label!
So what's not to like about Kraken Rum?
Well, how about what's not on the label, as in where this stuff comes from. Oh, there's a line on the back that says "The Kraken is imported rum from the Caribbean…", but where in the Caribbean is the question. If this stuff came from St. Croix, I'd want to puff my chest out about it. I might be wrong, but I doubt that the people of Lawrenceburg, Indiana, United States, where The Kraken is bottled, would care as much.
Anyway, after much digging, I discovered that The Kraken does, indeed, hail from Trinidad. So as the son of Trini parents I guess I can take some pride in it.
Still, the question remains: why hide your island roots?
C'mon Kraken, you know you're Trini to de bone… Wave your flag and be proud!
Related Posts