On-Site Trinidad Carnival: The Stately Pageantry of Kings & Queens
It might be easy to think that Trinidad Carnival is nothing more than pure, unadulterated debauchery; the province of the very worst worthless sinners, all of them bent on obliterating the very pillars of polite society. Our Carnival content to date has done nothing to dispel this, of course, but today we aim to change that a bit.
There are, in fact, many different sides to all the various events that make up Carnival. Some of them are even stately and reserved, the polar opposite of the slackness seen all over di road on Carnival Monday and Tuesday. The annual King and Queen of the Bands competition, or Kings and Queens for short, is one such event I was fortunate enough to check out during my 2013 Carnival adventure.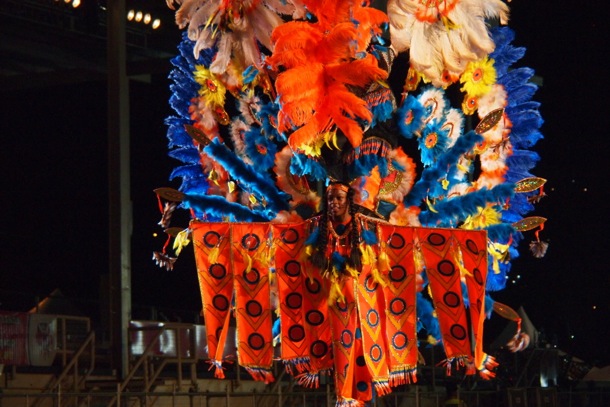 The event is held on the same Big Stage in the Savannah that all the Monday and Tuesday revelers aspire to cross so they can wine, wurk-up, grind and get on bad for the throngs of spectators in the grandstands, as well as the millions of folks who watch the bacchanal on TV and the Internet around the world.
During Kings and Queens, though, the mood is decidedly more subdued. It's still festive, mind you, just in a more controlled and reserved way, with spectators applauding contestants politely while anchored, for the most part, to their seats. The pageantry gives little hint of the decadence to come, though in some ways nothing better defines it as these very same Kings and Queens lead their bands throughout the streets of Port-of-Spain and across the Savannah Stage on Monday and Tuesday.
The wickedness playing out behind them may garner most of the attention during Carnival's penultimate days of celebration, but on this night, it's all about the royalty and their amazing costumes.
A spectacle on a grand scale, Kings and Queens is not to be missed during Trinidad Carnival… especially if you want to keep your Carnival fun a little more on the clean and quiet side…
Related Posts