On-Site Trinidad: Mixology Madness at Flair The Restaurant
One of the big things that had me excited ahead of last month's visit to my family's ancestral island home, Trinidad, was the chance to enjoy the local drinks so much a part of my Trini heritage in the land where they were born. I'm talking non-alcoholic favorites like Lemon Lime and Bitters, Mauby and Peardrax, as well as harder stuff like Angostura, Carib and Stag beers, and maybe even a little Puncheon for a naughty nightcap.
What I totally did not expect, though, was the incredibly vibrant and sophisticated cocktail scene in Port-of-Spain. Here, the fine art of mixology is being elevated to surprising new heights, with young and inventive local barmen and women crafting some of the most amazing drink combos anywhere in the Caribbean.
One of the best places to bear witness to the mixology revolution in Port-of-Spain, Flair The Restaurant, is also among the city's hottest. Flair, which just opened in October 2011, is located at the corner of Taylor Street and Ariapita Avenue, THE party central of Port-of-Spain. All along Ariapita you'll find bars, nightclubs and restaurants catering to a young, stylish and sexy crowd. We were there early on a Wednesday, so the vibe was pretty relaxed. On Thursday and Friday nights, though, I hear the street is packed, the party often spilling out from the clubs and blocking traffic.
For a new spot like Flair to succeed with that kind of competition, they'd need to serve up something really special. It would have to be unique and buzz-worthy… something that would appeal to locals and visitors alike. Something like this:
This is the Dirty Horn, though no one really calls it that. More commonly it goes by its nickname: Curry Martini.
There is no where you can get a Curry Martini.
So says Randy Rampasand, the young Arima-born mixologist who invented it, along with all the other one-of-a-kind cocktail creations on the menu at Flair. Randy told me he was inspired to make something different, while also keeping it local to make Flair the talk of the town. Word spread quickly about the Curry Martini drawing in customers, so you can say the drink is a success, right? Well…
It's not a big seller, but it attracts people and it's a conversation-starter.
Randy says most people come in expressly for the Curry Martini, but once they get a look at the drink menu, they're soon swayed by his other wild creations. Take this one, for instance…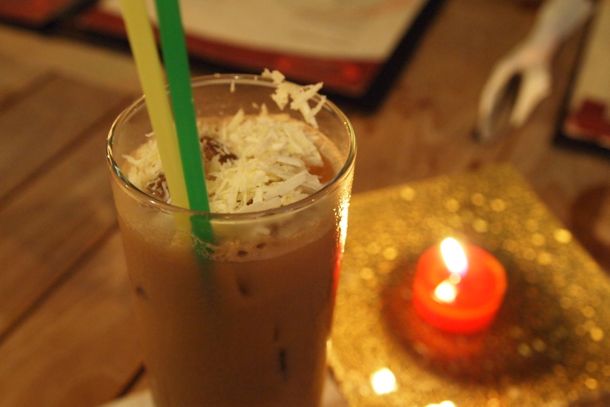 It's called A Long Hard Night. Rum, amaretto, and tequila can all be found in this cocktail, but the name has much less to do with overindulging than it has to do with sex. You see, this bad boy is also loaded with Bois Bande and Sea Moss, which longtime UC readers already know are two of the most potent aphrodisiacs the Caribbean has to offer. Each bedroom booster is deadly enough on its own! Combining them with all that booze is a recipe for… well, exactly what the drink is called.
Another Flair cocktail bearing characteristics the exact opposite of its name is Canal Water. Sounds nasty, right? A canal is where you dump things. Canal water smells bad. You wouldn't even water your yard with it, much less drink it.
Well, the Canal Water at Flair is fantastic! In fact, according to Randy, it's their #1 selling cocktail. I tried one and I can certainly see why.
This one's loaded with all kinds of booze – 1.5oz each of rum, vodka, gin, tequila, plus 2oz of Blue Curacao. Add to that 1oz each of Grenadine and lime juice, or sweet and sour mix. What do you get?
Personally, I felt that it tasted a lot like grape juice, though Randy looked at me like I was crazy when I said it. It's sweet, though not overly so, and very refreshing, a good thirst-quencher that you should take obvious care in enjoying.
Other creative cocktails on the Flair menu that I didn't get to try include the Oink Oink, which has real bacon in it, a Jerk Margarita that's made with homemade Jerk seasoning and a Flair Volcano, described on the menu as "A dangerous blend of premium vodka, Southern Comfort, Amaretto and fruit juice. Not for the faint of heart."
Not sure about that last one, but with more than 20 different cocktail options on the menu, I'm sure I can find something else to match my love for Canal Water next time I'm in Port-of-Spain.
For more on Flair The Restaurant, check them out on Facebook.
Related Posts