What's the Best BBQ Place in Trinidad?: Taste of the Caribbean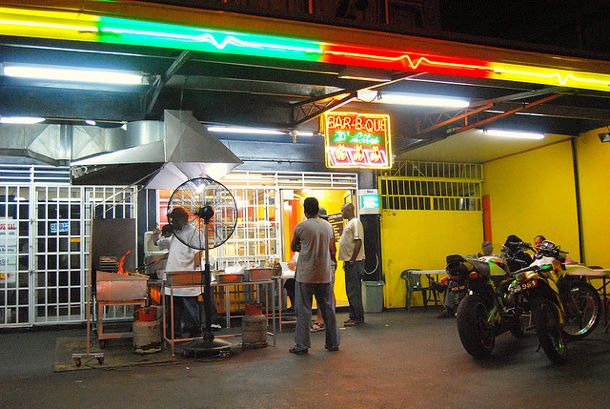 Greetings from warm and wonderful Port-of-Spain, Trinidad! As UC Facebook fans already know, I'm visiting my and Patrick's ancestral homeland this week at the invitation of the country's Ministry of Tourism. Indeed, it's not the usual wildly independent method of travel we prefer, but with an itinerary that includes such uncommon spots as the Waterloo Sea Temple, Maracas Beach and the Gasparee Caves, well, what's not to like?
There's also a good bit of free time worked into the schedule, which will hopefully give me time to answer the question that's in the title of this post.
With my unabashed love for Trinidad's finest culinary creation, roti, you might find it curious that I'd be hunting down great BBQ here. No doubt, we'll make plenty of time for my favorite food, but from what I understand, the BBQ experience in Trinidad is not to be missed… especially since no one can seem to agree on who offers the best.
Round about mid-August last year, we asked UC twitter followers for their suggestions on where to find the best BBQ in TnT. The answers varied so much that it just begged for some in-depth, first-hand exploration.
El Pecos, BBQ King, BBQ D'Lites (pictured above), and Al Haqq were all touted among our twitter followers back then. Folks I've run into since arriving on-island earlier today have sung praises for the likes of Smokey & Bunty, Mr. Chow, and Moonlight BBQ, which may or may not still exist.
Smokey & Bunty, in particular, seems to have a strong following, with one guy here at the Hyatt Regency Trinidad stating emphatically:
Any cab, any man you pass on the street, everyone knows it!
Then, to prove it, he asked a passing waiter at the lobby bar. His answer:
Never heard of it.
The waiter suggested Mr. Chow, which is apparently located in the same area of St. James, just across from the Queens Park Savannah, so I guess I better check it/them out!
I'm still open for more suggestions, though, so if you have any please leave a comment below, or drop me a line here.
Also, to keep up with all the fun our group will be having in Trinidad & Tobago over the next few days, search #followmeinTandT on twitter.
Related Posts