Trinidad Chow: Spice Up Your Thanksgiving Ham Island-Style
Thanksgiving Day in the USA is virtually synonymous with turkey. We must not, however, forget the other pink 'n pretty meat that's so much a part of this heartiest of holidays. I'm talking, of course, about ham! And when you're talking about ham in the Caribbean then you definitely also don't want to forget Trinidad chow.
What is Trinidad Chow?
Trini chow (or chow-chow as it's also affectionately known) is the Caribbean's answer to the piccalilli sauce so revered in the UK. A tart and piquant mustard relish, chow is made from pickled vegetables and tropical fruits. What truly separates Trini chow from piccalilli sauce is its hot spicy flavor. Like piccalilli sauce, though, Trinidad chow is great with kinds of meats.
As my Dad, a true connoisseur of all things hot and spicy likes to say, though…
Chow-chow is absolutely heavenly with ham.
Mom's Thanksgiving Ham
In our STX-based Trini household, Thanksgiving morning always meant ham. Baked, glazed, and artfully pricked with cloves, Mom's breakfast ham often outshined the turkey that came later.
Now that ham didn't need any help in the flavor department. If anyone wanted to add a bit of Trini spice, though, there was always some chow on the table.
Sadly, I never learned Mom's chow recipe before she passed. That hasn't stopped us, though, from making sure we have some chow on-hand every Thanksgiving…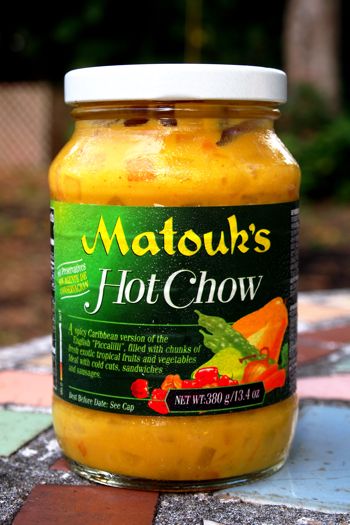 Matouk's (not so) Hot Chow
A number of great West Indian companies make and sell a wide range of chow-chow, much of it readily available across the USA.
The Matouk's brand pictured here, for instance, is particularly popular. It's laden with chunks of mango, papaya, peppers, onions, and carrots, all swimming around in a tangy mustard sauce. Popping the top and taking a whiff will clear your sinuses!
Despite the name and inherent peppers, though, Matouk's Hot Chow is not spicy at all. (For a little extra kick, you might want to try adding a little Scotch Bonnet). Really, it just adds a nice and uniquely West Indian tangy flavor, which is pretty great unto itself.
Matouk's Hot Chow packs just 20 calories per two-tablespoon serving size. There's zero fat, zero cholesterol and only two grams of sugar. On the flip side, you'll find 200mg of sodium per-serving. This is comparable to most regular ketchup, so it's certainly a factor of which those with blood pressure concerns will want to be weary.
At the same time, though, there are no rules of good eating during super-indulgent festivals of gluttony like Thanksgiving, right?! I say live a little. Add a couple spoonfuls of chow-chow to your holiday ham, and allow your taste buds to magically transport you to Trinidad & Tobago.
Where to buy Matouk's Hot Chow
If you live in South Florida, you can find Matouk's Hot Chow in select Publix supermarkets. It's also available at West Indian grocery stores like Bedeessee's. You can also order it online on Amazon.
Enjoy!
Related Posts