Peek-a-Boo Showers at Hyatt Regency Trinidad: Uncommon Attraction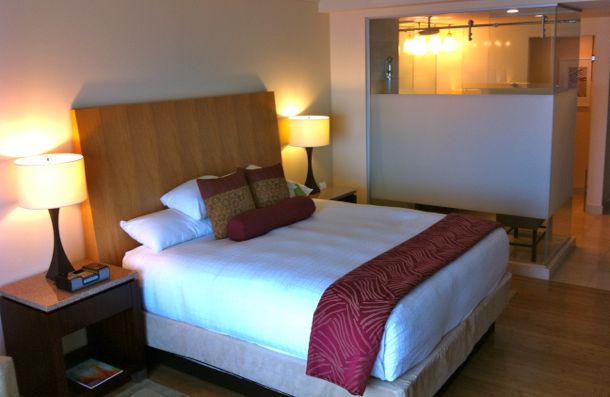 Okay, so picture this: you're dating someone, you've been intimate on occasion and things are going well, but it's not like you're married, or anything. (No, this isn't some raunchy episode of Cheaters). That is to say, you haven't quite reached the level of casual comfort long-time couples have with virtually all aspects of sharing each others space. More to the point, your bathroom time remains yours… and yours alone.
So there you are in the awkward throes of early romance, you check into the Hyatt Regency Trinidad and this is your room.
Umm, uh-oh…
Your eyes are not deceiving you: that glass enclosure next to the bed is the shower!
Oh, you'll be sharing a lot more about yourself on this trip!
Now, when I checked in here in January, I was alone. Still, the unique shower set-up was a surprise. I stay in a lot of different hotels, obviously, but I'd never seen anything like it before, and I haven't seen anything like it since.
Not everyone likes the voyeuriffic qualities of these fancy showers, of course. I heard from a few hotel staffers that more bashful guests do sometimes request alternate accommodations. Not every room is equipped with the glass showers, so the young couple in our earlier scenario can still enjoy all that this wonderful property has to offer (like this cool cocktail, for instance), while maintaining their shower secrets.
For me, though, these showers are awesome. There's an incredible rain shower head inside the glass, offering the type of soothing, therapeutic water pressure that encourages you to dally a bit longer than usual. On the wall opposite the shower and the bed is a large flat screen TV, so you can catch your favorite show and shower without worry.
Best of all, for the less squeamish couples out there, the glass enclosure is plenty big enough for two. So, if you see something you like through the glass, well… you know…
Related Posts