Uncommon Photo-Op: The Sexy, Colorful and Crafty Men of Trinidad Carnival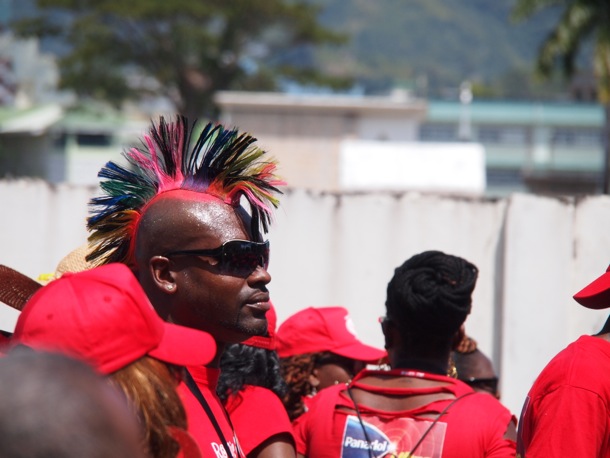 You might think from my last post that there were no guys at this year's Trinidad Carnival celebrations. My wife sure did. "Nice pics," she deadpanned when I finally came to and called her yesterday morning to let her know I was alive. I'd heard that tone of voice before, the photographic evidence putting me perilously close to the doghouse… And just in time for Valentine's Day no less!
So, in a small attempt to make amends, I'm sharing what few pics I snapped of the interesting male characters I met on di road…
As you can see in the first photo above, it's not just the women who go all out to make a statement with their looks at Carnival. Lots of the men are there to turn heads and get attention too. Can't say for sure, but I wouldn't be surprised if this fine-feathered gentleman attracted more than his fair share of wining this week. This next pair, however, might be a different story…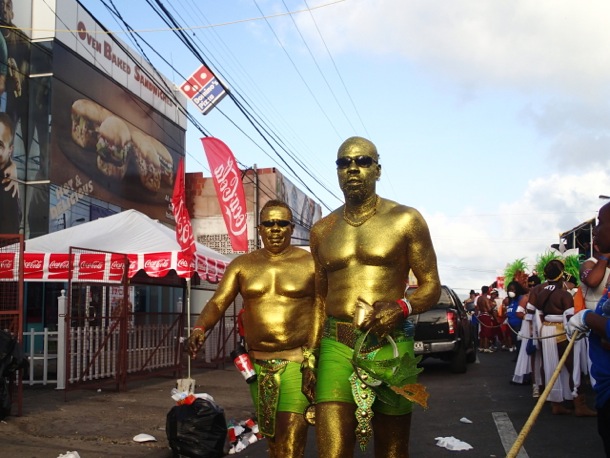 Then again, lots of women (the wife included) love gold, so who knows?
I ran across these golden guys before the trampin' started, around 7am. Further down the road, and more than a few drinks later, I met a man who required neither paint nor feathers to display his colorful side…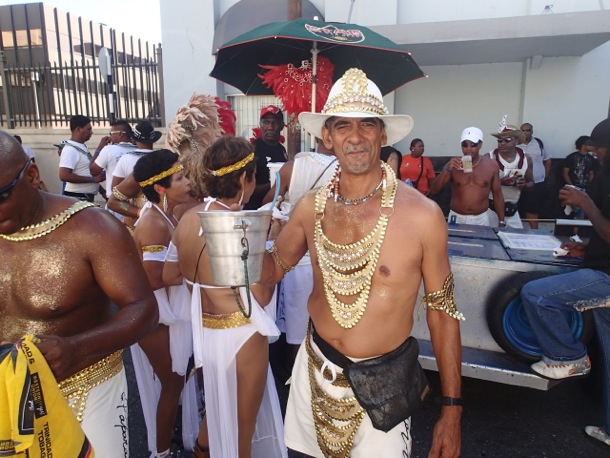 I didn't catch his name in all the bacchanal and confusion, but I'll never forget him. Not only was he consuming copious levels of some unidentified libation from that bucket in his hand, but he also had a stethoscope.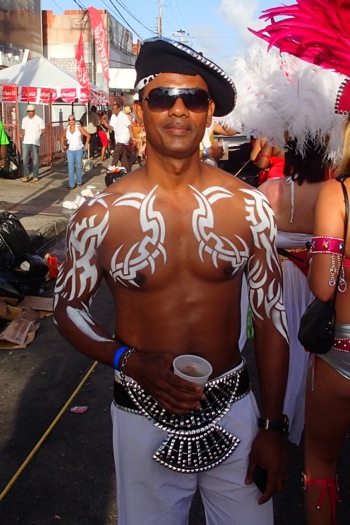 Now, it's not hard to meet women in a band fettin' on di road, but just in case you feel you might need an ice-breaker, a stethoscope can come in handy. It did for Bucket Man. He successfully checked the heaving, bouncing chests of just about every woman in our section, as fine a strategy for "making friends" as I saw all day.
Bucket Man was cool, but this artful dude was probably my favorite. I can't imagine how long it must've taken to paint him up this way, but it sure looked cool.
Oh, and yes, he got in quite a lot of wining opportunities as well.
As for me, well, I'll have more to say about my outfit and wining another day. You know, when I'm free and clear of the doghouse…
Related Posts