Bambarra Trouvadore Rum – Misnamed Top Shelf TCI Rum
When you think Turks & Caicos, it's easy to think Top Class. As we noted here, these idyllic islands in the Greater Antilles have long been a favorite of the celebrity jet-set. Just as easily, though, you don't really think rum here. TCI soil is more sand than nutrient rich top soil. Thus, the few plantations that were tried here didn't last long, and they mostly grew cotton anyway. So yeah, you won't find any long history of rum-making in the Turks & Caicos. Just the same, you can find a nice rum worthy of TCI Top Shelves. It's name: Bambarra Trouvadore Rum.
A Taste of Bambarra Trouvadore Rum
Produced by the same great folks that birthed Bambarra Rum a few years ago, Trouvadore carries a surprisingly refined flavor. To me, it builds nicely upon the plain goodness of Bambarra Reserve. Vanilla, toffee, and an assortment of other tropical flavors and spices enhance a base rum aged a minimum of 15 years in oak casks.
(The company is mum on the origins of the base rum, but if I had to guess I'd say it's Angostura.)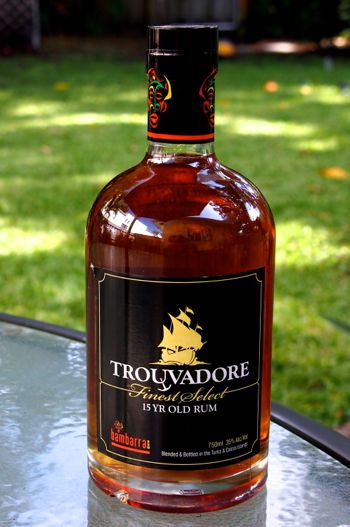 In these ways, Bambarra Trouvadore Rum aspires to heights reserved for its more pedigreed rum brethren. At the same time, it also emulates the fanciful legends that in many ways define the world's most celebrated rums. This Bambarra Trouvadore Rum pulls off in name only… sort of.
That name – Trouvadore – just happens to be among the most storied monikers in the colorful history of the Turks & Caicos.
The Legend of the SS Trouvadore
The story takes place in 1841, amid a storm, aboard a Spanish slave ship en route to Cuba. That ship – the Trouvadore – would succumb to the storm, wrecking, according to the Bambarra Rum website, off the north coast of Middle Caicos. Emerging from the hull were scores of very lucky Africans.
The Turks & Caicos were then part of the British Empire, which had outlawed slavery in 1833. By landing on Middle Caicos, the slaves were effectively freed by the sea to carve out new lives in these strange new shores.
The name they bestowed upon their settlement: Bambarra, a play on their tribal name, Bamberra, which they carried with them from their former homes along the Niger River in West Africa.
So you see, Bambarra's Trouvadore Rum espouses the earliest history of African settlement in the Turks & Caicos… sort of.
Mixed Up History
It's true that there was a shipwreck of slaves off the north coast of Middle Caicos in the early 1840's, but the actual Spanish ship tied to this story was called the Gambia. It wrecked here in 1842.
So, what about the SS Trouvadore?
Apparently it also wrecked in the Turks & Caicos Islands. The year was indeed 1841, though the actual island in question was East Caicos.
No idea whether or not a name change is being contemplated over at Bambarra. (Personally, I think Trouvadore has a better ring to it for a rum than Gambia.)
Anyway, no matter what you call it or what legend you believe, if you like nice rum that skews a little sweet, you'll love this stuff.
Where to Buy Bambarra Trouvadore Rum
Like all Bambarra rums, you can only find Trouvadore in the Turks & Caicos. You won't, however, find it as easily as Bambarra Gold or Reserve. Best place to pick up a bottle: The Wine Cellar conveniently located right on Leeward Highway in Provo.
Cheers!
Related Posts