Checking Into The Meridian Club on Pine Cay
We're always quick to tell you about all the niceties, amenities and assorted other extra stuff you can expect to enjoy at the hotels we frequent on our travels. But, in the very special case of the very special Meridian Club on Pine Cay, Turks & Caicos, it's what's not here that counts the most.
Atop my list: room keys… There are none.
When I arrived here back in July, this one simple missing element told me right away that I was not in some ordinary hotel. That notion was furthered throughout my check-in, much more a pleasant conversation between friends than the usual pseudo-business transaction you normally endure at larger, more impersonal properties. A few laughs, a quick swipe of the credit card, and you're off, sans keys, to your beachfront bungalow…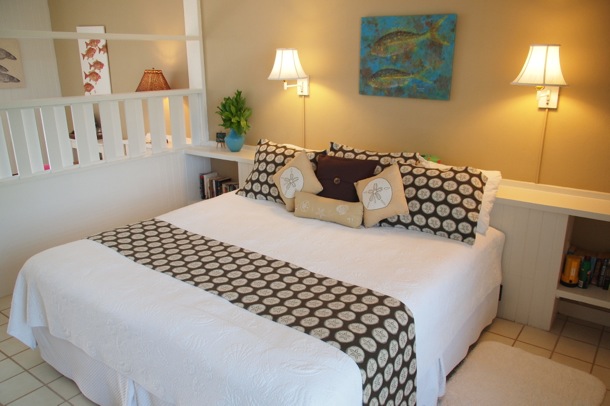 What's missing in here? How about a TV, telephone, radio, or anything else that might tempt you to stay plugged in to the outside world. There's no a/c either, which you might think would be a problem, especially during a mid-summer visit like mine. That thought would be wrong, though, as the myriad of windows, ceiling fan and a steady cooling breeze from the beach, just steps away, combined to keep me nice and comfy.
Speaking of the beach, it's at the top of my list of the very best things that are available at The Meridian Club. It stretches for two miles, and aside from the quaint little Club, you won't find any other buildings on it.
Pictures, like the one above, and videos like this one, as nice as they are, don't do this powder-soft expanse any justice. The water is calm, soothing and as clear as any swimming pool you've ever seen. The conditions are excellent for sunning and swimming by day. On clear and cloudless nights, it's simply mesmerizing – the sky laden with stars, their light and that of the moon dancing on the waves…
As for the sunsets here, yeah, they're pretty amazing…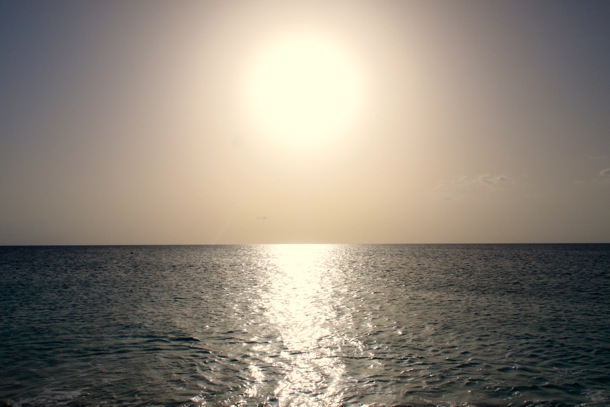 The Meridian Club would scream romance if doing so were not so uncouth. Instead, it whispers it knowingly, with a grace that comes from experience. Those in the know have been coming here to play for 20+ years, truly escaping the Real World in a way that's become increasingly harder to find in our ever-more connected world.
You don't go to The Meridian Club on Pine Cay to see things that people want you to see, or do things that are popular to do. You go there to escape. To de-stress. To relax and re-connect with those you love and re-discover what you love about them and yourself amid some seriously jaw-dropping beauty…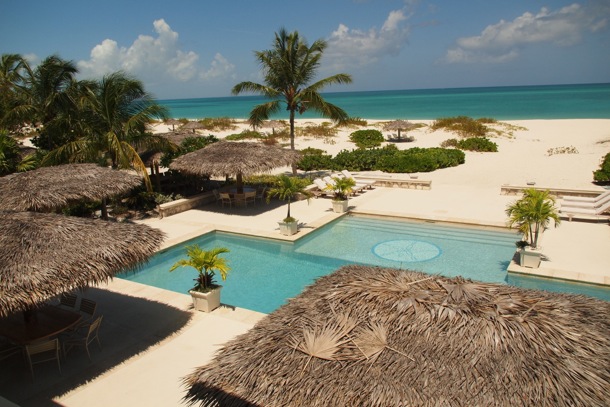 The Meridian Club is the only hotel on the private island Turks & Caicos paradise that is Pine Cay, sharing a scant and sandy 800-acres with 36 private homes, the Caribbean's most uncommon airport, an even more uncommon golf course, and thankfully not much else. There are only 13 rooms at the Club for guests to choose from, plus an even more secluded Sand Dollar Cottage that has honeymoon written all over it.
In keeping with the "no keys" policy I alluded to above, no one locks their doors. It's such a small, intimate place that immediately upon arrival you feel like part of a small community of close-knit friends, and who needs keys when you're staying with close friends, right?
The Meridian Club also offers a nice pool, bar, restaurant, and a myriad of recreational sports equipment and facilities for guests to use – tennis, Hobie sailing, kayaks, bikes, etc.
Of course, all that stuff is available most anywhere you might roam in the Caribbean. Come to The Meridian Club for what's not.
To learn more and book your very own escape to The Meridian Club, visit them online.
Related Posts