Friday Happy Hour: Bambarra Black, the Topper that Tops Myers to Me
Many are the world's great cocktails that simply remain incomplete without a rich and powerful topper of heavy dark rum. A Mai Tai by any other measure surely would not be the same. A Rainbow Beach Swizzle? Trust me, it just wouldn't sizzle.
In most cocktalia corners, I'm sure, Myers would be the go-to dark and heavy for the job. On a recent visit to the Turks & Caicos, though, I came across another tall, dark, and handsome blend that suits me just a wee bit more.
Meet Bambarra Black, the thicker and bolder young buck in the Bambarra family of rums.
Aged four years in parts unknown (Bambarra's not sayin'), Bambarra Black, like all of its other sibling rums, is blended, bottled, and labeled in Providenciales. It's barely been around for a year, and if you go looking for it on the official Bambarra website you won't find it mentioned at all. I've no idea why, though I did call down to Provo today and confirmed that it's still around, which is good if you ever happen to stop in at Da' Conch Shack for their famous Bambarra Rum Punch.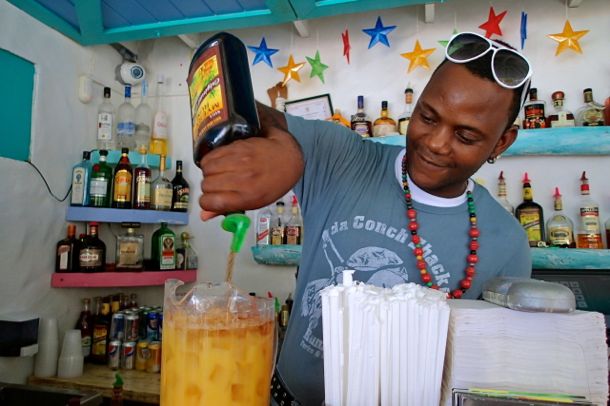 As noted previously, Da' Conch Shack is more than just a beachy seafood hangout. It's a RUM BAR through and through, offering as fine a selection of great rums as you'll find anywhere in the Turks & Caicos Islands.
Still, I'd wager that most people come here for the Bambarra Rum Punch, and honestly I don't blame 'em. The ultra-potent concoction, popularly served by the pitcher, really packs a punch.
Up until Bambarra Back came along, the finishing blow was dealt by a healthy helping of Myers floating at the top. That's how I first came to know the Punch on my initial visit here a few years ago. I really liked Da' Conch Shack's Bambarra Rum Punch then, but upon returning last summer and trying it with a topper of Bambarra Black, my like turned to love.
The Bambarra Black was sweeter, smoother, and just seemed to jive better with its sibling Bambarra rums also swimming around in the rum punch.
Even better, you know you're someplace special when you're enjoying a cocktail topped with Bambarra Black as it's only available in the Turks & Caicos.
Cheers!
Related Posts