Friday Happy Hour: Bambarra Reserve – No Fluff, Just Good Rum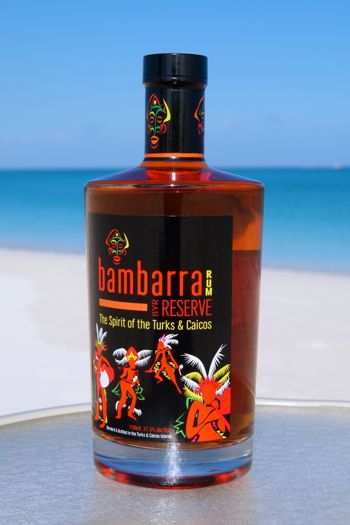 Pedigree is no prerequisite for great rum.
It's true, though, that many of our favorite blends benefit from long and storied traditions, family secrets, and unique collaborations born of ancient aging and distilling techniques. We love all that stuff. Helps us tell a better story, not only about the rum itself, but also its importance from a sociohistorical context in the development of our region.
Some rums, however, don't need a breezy backstory. Some rums are just plain good.
This is one of 'em.
Bambarra was officially launched just four years ago (November 2008) becoming the very first rum to be blended, bottled and labeled in the Turks & Caicos. Oh there was something called Cave Rum that preceded Bambarra, but that was essentially produced in total elsewhere, then labeled and marketed as a Turks & Caicos product.
You won't find Cave Rum around anymore, which is probably just as well considering how much more superior Bambarra is in quality, taste and refinement.
The full range of Bambarra rums consists of light and dark two-year-old blends ideal for mixing, an amazing coconut rum also aged two years, the top-shelf Trouvadore, which sits for 15 years, and the eight-year-old Reserve pictured above. (Bambarra is also getting set to unveil a new four-year-old Black rum aimed at Myer's fans.) All are distilled from fermented molasses in column stills, a process that yields improved consistency and higher output levels than the old, traditional pot still method.
Trouvadore takes the cake, of course, but the Reserve is certainly nothing to sneeze at. In fact, over my recent extended weekend stay in Provo and The Meridian Club on Pine Cay, I'd say the Reserve was the most popular of all the Bambarra Rums, available for sale virtually everywhere I went. The Trouvadore, by comparison, was scarce to say the least, a fact that upon sampling both yielded no complaints from me.
The Reserve is just that good.
If you love beautifully dark, amber-colored rum like I do, then you'll fall for Bambarra Reserve the minute it's poured in your glass. It's not to the level of Guyana's Demerara rums like El Dorado 15, but it's plenty pretty for those of us predisposed to the dark side.
The alluring color and earthy flavors in Bambarra Reserve come from the rum's aging in American oak barrels formerly used to age whiskey and bourbon. Tried neat, I get more burn and bite than beautiful notes. One ice cube does the trick, though, smoothing out the edges to reveal caramel, vanilla and spice. There's almost no burn in the finish either. It all just ends pleasantly, encouraging another tot or two.
While Bambarra Reserve is widely available across the Turks & Caicos Islands, you won't find it anywhere else. (At least not yet.) My advice: hop a flight and get yourself to The Meridian Club, where I snapped the photo above. Just a taste of Bambarra Reserve is paradise enough, but if you get to enjoy it at this special property it's even better…
Cheers!
Related Posts