Checking Into The All-New Empyrean Villas, North Caicos
This place better be perfect!
When I travel by myself, perfection is far from my mind. Quite often my plans are made at the last minute, forcing me to fly by the seat of my pants in the most literal sense possible. Sometimes I arrive in my destination with no hotel reservation. Other times I'm left scrambling to find a rental car. Inter-island ferries? Yeah, I've missed a few.
One way or another, though, things always seem to work out in a manner that yields great travel memories to share with you.
Now, when I travel with the wife and kids, of course, it's a totally different story. My crew only gets to tag along with me once or twice each year. When they do, it's critical that everything is just right.
So, when the owners of the all-new Empyrean Villas in North Caicos approached us with an invitation to experience their property, I hesitated. I'd been to North Caicos before on a day trip while visiting Providenciales and was anxious to share the island's special charms with my family. But, I didn't know anything about Empyrean.
In fact, as the villas were only just completed back in late-March, very few people had any clue about Empyrean.
I was sure that North Caicos would be perfect for the quiet no crowds beach-hopping family escape we were hoping for. Could Empyrean Villas be equally perfect for us?
Answer: An emphatic YES for three main reasons…
Location
The magic here for us all started with the Empyrean Villas location, literally across the street from Whitby Beach, a 3.5-mile stretch of brilliant white sand widely judged as the finest beach in North Caicos.
Easy beach access is always nice, of course, especially when it affords you amazing sunsets like the one pictured above. Also nice about the Empyrean Villas location are the lush surroundings offering lots of privacy. The property sits just off the main unpaved road that runs along the beach, though you have to really look hard to see it through the bush.
Aerial shots like these provide a better sense of just how ensconced in nature this place really is…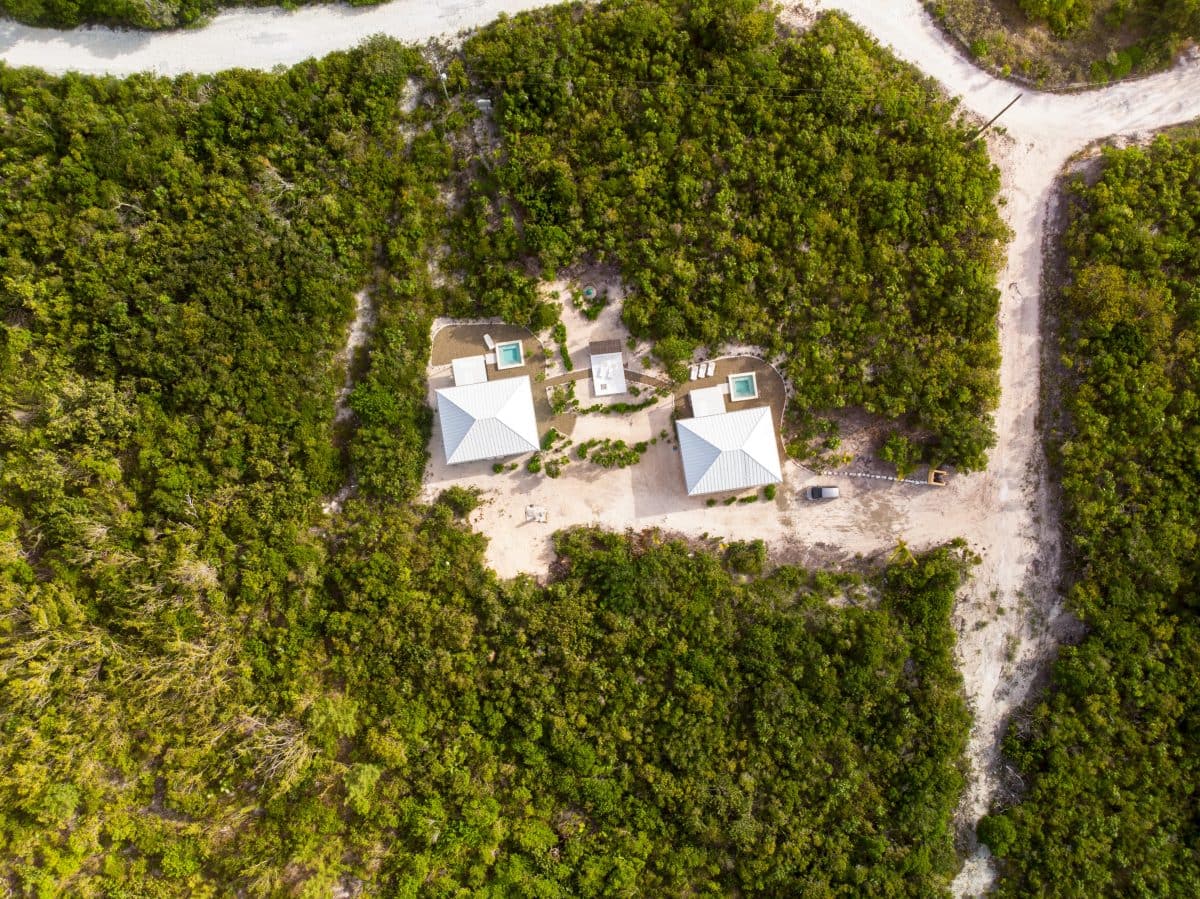 Vibrant green brush land encircles the property, Whitby Beach lies a quick walk to the north, while Whitby Salina Pond snakes just behind it.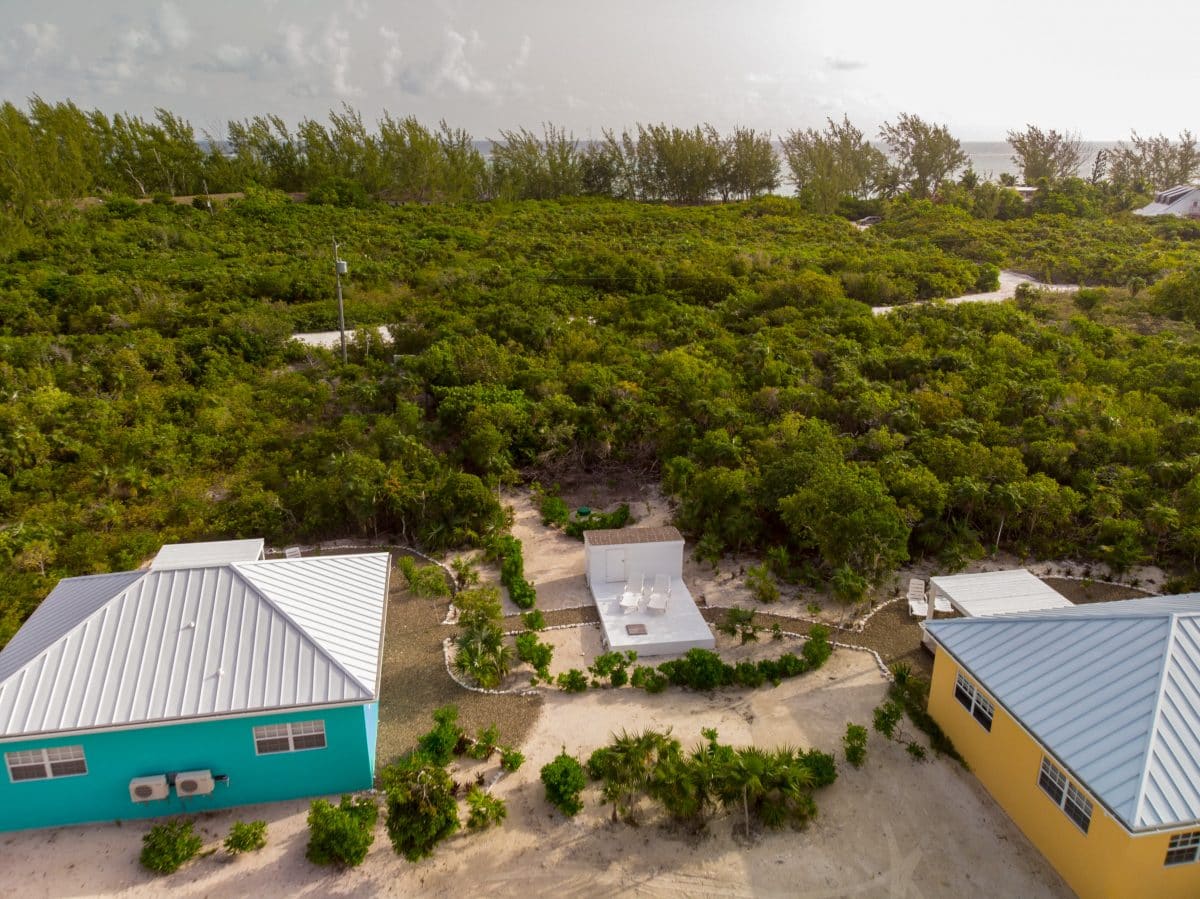 A steady breeze off the beach combined with the lush surrounds lends a cozy secret garden feel to the place that we absolutely loved.
Being so close to the main road also made jumping out for the aforementioned beach-hopping or quick runs to the grocery store easy and convenient.
So yeah, the location was pretty perfect for us, as were the…
Amenities
I've never met Nestor and Dina, the owners of Empyrean Villas, but we must be kindred spirits of some kind as just about every amenity they built into their villas was right in line with what we wanted for this trip. Seriously, it was like they read our minds designing this place.
Example: the 55-inch flatscreen TV in the living area isn't connected to cable or satellite TV. You have more than 800 movies to choose from, though, if you decide to turn it on at all. This was great for us since it meant there was no TV news, sports, or regular shows to distance us from each other. Every night after dinner the whole family would pick a movie to watch together instead.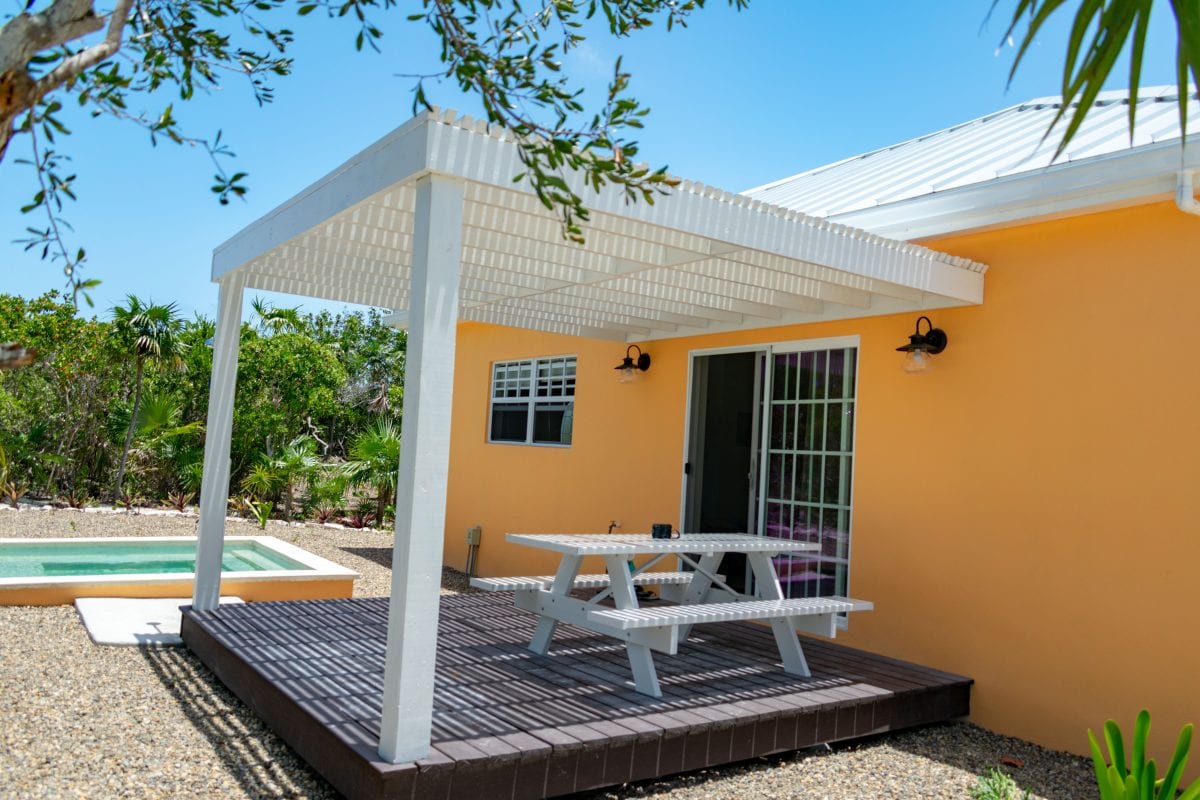 After that we'd go outside and stare up at the stars. There's zero light pollution in North Caicos, which made the show in the heavens better than anything else we could've watched on TV. We picked out planets, constellations, and shooting stars just like I used to do with my brothers, Mom, and Dad during my childhood years in St. Croix. It's rare to have that opportunity where we live near downtown Fort Lauderdale, making for some very special family memories.
Also reminiscent of my island boy childhood, the a/c set up at Empyrean. Air conditioning is reserved for the bedrooms here, much as they would be for most people living in the islands if they have a/c at all. Common areas – living room, kitchen – are cooled by ceiling fans and that nice breeze from Whitby Beach. This encourages outdoor dining on the cozy patios of each unit, another "perfect for us" nice touch that worked to bring us closer together as a family.
That the pools at Empyrean Villas would also work to bring people closer together is no surprise. At 10×10, they're pretty small by most villa standards I've enjoyed along my travels. For us on this particular trip, though, the size proved ideal size, allowing us to cool off comfortably, talking, sharing, and laughing together after a long day of adventuring.
Other thoughtful amenities that made Empyrean Villas a home away from home for us included a washer/dryer, full kitchen (stove, oven, microwave, coffee maker, full-size refrigerator), an outdoor electric grill, and Wi-Fi. Each villa is also equipped with an in-room safe and snorkel gear, so you don't have to worry about lugging your own or renting a set. The outdoor shower was also great following a little lounging on the sundeck that sits between the two villas.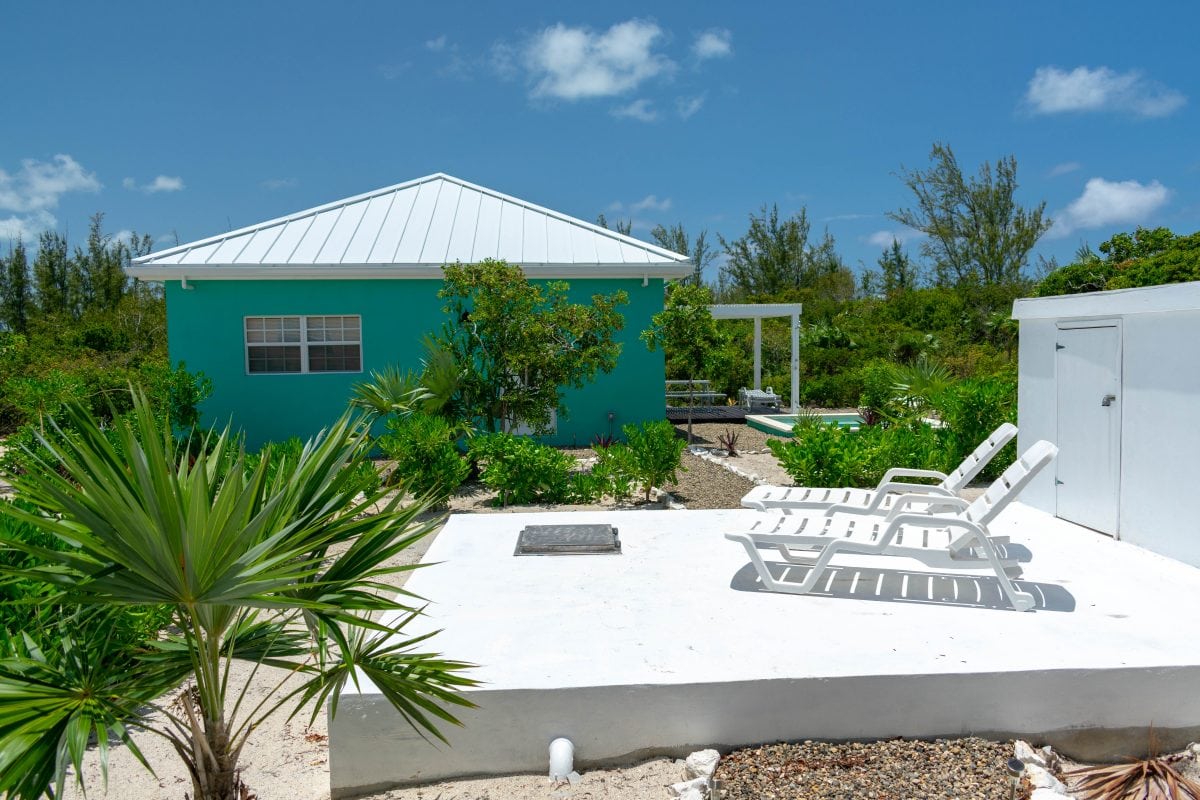 Service
If you stay at Empyrean Villas you will most definitely meet and fall in love with Chrischelle. Her title is property manager, but she's so much more than that. Really and truly, if you need anything during your stay, Chrischelle can more than likely make it happen. She set up our rental car, can fully stock your villa with whatever grocery needs you might have, can hook you up with all manner of excursions, offers great advice on places to eat and things to do, etc. She also seems to know just about everyone in North Caicos, which could come in handy if you have any misadventures along your way.
Empyrean Villas are not luxurious. They're not sprawling, exclusive, or audacious in any way. Nothing is over the top here, not even the price.
In their style, surroundings, and exceptional customer care these villas, to me, are really all about love; beautifully blending with the beachy natural surrounds of North Caicos to bring loved ones closer together… Perfectly.
For more info, be sure to visit the Empyrean Villas website, follow them on Instagram, and/or link with them on Facebook.
Related Posts