On-Site Pine Cay: What's With the Old Bell at The Meridian Club?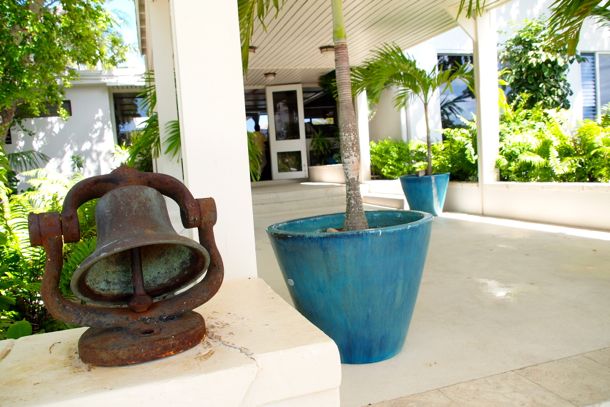 In the one size fits all world of the McResorts that predominate much of the Caribbean, traditions are hard to come by. No, I'm not talking about the "Tuesday Tacos and Wet T-Shirts" night you might remember from some shady Spring Break long ago. I mean real traditions – the kind that stick in your heart, making a hotel feel more like your home. I mean extra special services, quirks or amenities nurtured over time that make a hotel, and your experience staying there, uniquely unforgettable.
I mean things like this old bell.
You'll find it at the entrance to The Meridian Club on Pine Cay, the tiny private island sanctuary located about 30 minutes by boat from Providenciales.
(You can also arrive by plane at a most uncommon airport, as noted here.)
The bell is so inconspicuous that I'm guessing most people miss it. I know I did when I first arrived at the property. Even when I did finally notice it after exploring the island by bike, I didn't think much of it. Just looked like an old bell sitting there rusting away; a relic from the past, probably carrying some significance at one time, now reduced to a hotel hood ornament.
Round about dinner time, however, I learned that I was wrong.
This old bell is actually very much in-use every day at The Meridian Club, though only one man touches it. His name is Wesley Handfield. His job: head waiter, a catch-all title that basically includes doing whatever it takes to make sure your stay on Pine Cay exceeds your expectations. Wesley's been at it for more than 30 years, so you know you're in good hands.
I'll have more to say about Wesley and the wonderfully uncommon experience that is staying at The Meridian Club in a future post. For now, though, lets concentrate on what he does with the bell.
Or rather, what he (and a few others) have been doing with that bell every day, twice-a-day since the mid-1970's.
Wesley rings the bell for lunch and dinner each day, employing a sharp series of about 20 pings. The message is unmistakeable to anyone and everyone within ear-shot: it's time to eat!
(They don't ring the bell at breakfast, allowing guests to sleep in.)
Wesley's method is so unique, and conjures up such warm feelings and memories that past guests have purchased similarly-styled bells to use at their own homes, saying:
Otherwise, we couldn't eat!
I got that bit of info from Bev and Wally Plachta, the amazing couple that manage the Club and everything else on Pine Cay. According to Bev, the bell dates back to the property's earliest days, circa 1973.
It wasn't as formal back then. Guests would be all around the island and they never knew how many people they'd have for dinner.
The bell served a very practical purpose in those days before cell phones and other modern means of communication, getting everyone to the table in time to eat together, but its benefits to guests and homeowners on the island have long extended beyond food…
If you hear it at a time other than a normal meal time, it means there's a major emergency.
The emergency ring is longer and carried out at a different pace than Wesley's lunch and dinner alert, ensuring that everyone knows there's an urgent need to congregate at the Club unrelated to fine dining.
I love the tradition of the old bell. It really speaks to the special type of experience available on Pine Cay and at The Meridian Club. With just 12 rooms and one cottage on the property, and only 36 private homes scattered about the 800-acre island, it's impossible not to feel like part of a community even during the shortest of stays here. That warmth and sense of belonging is most apparent during the meals, and especially at dinner.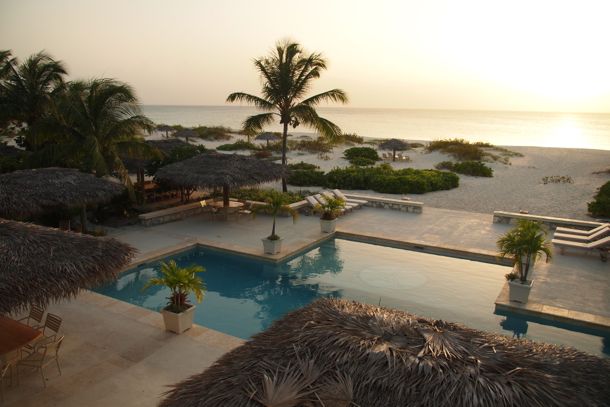 There are no TV's at the bar showing the latest Big Game to distract you. Cell phones aren't really allowed in the Club either, though it's not like they take 'em from you at check-in. They didn't even have any music playing in the dining hall during the two nights I ate there.
What is there, though, is your company; the person or persons with whom you are traveling. Everything that isn't there forces you to look at them, to talk to them, to re-connect, laugh and interact in a way that most of us haven't done since before we got our first smartphones.
Simple. Traditional. Amazing.
Not only is this the Caribbean the way it used to be, it's meal time most anywhere the way it used to be… rusty old bell and all.
For more on The Meridian Club, visit them online.
Related Posts